27 Jul 2019

St. Joseph Bazaar Aug. 2-3

Posted at 3:58 PMh

in

News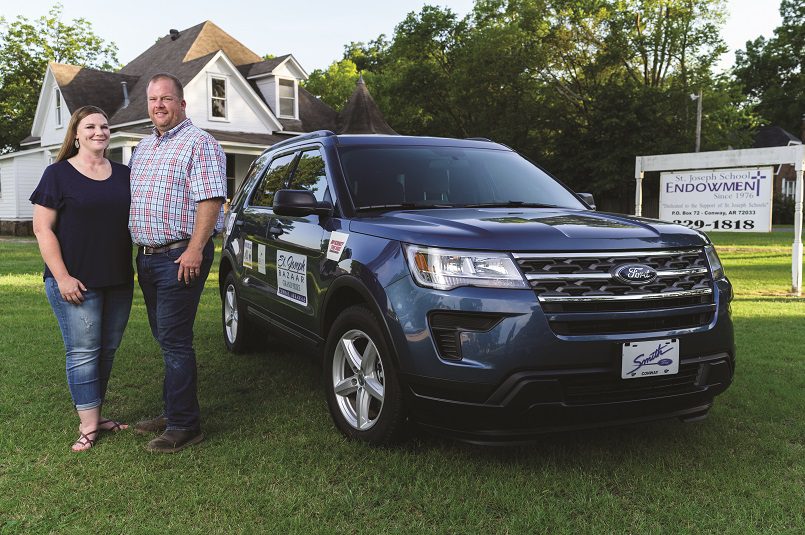 Food and family fun are among the activities planned during the 107th Annual St. Joseph School Bazaar on Friday, Aug. 2, and Saturday, Aug. 3, in Conway. 
The event includes box lunches, a spaghetti dinner, a midway, a raffle, a silent auction, games and carnival food. Several items will also be raffled as part of the midway.
A 2019 Ford Explorer will be given away as the grand prize in this year's raffle. Other prizes are a $1,000 gift card to H3 Home + Décor and an $800 gift card to McKinney Tire Pros.
The drawing will be held at 11 p.m. Saturday at the Bazaar midway. (The winners need not be present to win.) Tickets are $2 each, six for $10, 18 for $20 and 54 for $60.
Bazaar schedule:
Friday, Aug. 2 – Box lunches, midway and a home-style dinner.
Saturday, Aug. 3 – Midway and raffle drawing.
The box lunch menu includes spaghetti with marinara sauce, "Jerry's Homemade Brats," chicken strips, green beans and a homemade roll. The lunches will be served 10:30 a.m. to 1 p.m. in the parish hall. Each lunch is $10, with a variety of desserts available for purchase. 
There is free delivery in Conway for orders of 10 or more box lunches. For more information and to place an order, email [email protected] or call 501.329.3865.
The menu for the family-style dinner, planned 5 to 8 p.m. in the Parish Hall, is spaghetti, green beans, sausage, fried chicken, sauerkraut, salad, roll, drink and dessert. The cost is $15 for adults and $6 for children.
The midway opens at 5:30 p.m. both days on the middle school playground. There will be a variety of games and carnival food.
For more information, visit sjsbazaar.weebly.com. 
Proceeds support St. Joseph School.