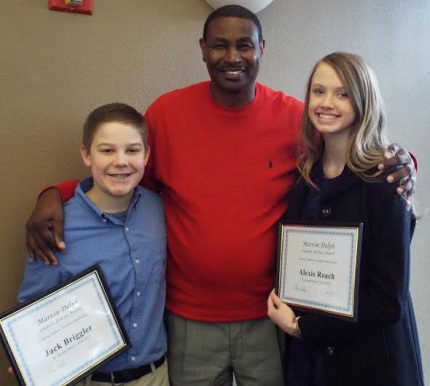 04 Feb 2015

St. Joseph athletes recognized

St. Joseph School eighth-graders Jack Briggler and Alexis Roach were two of a dozen Faulkner County athletes to receive the Marvin Delph Student Athlete Award. They were presented by the Conway Athletic Awards Commission at its annual luncheon hosted by Central Baptist College in Conway.

Each recipient was selected by their coaches on the basis of achievement in athletics, academics and citizenship. The awards are named in honor of Delph who was an outstanding basketball player at Conway High School and the University of Arkansas. He was inducted into the Arkansas Sports Hall of Fame in 1998.


Other students recognized were:

Conway Christian School: Becky Sanders and Jacob Wood.
Conway Junior High Blue: Chris Walters, Kendell Parker, Satera Scott and Reagan Roetzel.
Conway Junior High White: Alex Harris, Kate Pillow, Gabe McKinney and Jake Lennon.