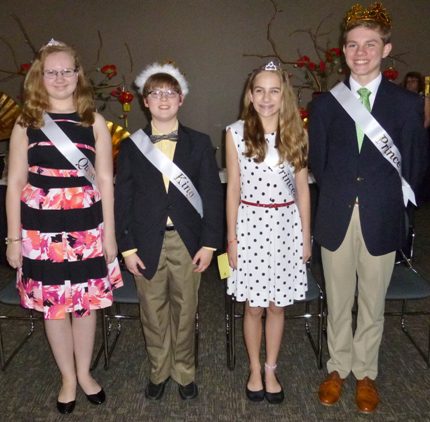 18 Mar 2016

Spring ball marks end of season

Posted at 12:23 PMh

in

News

The Faulkner County chapter of the National League of Junior Cotillions recently held its annual Spring Ball at the Brewer-Hegeman Conference Center at the University of Central Arkansas.


Dressed semi-formally, sixth through eighth grade students participated in the elegant evening, complete with dance cards, contests, prizes, corsages and boutonnieres.


This year's ball was "An Oriental Evening" and the ballroom was decorated with large metallic gold fans, red silk lanterns, red Chinese New Year's decorations and large red banners with gold Japanese writing.


The evening ended this year's Junior Cotillion season, giving the members the opportunity to put into practice all the dances and etiquette that they learned during the past year in Cotillion classes. They danced the night away doing the foxtrot, cha cha cha, swing and the waltz.


Prizes were awarded to Landon Baker, Maggie Erbach, Aaron Johnson, Anna Coffman, John Sutton and Blayne Griffin for the foxtrot contest; Parker Evans, Lydia Martin, Grayson Hambuchen, Jackson Spears, Kennedy Cloe and Michael Shofner for the swing contest; and Brenna Kostecky, Claire Lambert, Jackson Karl, Laynie White, Chloe Upton and Luke Robbins for the cha-cha contest. Those winning the Oriental Elimination, which required passing red styrofoam balls with chopsticks, were Sydnee Sims, Laura VanHook, Elizabeth deKunffy, Elisabeth Bartholemew, Trinity Methvin and Kaylee Swaim.


"Dip Into Dancing Day" is held annually at the last class so parents and students can learn the waltz. Parents are then invited to dance the waltz with their children at the ball. Winners of the Parent-Child Swing Contest were Nicholas Childress and his mother Janie, Madeleine Tanquay and her father Pete, and William Polk and his mother Mary.


Each year participants are asked to select those students that most exemplify the character being taught in Cotillion classes. These selections are combined with totals of a point system for class participation to form a Cotillion Court. The first year prince and princess are Luke Robbins and Jameson Tankersley. Second year students (king and queen) are Cade Smiley and Sarah Grace Gunter.


Parents who chaperoned for the evening were Bonnie Sutton, Donna Smiley, Joan Shofner, Misty Anderson, Jennifer Leggitt, Tracy Howell, April Hobbs, Susan Steelman, Whitney Miller, Cheryl Deierlein, Shannon deKunffy, Dana Brown and Jennifer Boone.


The local Cotillion began in 1993. The seven-month program gives sixth through eighth grade students instruction in etiquette, proper manners and social dances. Skills taught include table manners, correspondence, proper introductions, good first impression skills, good posture, paying and receiving compliments, opening doors, assisting with coats, and the like.


"It's designed to train students in the courtesies that make life more pleasant for them and those around them," said Susan Humphries, director. "We have seen these ladies and gentlemen grow in poise and self-assurance. And our second year students are becoming very mature ladies and gentlemen."


Membership is open to any interested sixth, seventh or eighth grade student in the county. Registration for next season will be held in May. For information or to get a child on the list for the program, contact Susan Humphries at nljc.com/chapter/faulknercounty, or [email protected].