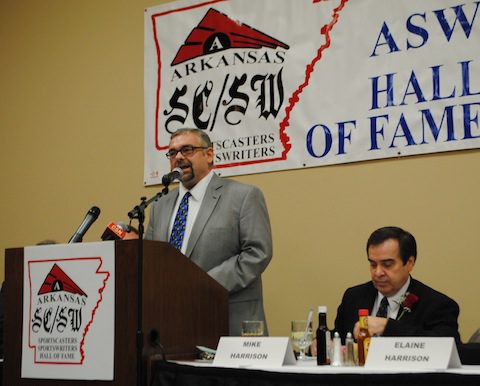 18 Jul 2012

Sportscasters, sportswriters inducted into Hall of Fame

by Mark Oliver


Arkansas sportswriters and sportscasters were honored Saturday at the sixth annual Arkansas Sportscasters/Sportswriters (ASCSW) Hall of Fame Banquet at the Centennial Special Events Center in Conway.


Dallas Cowboys owner and former Arkansas Razorbacks player Jerry Jones received the Lifetime Achievement Award. 


"It's only fitting that a person who's been a lifetime fan of sports writing and sports casting in Arkansas be part of this event," Jones said through a video message. "I've often said they only have ticker tape parades for astronauts, war heroes and sports champions. The world of sports journalism continues to light the fire in me today."


From co-captain of the 1964 National Champion Arkansas Razorbacks football team to three Super Bowl victories as owner of the Dallas Cowboys, Jones' storied career has left a lasting legacy on the world of sports and sports in Arkansas.


"Our family is very proud of what [Jerry] has accomplished in his life as a person who loves sports and a person who is a contributor to sports in this state and in this country," said his mother, Arminta Jones. "He is proud to be an Arkansan and a Razorback. He has never forgotten where he has come from and how special it is to come from here."

Sportswriter David McCollum joined the ranks of Orville Henry, Jim Bailey, Harry King, Jerry McConnell and Wadie Moore as the sixth Arkansas sportswriter to be inducted into the hall of fame.

"There's a lot of great reporting and journalism going on in the smaller towns and publications in Arkansas and I'm happy to be representing them," McCollum said. 

McCollum has served as a sportswriter, sports editor and sports columnist for the Log Cabin Democrat in Conway for 29 years and has covered numerous high school and collegiate sporting events.

"The relationships and experiences with the good guys are what keep you going in the sporting community," he added. "It's not whether it's winning or losing — it's how you do the game. I'm blessed to be able to witness and capture many of those perspectives."

Conway's Mike Harrison became the sixth Arkansas sportscaster to be inducted into the ASCASW Hall of Fame.

"It's a love that has been with me all my life," Harrison said. "I have a passion for sports. I'd rather do play-by-play than eat. Once it gets in your blood, you want to do it all your life."

Harrison has broadcasted more than 5,400 games play-by-play from high school sports to college sports and founded the Creative Sports Network and KTOD (now KASR-Arkansas Sports Radio) in Conway in 1977 and 1982 respectively. Harrison formed the Arkansas Sports Club in 2006 as a means to recognize sportscasters and sportswriters in the state. He also created the ASCASW Hall of Fame in 2007. He currently serves as the radio voice of the Conway Wampus Cats.

"[Sportswriters and sportscasters] are never recognized and they do hard work," Harrison said. "There are a lot of hall of fames, so we started the Arkansas Sportswriters and Sportscasters Hall of Fame."

Doretta Bright, a North Little Rock High School graduate, was named the Arkansas Sports Club Member of the Year.

"I'm a fish out of water," Bright said. "I am humbled and honored to receive this recognition. This organization has been a real blessing in my life."

The late Buddy Coleman and Eulis England were also honored for their achievements. Coleman worked more than 250 college football games, including 15 bowl games and two national championship games as a referee. England served as a teacher and coach for 27 years, lending his services to several schools in Arkansas and Texas.

Former Today's THV sports anchor Wess Moore was the master of ceremonies.

(See more photos from this event in the September issue of 501 LIFE.)