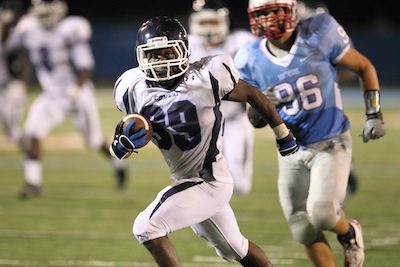 03 Sep 2011

Sports Brief: Wampus Cats drop stunner at Southside

The Conway Wampus Cats dropped a thriller at Ft. Smith Southside Friday, falling 32-27 in the final seconds.


Southside's Austin Nolan hit Landon Lee for a 15-yard touchdown pass to give the Rebels the 32-37 lead with 32 seconds remaining in the game. Conway responded with a long touchdown pass of its own, but it was called back on a penalty, leaving the Rebels with the win.

Conway led for most of the game until the third quarter. Nolan gave the Rebels their first lead of the game late in the third quarter with a touchdown pass, giving Southside a 26-21 advantage.


The Wampus Cats responded with a touchdown drive of their own – Cordarius Irby scored on a 1-yard touchdown run with 10:09 left in the game. The Wampus Cats led 27-26.
Irby also scored earlier in the game with another 1-yard touchdown run – that came in the second quarter and gave Conway a 14-6 lead.

Other scoring for the Wampus Cats included an exciting 70-yard punt return for a touchdown by Corven Alexander in the second quarter and a 36-yard touchdown pass from Tyler Langley to Brandon Cox to give Conway its first score in the game with 6:26 to go in the first quarter.