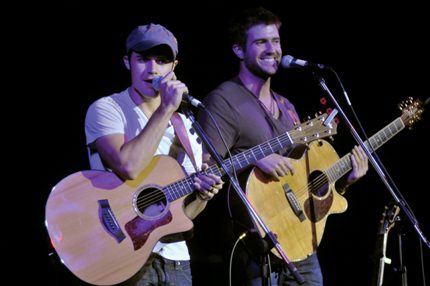 05 May 2014

Special disaster relief concert to feature Kris Allen

First Security Bank locations in Conway, Vilonia and Mayflower are selling tickets for a Special Disaster Relief Concert featuring hometown favorite and national recording artist Kris Allen.

The special limited seating event will be held at 7 p.m. Friday, May 9, at Fellowship Bible Church, 1051 Hogan Lane, Conway. Tickets are $30 each with all proceeds going to help with the recovery project. A special offering will also be taken at the event. Tickets are also available at the church and at Pitza 42 Restaurant on Dave Ward Drive. Tickets for the tornado relief concert will go on sale on Tuesday, May 6.


Kris Allen is a nationally known singer-songwriter from Conway, and the winner of the eighth season of American Idol. Allen's Idol coronation song, "No Boundaries" and his version of "Heartless" both charted within the Top 20 of the Billboard Hot 100. Allen's post-Idol self-titled album was released on Nov. 17, 2009, by 19 Recordings and Jive Records. The album debuted at No. 11 on the U.S. Billboard 200. The album's lead single, "Live Like We're Dying," was released on Sept. 21, 2009, and peaked at No. 18 in the U.S. with combined sales of over 1.7 million. Allen's second major-label album "Thank You Camellia" was released on May 22, 2012, and the lead single "The Vision of Love" was released March 26, 2012.


Allen loves his hometown of Conway and was featured on American Idol with his homecoming parade which attracted more than 20,000 people. The City of Conway named the outdoor stage in Simon Park after the singer.
The concert locally is supported by Preston Palmer Studios, Central Arkansas Entertainment, Fellowship Bible Church of Conway, B98.5 FM, Alice 107.7 FM, Pitza42 and First Security Bank.