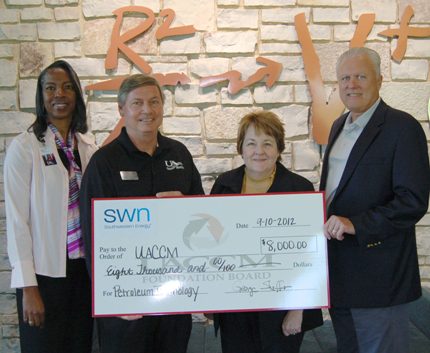 24 Sep 2012

Southwestern Energy presents gift to UACCM

Posted at 1:43 PMh

in

News

Southwestern Energy recently presented University of Arkansas Community College at Morrilton Chancellor Dr. Larry Davis with a check for $8,000.

The donation is part of a five-year, $50,000 commitment from Southwestern Energy to help grow the UACCM petroleum technology program. The initial gift was used to fulfill equipment needs in the infancy of the program and the remainder of the pledge will be used to offset operating expenses and help the program stay on the cutting edge of the industry with the most current equipment and teaching materials.


"Southwestern Energy is proud to support the University of Arkansas Community College at Morrilton. Since its inception more than six years ago, UACCM's Petroleum Technology program has proven to be a valuable resource to meet the needs of a highly-skilled workforce for our operations in the Fayetteville Shale," said George Sheffer, SWN vice president of exploration and production services.


UACCM Chancellor Dr. Larry Davis added, "The success of our program has been amplified by our continued partnership with Southwestern Energy. Their contributions have made it possible for us to stay current and offer the best possible education to our students."


The 2010 commitment from Southwestern Energy brought the company's total contributions to the petroleum technology program to more than $400,000. UACCM's petroleum technology program provides specialized education in oil and gas exploration, production and development. It is designed for individuals pursuing jobs and careers in the Fayetteville Shale play, one of the country's largest known unconventional reserves of natural gas.


For more information on the program or the college, visit uaccm.edu.