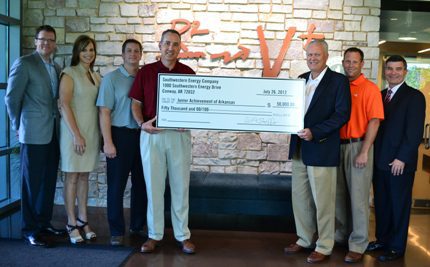 13 Aug

Southwestern Energy donates $50,000 to JA of Arkansas

Southwestern Energy (SWN) recently presented Junior Achievement (JA) of Arkansas with a $50,000 donation as part of its ongoing commitment to education. Southwestern Energy has supported JA of Arkansas through monetary donations and classroom volunteers since 2007.
"Southwestern Energy is proud to support Junior Achievement of Arkansas, not only monetarily, but also through our employees' volunteer efforts. Our ongoing partnership with JA has allowed us to be part of ensuring our children have the skills they need to be successful in a global workforce," said George Sheffer, SWN vice president of exploration and production services. "Our employee volunteers have also benefitted from their classroom experiences and the satisfaction of knowing they have made a difference in a child's life."

During the 2011-12 school year, 54 SWN volunteers partnered with Arkansas teachers to deliver JA programming to more than 1,300 students. This makes SWN the largest single provider of volunteers for JA in the state.

JA of Arkansas is a nonprofit organization focused on providing young people with the knowledge and skills they need to own their economic success, plan for their future and make smart academic and economic choices. Corporate and community volunteers deliver relevant, hands-on experiences that educate students about financial literacy, work readiness and entrepreneurship.

"With the support of local companies, like Southwestern Energy, Junior Achievement programs reached over 2,800 students in this community last year," said Chad Kauffman, president of JA of Arkansas.

For more information, visit jaark.org or follow the organization on Facebook at JuniorAchievementArkansas and on Twitter at JAArkansas.