15 Sep

Southeastern Oklahoma defeats No. 17 Harding on late touchdown, conversion

DURANT, Okla. – Southeastern Oklahoma scored a touchdown with 46 seconds left and completed a two-point conversion pass to defeat 17th-ranked Harding 32-31 Saturday in Great American Conference action at Paul Laird Field.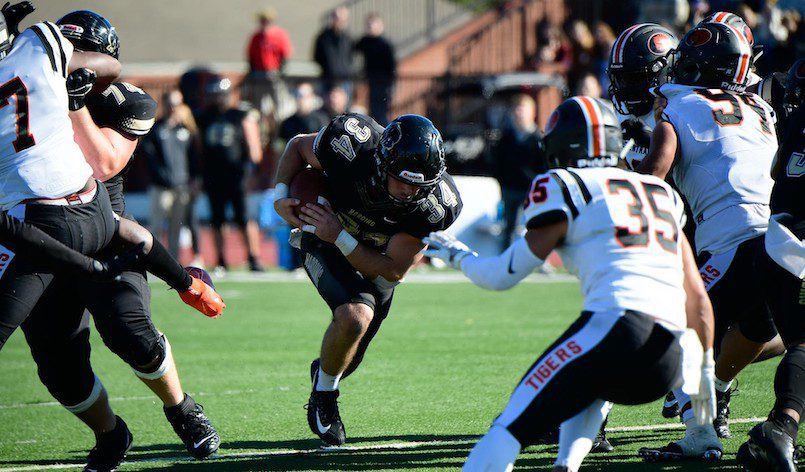 The loss dropped Harding to 1-1 overall and in the GAC and ended a nine-game winning streak by the Bisons over the Savage Storm. Southeastern improved to 2-0, eclipsing its win total from 2019 (1-10) in only its second game.
Harding trailed 24-10 with 9:04 left in the third quarter, but scored three straight touchdowns to take the lead late in the game.
Taylor Bissell scored on a 59-yard run with 2:29 left in the third to cut the lead to 24-17. A 3-yard Cole ChanceyTD run with 11:15 left in the fourth quarter tied the game at 24-24. A drive that lasted more than six minutes resulted in a 16-yard Omar Sinclair touchdown with 3:45 left to give the Bisons their first lead since an early field goal.
A Southeastern penalty on the ensuing kickoff left the Savage Storm at their own 9-yard line. The Storm went 91 yards on 11 plays with Daulton Hatley connecting with Skye Lowe on a 4-yard slant route to pull Southeastern within 31-30. On the two-point conversion, Hatley threw to the left and hit tight end Pablo Perini with the game-winning pass.
Despite Southeastern rolling up 252 total yards in the first half, Harding used two big runs late in the half to keep the game close. After holding the Savage Storm to a field goal on a drive deep in Bison territory, Harding used a 47-yard run from Bissell, followed by a 36-yard TD run from Sinclair to cut the Savage Storm lead to 17-10 at halftime.
Harding opened the scoring with a 51-yard field goal from Grant Ennis, the longest by a Harding kicker since Eddy Carmona's school-record 62-yarder against East Central in 2011.
Southeastern Oklahoma scored the next 17 points. The first of two touchdowns came on a wide receiver reverse pass with Braxton Kincade connecting with Perini on a 39-yard score. An 80-yard drive ended with Deundre Wheeler scoring from 12 yards out to put the Savage Storm ahead 14-3 with 11:02 left in the half.
Trey Keatts made a 31-yard field goal with 2:56 left after Harding's defense stalled a promising drive deep in Bison territory.
Harding rushed for 365 yards in the game, led by Bissell, who carried five times for 100 yards. Chancey carried 19 times for 95 yards. His touchdown was the 46th of his career, breaking Park Parish's school record. Quarterback Preston Paden had 88 rushing yards on 10 carries, and Sinclair rushed 12 times for 73 yards and two touchdowns.
Hatley completed 27 of 40 passes for 281 yards and a TD to lead Southeastern.
Harding plays its second straight road game on Saturday against Southern Arkansas in Magnolia. The Muleriders are 2-0 after defeating Southwestern Oklahoma 42-27 in Weatherford, Oklahoma.