02 Jun 2023

South Conway County School District reveals inaugural Hall of Distinction class

By Mary Eggart

On the evening of May 6, the South Conway County School District Hall of Distinction was revealed at Morrilton High School's Devil Dog Arena. With more than 250 in attendance, the Hall of Distinction Banquet was held to induct the inaugural class of 2023, which consisted of eight individuals and three sports teams.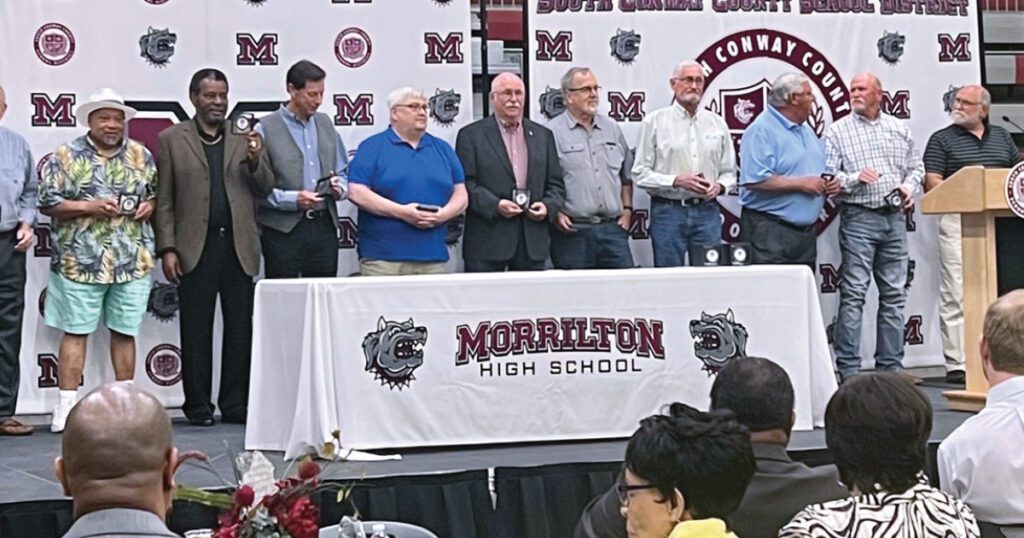 Led by Shawn Halbrook, superintendent of South Conway County Schools, the ceremony was designed to bring together members of the community (both former and current) to honor the outstanding contributions of alumni and other pivotal citizens. Addressing the inductees and their families, Halbrook said that by creating the Hall of Distinction inside Devil Dog Arena, students would now be able to come to a place "where they can see you and feel your impact." Tommy Huett, former Morrilton High School football coach and educator, conducted the induction ceremony and presented a brief history of the legacy of excellence left by each individual and team, which in turn laid a firm foundation for current and future students.
The 2023 individual inductees were Dr. Ray Fullerton, Raymond Chambers, Barbara Netherton, Harold Nichols, B. Jack Wilson, Henry Turner, Lt. Gov. Nathan Gordon and Gov. Winthrop Rockefeller. Only one of the individual inductees, Henry Turner, is still living, although he was unable to attend due to illness. Also inducted were the 1939 Menifee State Championship Girls Basketball Team, the 1970 Plumerville Girls State Championship Basketball Team, and the 1971 Morrilton State Championship Football Team.
Together, Dr. Ray Fullerton and Raymond Chambers oversaw the consolidation of the Morrilton School District with Plumerville and Menifee, which became the South Conway County School District in 1980. Fullerton had been the superintendent of schools for Morrilton since 1975, and Chambers was the superintendent of the East Side School District in Menifee. Both men were instrumental during the most transformational time in South Conway County School District history. During his career as superintendent, Fullerton oversaw numerous building projects totaling 258,902 square feet, which included the football field house, H.B. White Auditorium, Morrilton Junior High, River Valley Vocational Center and the Intermediate School. Additionally, Chambers first served as assistant superintendent for South Conway County Schools, and then in 1998, he became the superintendent, remaining in that position until 2003.
Barbara Netherton taught physical education and health at Morrilton High School, where she initiated and coached three women's athletics programs: volleyball, tennis and golf. The highlight of her career was winning the volleyball state championship in 1981. Golf was Netherton's true passion; she won the Morrilton Country Club's Championship Tournament 27 years in a row. After her death in 2005, the Barbara Netherton Memorial Golf Tournament began, which has distributed and endowed more than $100,000 in scholarships to the community's young women who exemplify Netherton's attributes: athletic excellence, outstanding academics and community service.
Harold Nichols was the talented voice of Friday night Devil Dog football over the course of 50 years for local radio station KVOM. His play-by-play commentary was a much-anticipated weekly highlight of the community. As the voice of Devil Dog Athletics, his narrative was smooth, and he never missed a beat. Likewise, selling advertising spots for the radio station became effortless for Nichols due to his easy but authoritative voice that had become so synonymous with KVOM that businesses would only buy advertisement time if he recorded the spot. Nichols called his last Devil Dog football game in the fall of 2007.
B. Jack Wilson was (and still is) considered by many to be "the favorite son of Morrilton." His personality and demeanor were the embodiment of the spirit of Morrilton: determined, adaptable, generous and strong. With friend James Irvin, Wilson's claim to fame was the naming of the school mascot during his senior year in 1926. On top of the newly built Morrilton High School building was a 6-foot gargoyle, which Wilson said looked like a dog sitting on its haunches. The school held a contest to select a mascot for the football team who would play in the fall of 1926. Wilson and Irvin submitted the "Devil Dog," and the rest was history.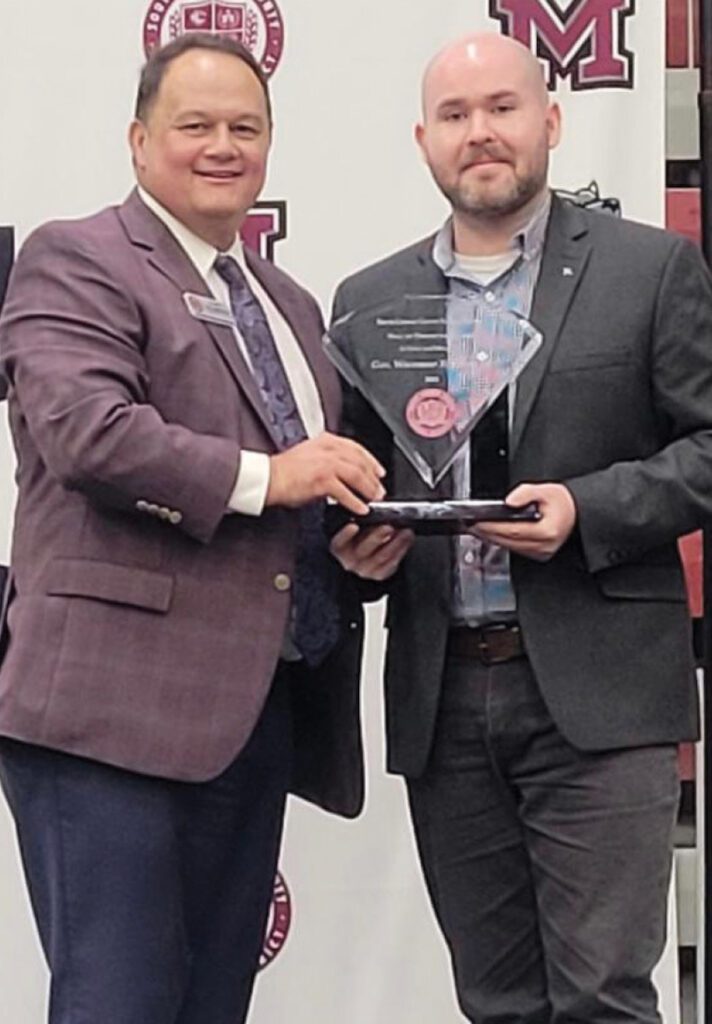 Henry Turner spent his career in education, both as an educator and a principal. In 1972, he moved to Morrilton, where he was principal of North Side Elementary. Known for loving his students, backing his educators, and respecting parents, Turner positively affected hundreds of lives. He coached Little League baseball and basketball and attended ALL activities at the junior high and high school. In 2016, Turner was awarded "The #1 Fan" for more than 70 years of faithful service by the Arkansas Activities Association.
As a Morrilton native, Lt. Gov. Nathan Gordon positively influenced Conway County and beyond. Not only was Gordon awarded the United States military's highest decoration, the Medal of Honor, during World War II, he also later became Arkansas lieutenant governor and was re-elected nine more times from 1947 to 1967. He worked as acting governor more times than any other individual in Arkansas history. In 2022, the South Conway County Public School Foundation received a $50,000 grant from the Nathan and Virginia Gordon Endowment Fund. This money was donated to Conway County School Counts, which aids in offering financial assistance to eligible Conway County students who enroll in classes at UACCM, where the School of Agricultural Sciences is named in the Gordons' honor.
Gov. Winthrop Rockefeller extended Conway County an insurmountable service when he decided to move to Arkansas in 1953. Building Winrock Farms atop Petit Jean Mountain, Rockefeller was determined to use his wealth to benefit his newly adopted state, and with Morrilton's public school system being so close in proximity, the community reaped the benefits of his generosity. The Winthrop Rockefeller Foundation (formerly Rockwin Fund) was created to finance a Morrilton model school program. Some of Gov. Rockefeller's contributions to the Morrilton schools included the building of Reynold's Elementary and Morrilton High School. Over time, his investments in Morrilton's public school system became evident as test scores increased, teachers' salaries rose, and more students attended college.
The 1939 Menifee Travelerettes Girls basketball team won the state basketball championship having never played a game on a wooden floor. In the words of player Alma Byrd, "We didn't know anything about how the ball would bounce off of the floor. We only knew how it would bounce off the ground. It was so much better off of a floor … it would come right back to you. It felt good. We got in there, and you could hardly get us out!" Members of the 1939 championship team were Catherine Acklin Williams, Rosebell Jenkens Alexander, Rene P. Hammons, Goldie Payne, Hazel Bell, Alma English Byrd, Donmela Stokes Woods, Claudia Mae Dennis, Evelyn Brower McKindra and Coach Stella Ceaser.
In 1970, the Plumerville Girls Bulldog basketball team, coached by Don Handlang, became the Class B State Champions. Each girl had been coached and trained by Handlang since she attended seventh or eighth grade. Members of the 1970 championship team were Susan Bostian Stecher, Mary Gray Dunlap, Betty Gilmore Slagle, Marilyn Townsley Crawford, Vera Black Cross, Greta Eades Deaver, Laura Pettingill McCoy, Frances Garrett Powers, Anita Faye Black, Menthia Hervey Ausler and Jana McCoy.
The 1971 Morrilton Devil Dogs football team became the Class AA Champions after beating Stuttgart, the defending champions, in the state finals. Morrilton was undefeated in 13 games, the only unbeaten high school team in the state. There were 43 players, three student trainers, two managers, four coaches, and 4,000-plus fans who made 1971 a season to remember, thus igniting the spark that rendered a tradition of great football in Morrilton.