27 Oct

Sour patch dad

I think any soccer parent can relate to what my good friend Nona said recently: "I never like it when they schedule these Saturday soccer games in the morning. And I'm not too crazy about the afternoon ones either!"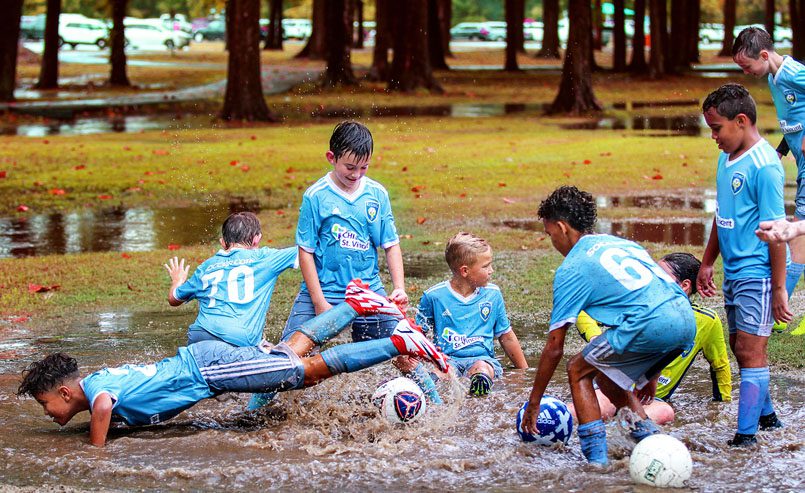 It was early October and we were scheduled to be at a soccer tournament at 7:30 a.m. with our son, Preston. Rain had been in the forecast for most of that week, but it didn't actually show up until about 15 minutes into our first game.
Four hours later, with not one piece of dry clothing remaining, I was on the sidelines feeling … sour. At that moment, the steady rain decided to become what the experts call a torrential downpour. The games were paused — not canceled, but paused — so we just remained on the field waiting for the vengeful storm to pass. With my eyes closed, I sat there thinking, "We paid money for this?"
That is when I heard the first laughter coming from the parents beside me. Looking around, I saw a sight you seldom witness these days. The kids were acting like … kids. Their coach had given them free rein to have fun and straight to the mud puddles they went.
I know I won't remember the scores from that day, nor how uncomfortable my soaked pants were. But I will always remember that moment which, just like my favorite movie candy, melted sour into sweet.
This magazine is dedicated to the sweet LIFE found in the 501 and not only the truly delicious sweets from our dear friend Don Bingham that you see on the cover. The heart of this edition is about those who have faced sour moments and transformed them into a sweet outcome. I challenge you to not have a lump in your throat as you read Mike Kemp's story of how a neighborhood came together when he was saying goodbye to his dog, Pepper. Another example is the story of young Jamey Cook, who lost her father before she was even born and who now makes Christmastime better for families throughout Central Arkansas by helping her godfather deliver gifts.
The theme this month is particularly poignant around our offices, as our 501 family faced our own bitter with the sweet recently. I want to acknowledge the passing of our "Celebrating Artistic Excellence" contributor Aaron Brand, whose love for the humanities, culture and art made him the perfect contributor for this piece each month. Aaron, to your 501 family, you were a sweet soul and you will be truly missed.
Thank you, as always, for sharing your time with us at 501 LIFE. We wish you all a happy, healthy Thanksgiving, hopefully enjoying some of Chef Bingham's decadent recipes. You can bet your sweet life we will!
Jeremy Highinbotham
Publisher