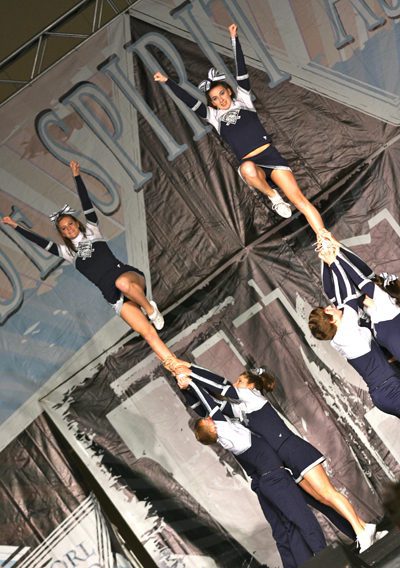 20 Mar

Sonshine squad relishing opportunity to shine at national competition

by Mark Oliver


In 2007, Sonshine Academy's Cheer Force All Stars program took its cheerleading teams to the World Cheerleading Championship in Orlando, Fla., to watch the best cheerleading teams in the country take the floor.

This year, one of the program's teams, the Cheer Force All Stars Falcons, will have its time to shine in the spotlight on one of the biggest stages in cheerleading.


On March 3 and 4, the Falcons placed third overall in their division at the Worldwide Spirit Association Grand Nationals in New Orleans, qualifying the team for the World Cheerleading Championships on Saturday, April 28, and Sunday, April 29, with an at-large bid, something the program has been trying to accomplish for many years.


"It's an amazing accomplishment," said cheerleading program director Sarah Marsh. "You always see other teams going [to the World Cheerleading Championship], but you never really expect to get there, yourself. For the past few years, we went just to watch the competition. Once we saw those teams on the floor, we decided we really wanted to take our program in that direction and we've been working hard toward that goal ever since. They want to be on that floor more than anything and now they have the chance to be there."


Originally the Sonshine Cheerleading Academy, the Cheer Force All Stars organization was created in 2002, beginning with only 20 cheerleaders. Today, Cheer Force All Stars boasts 11 teams with nearly 200 cheerleaders from all over the 501.


One of the Cheer Force premier teams, the Falcons consists of 16 cheerleaders, ranging from ages 12-18. There are 12 girls and four boys. The team practices for five hours each week, with many members coming to work on their own during the week. Aside from their daily schoolwork and extracurricular activities, the Falcons also volunteer to help coach a cheerleading team at Sonshine Academy that is designed for teenagers with special needs.


"We couldn't be any more proud of all of these kids," Marsh said. "We've come so far in the past eight or nine years. They've worked so hard all year long to get here. It couldn't be more perfect that the first year that we get the bid for the World Cheerleading Championship is the year that [the original members] are graduating. It's very special for them to get this opportunity."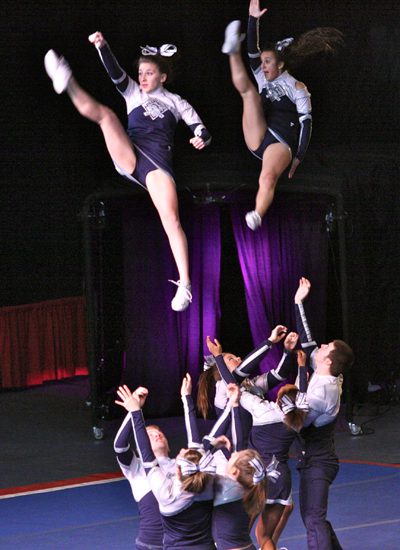 This season, the Falcons won their division and were named overall grand champions in a nationwide tournament in Branson, Mo. The team also placed high in the American Spirit Championship in Oklahoma City earlier this year.

Now, with their bid in hand, the Falcons' dream to compete in the World Cheerleading Championships has all but been achieved. 
However, in order to make it to Orlando, the team faces a hefty $20,000 price tag.

"We have tons of different fundraising ideas in place," Marsh said. "We have around $3,000 so far, but we still have a long way to go. We're hitting it hard now and we'll do as much as we can over the next month and a half."

Some of the things the team is doing to raise money include hosting a "parents' night out" event, where parents will be able to drop their children off at Sonshine Academy to play in the gym while they enjoy a night out. The team is also partnering with local restaurants, selling Egyptian cotton sheets and making commemorative world championship event T-shirts.

"The world's T-shirt is our biggest fundraiser," said cheerleading and tumbling director Erik Wright. "It's a big tradition for teams to have their own world's T-shirts and we'll be selling one to everyone and anyone who wants one.
"We are asking businesses to donate or become sponsors for the team. We have some advertising that we're going to do for businesses. We're hanging their banners and logos inside our gym as official sponsors for us. We also host a cheerleading competition every February. We will help them advertise their businesses at that competition and also on our website."

The Wright family has been actively involved with Sonshine Academy for more than 20 years, with Erik and his sisters, Sarah Jo and Rosemary, as dance instructors. Sarah Jo also helps teach cheer and tumbling classes at Sonshine Academy.

"It's awesome to have the family involved," Wright said. "My parents own Sonshine Academy and my dad coached me when I was younger. I have been coaching my sister in one way or another for around seven years." 

Many of the original 20 cheerleaders are still with the team as seniors in high school. However, after graduation this year, they will become ineligible for the program, which makes their trip to Orlando even more special.

"They've earned it," Marsh said. "They've been amazing and incredible. They are the foundation. They have taken on a leadership role just by being there. We've been together for so long, we feel like we've gotten to know them so well, that we feel like we've helped raise them too."

For more information on how to sponsor the Falcons' trip to the World Cheerleading Championship in Orlando, visit http://www.cheerforcefalcons.com.