07 Aug 2018

Soaring Wings announces sponsors for annual half marathon, 10K

Organizers are gearing up for the 11th Annual Soaring Wings Half Marathon & 10K with the announcement of corporate sponsors and the unveiling of this year's medals.

The event – which will be held in Conway on Saturday, Oct. 20 – benefits Soaring Wings Ranch, a Christian family home that provides security, love and hope to children who need a chance, through no fault of their own, for as long as they need it. Soaring Wings currently has two homes for girls and one for boys, ages 6-18, as well as an Infant and toddler home that serves children birth through 5 years.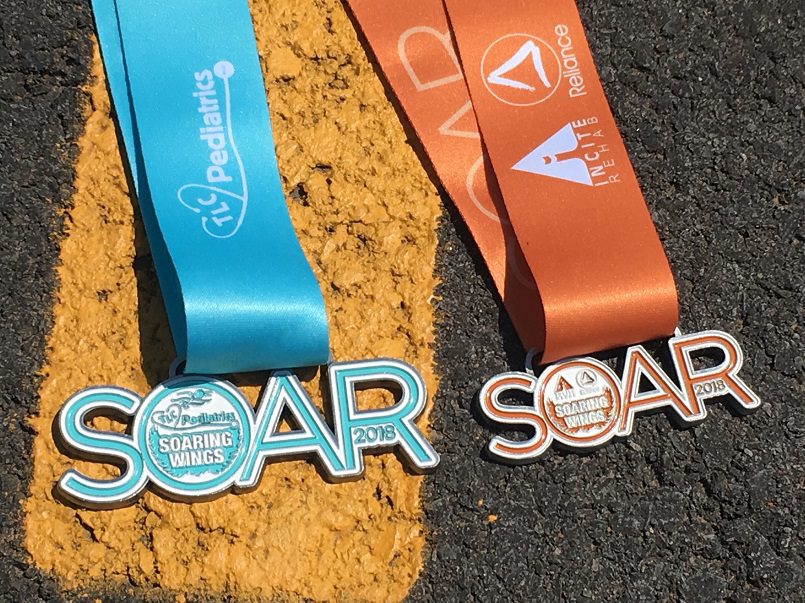 Marla Watson and Amanda Castillo serve as co-race directors.
TLC Pediatrics is the half marathon sponsor as well as the sponsor for Kids Run for Kids.
The 10K sponsor is Incite Rehab and Reliance, which is also the sponsor for the Family Fun Zone after the race.
The Official Race Nutrition and Pacer Sponsor is The Sporty Runner, which will provide the Gu for runners/walkers on the course in addition to providing singlets for all our pacers.
Other sponsors include:
The PI Company
Conway Women's Health Center
BancorpSouth
First Security Bank
Centennial Bank
501 LIFE is the official media sponsor.
The Soaring Wings training program, which recently got under way, meets at 6 a.m. every Saturday in the south parking lot at Conway Regional Health & Fitness Center (700 Salem Road). "Everyone is invited to participate," said Amanda. "Online registration has closed, but participants may sign a waiver and run/walk with the group." A training schedule is available for download at swhalf.com/training-info/.
Participants who register before Sunday, Sept 2, can save $10 on the half or $5 on the 10K.
"Get a free registration to the half marathon or 10K by becoming a Winged Warrior, plus tons of great perks the more you raise," said Marla. For more information on the fundraising program, visit swhalf.com/fundraising.
More than 20,000 have registered since 1997 for the event. The first half marathon in Conway soon became a must-do race for both local runners and those around the area. Since its inception, this event has allowed both walkers and runners to train harder, run farther and push their limits – all for a great cause.
Both events begin and end at the McGee Community Center in West Conway. The 10K starts at 6:45 a.m. and the half marathon at 7 a.m.
In addition, there is a Kids Run for Kids half marathon and fun runs. The Kids Run for Kids is a great opportunity to introduce children to the sport of running. It will take place at 5 p.m. Friday, Oct. 19, at the Conway Regional Health and Fitness Center. The events will begin in the south parking lot and continue on the Tucker Creek Trail.
The expo will also be held at Conway Regional Health & Fitness Center.
For more information and to register, visit swmarathon.com.