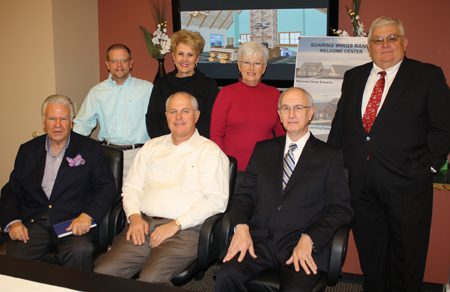 13 Dec

Soaring Wings announces plans for learning center

by Sonja J. Keith


A special group of volunteers is lending a helping hand to create a welcome and learning center at Soaring Wings Christian Ranch in the Holland community.


Members have been meeting for about a year to plan the $725,000 center which will enhance the educational experience that ranch residents already receive through the Greenbrier School District.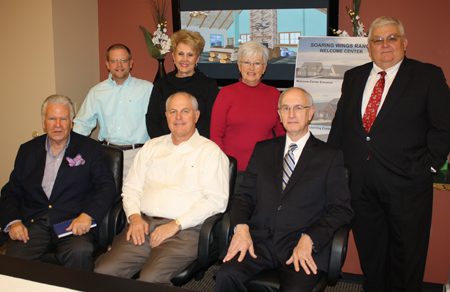 The committee includes several with a background in education – Greenbrier School Superintendent Scott Spainhour, Ray and Phyllis Simon, Cora and Woody Cummins and Dr. Lisa Todd – who have offered their insight into creating an environment where learning opportunities are maximized. Woody Cummins serves as chairman of the committee.

Others bring expertise in building design and fundraising – Georg Andersen, Rik Sowell, Eddie Glover and Linda Linn. Joanna Nabholz, intern architect at Sowell and Russell Architects, has assisted the group, incorporating the ideas and suggestions into drawings and plans for the center.

Located on 195 acres in the Holland community, Soaring Wings provides a Christian home to young people in difficult situations who need a chance to grow up in a loving, Christ-centered home.

According to Andrew Watson, executive director of Soaring Wings, the center has been a part of the master plan for the campus since it was created. He said many of the ranch residents are two to three years behind in their academics, so the center is vital. "It's not just a building, it's a learning program," he said. "The center will be the hub of the ranch."

The ranch currently has a boys home and a girls home, with two additional homes already in the works. The ranch will go from about 16 residents to 32 with all four homes. "As we go into construction of No. 3 and No. 4, the center went from being a want to a necessity," Watson said.

Residents now attend Greenbrier schools, which will continue. "We have an excellent public school system where we're at," Watson said. "We want to enhance the academic experience and create an environment that will inspire and encourage kids to learn."

At the center, residents will be able to receive one-on-one tutoring with space to provide educational services through the summer months – an ideal time to work on addressing individual deficits. The center will also have space where other services can be provided, including counseling and play therapy.

"We're very limited on counseling offices at the ranch," Watson said. "There's not an area appropriate right now for occupational and physical therapy."
Technology will also be an integral part of the center, with plans for Smart Boards and computers.

The facility will be located in the middle of the campus, with space and plans that allow for future expansion as needs arise. "It will be the largest building we build out there," Watson said.

Andersen has provided expertise in the building's design – exterior and interior. The center is designed in a Connecticut farmhouse appearance, with a rock exterior and a pewter colored metal roof. Lighter colors were chosen to keep the building friendly and approachable. Andersen noted that building materials were selected that require no further maintenance.

The center features a custom design with some custom furnishings, according to Andersen. He said the center will be upscale, yet not intimidating. He explained that individuals from all walks of life are expected at the center – from the residents to potential donors.

"It's our intention to use Virco furniture in the learning center wing," Andersen said. "They have some handsome choices."

Some of the features of the design:

A one-story structure with high ceilings.
A reception area with diamond-shaped, polished concrete floors and custom-made log furniture. There are also plans for a hand-woven rug.
A series of back-to-back carrels with vinyl wall covering to allow for smaller spaces for studying and tutoring.

Ray Simon points out that the center will also provide space for special occasions and celebrations. His wife, Phyllis, also explains that technology has been considered in the plans for the center.

In addition to helping ranch residents, Soaring Wings is designing the facility with other organizations in mind. "Our desire to build a learning center will also help equip other organizations like ours so they can model what we're doing," Watson said.

Soaring Wings has adopted a debt-free approach – funds are raised before work begins. Efforts are already under way to raise the money needed for the learning center. Committee members would like to see construction started as soon as possible, with hopes that will happen in six months to a year. (Donations can be mailed to Soaring Wings Ranch, P.O. Box 1670, Conway, AR 72033. For additional information, visit soaringwingsranch.com.)

According to Andersen, the lighting fixtures for the center have already been donated. "We're going to have a lot of naming opportunities and gifting opportunities," he added.

Watson is appreciative of the efforts of the committee and their expertise. He is excited by what the welcome and learning center will mean to the ranch and its residents.
"I appreciate the committee volunteering their time and talents. That's what makes Soaring Wings what it is today." He added that the center will have multiple purposes and meet many needs for years to come. "It's all about helping kids and doing it well. It's about excellence."