01 Dec

Smithson posts third double-double, Bisons fall to UAFS

SEARCY — Sophomore Stetson Smithson recorded his third double-double of the season but Harding fell 80-61 to Arkansas-Fort Smith Saturday in a nonconference matchup at the Rhodes-Reaves Field House.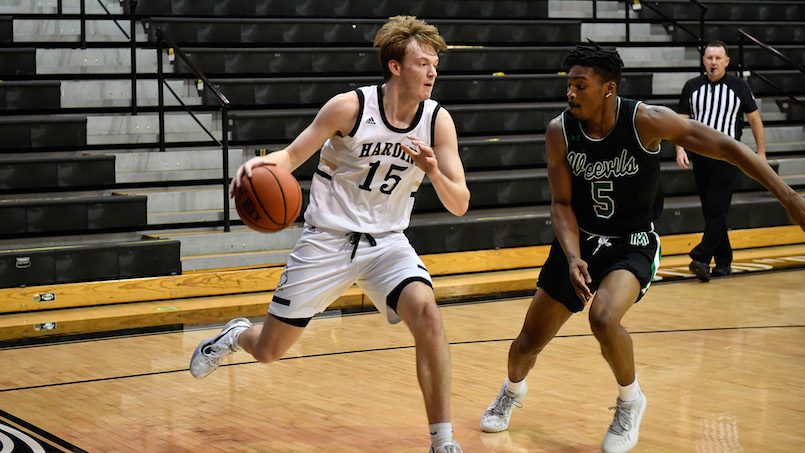 The loss dropped Harding to 2-3 on the season. The Bisons begin Great American Conference play on Thanksgiving at home against Southern Arkansas.

Smithson, a native of Bald Knob had 14 points and 10 rebounds. Senior Ramiro Santiago was Harding's leading scorer with 16 points. He connected on four 3-pointers.

Harding trailed on 41-35 at halftime, but UAFS opened the second half with a 15-2 run and led 56-37. The Bisons trimmed the Lions advantage to 65-51 with an 8-2 run that included two buckets from Josh Perkins.

Matthew Wilson, who had 30 points and seven assists, scored the game's next eight points, and UAFS (3-2) pulled away.

Harding got off to a quick start and led by as many as seven at 12-5 on a Santiago 3-pointer. Later in the half, Arkansas-Fort Smith countered with a 13-2 run and led 30-22 with 6:30 left before halftime.

The Lions pushed their lead to 40-30 on David Ekezie's layup at the 3:03 mark, but UAFS did not have a field goal the rest of the half. A Taylor Currie layup off a turnover with 53 seconds remaining cut the Lions lead to 41-35 at halftime.

Harding shot 39% for the game and made nine 3-pointers. Wilson had seven of the Lions' 11 3-pointers. UAFS shot 50% from the field.