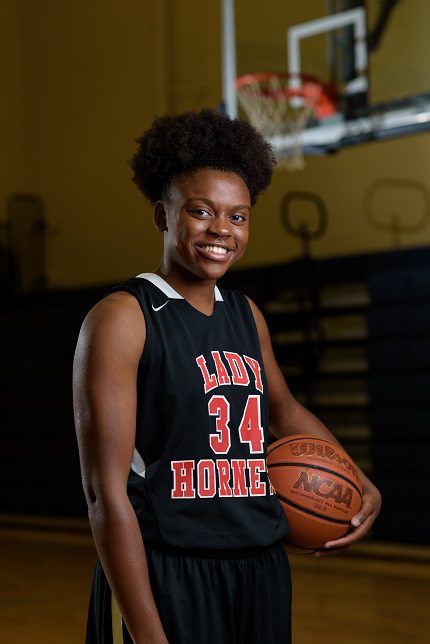 06 Dec 2017

Smith, Lady Hornets 'believe' in big season

by Mark Oliver


After a tough junior campaign where her team only managed four wins, Maumelle senior McKenzie Smith is ready for redemption this season. Winners of three of their first five games, the Lady Hornets (3-2) believe they can be a contender in not just the 5A West conference this season, but the entire state of Arkansas.


"This year, our entire atmosphere has changed," Smith said. "No one wants to repeat last year, and we're all working hard to keep it from happening. Everyone is on the same page, and I believe that our commitment as a team is stronger than ever."


Smith was selected to this year's 501 Basketball Team — 37 players representing the best the 501 has to offer both on and off the court. The team is sponsored by Conway Ortho and Sports Medicine, Conway Regional Health System and First Security Bank. Smith was nominated by her head coach, William Rountree.


"McKenzie is a leader on the court and in the classroom," Rountree wrote in his nomination. "She represents what is right with student athletes. She is an honor student with a 30 on her ACT, plays hard, leads by example and is very coachable."


Fresh into her final year with Maumelle, Smith strives to achieve one of her biggest personal goals.


"Last year, we didn't play well, but I also was not the best leader that I could be," Smith said. "Last year, I did what I needed to do on the court, but I wasn't a team player. This year, I want to be an actual leader — a vocal leader — not just a leader by definition. I want to be the one that my team looks up to."


Last week against Greenbrier, Smith and the Lady Hornets came together for one of their best performances as a team.


"Last week, we were leading at halftime, but everything started going downhill in the third quarter," Smith said. "Our defense allowed easy layups, and we couldn't gain our rhythm back. In the fourth quarter, however, something changed and we picked our game back up and started playing better as a team. We came away with a 61-32 win. To do all of that in one quarter to get that win was a great experience, and it has been our defining moment of the season."


This week, Maumelle will attempt to tie last year's win total against a tough opponent in Vilonia.


"As a team, we're excited for this game," Smith said. "We've been preparing for them for a couple of weeks. Maumelle hasn't performed well against Vilonia in a long time, and we think that it's going to be a good game. The difference will be us making our shots. Our defense is there, but if we follow through with our offense, we'll get the win."


Though the season is still young, Smith and the Lady Hornets believe that great things are possible in the months ahead.


"Coach Rountree says if we keep playing like we've been playing, we can make it to the state tournament," Smith said. "If we believe in ourselves when we hit the court, I believe that we can go further than Maumelle has ever been."


Off the court, Smith plays middle blocker for Maumelle volleyball and throws shot put for track and field. In the classroom, the senior serves as treasurer of National Honor Society and Student Council and is a member of Beta Club and Fellowship of Christian Athletes. In her community, Smith gives back to the 501 through Arkansas Commitment.


"Arkansas Commitment is a leadership program for African American students," Smith said. "We volunteer year-round and have monthly meetings to help us with our college decisions, have speakers from all around the country and help tutor younger students."


After high school, the senior plans to pursue an accounting degree.


After her high school career is over, Smith hopes others remember her days at Maumelle as a positive time helping others. "I want people to know how caring I was to others, especially my teammates, on and off the court," Smith said. "I never want to see anyone get down on themselves, whatever the situation may be. I genuinely care and am dedicated to not only my teams, but to my academics. I want people to remember me as that girl who set the bar and worked extremely hard to have the athletic abilities I have and the academic commitment I have, while still giving all the glory to God."


Maumelle travels to Vilonia at 6 p.m. Friday.