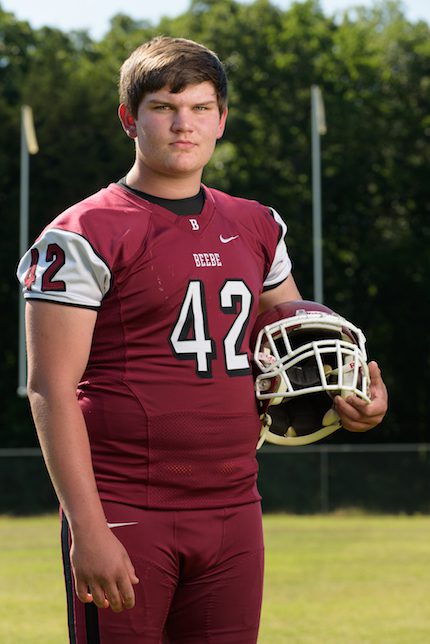 14 Sep 2016

'Smart' Payne leads the Beebe lines

by Levi Gilbert


The Beebe Badgers are a traditionally physical team, and this year is no exception. For the Badgers, that raw physicality starts on the line of scrimmage, and the responsibility of leading the way sits with senior Parker Payne and his band of linemen brothers.

"Every week we strive to be the most physical team on the field," Payne said. "With playing Wynne this week, this is extremely important considering the hard-nosed, power run team that they are. Our defensive line, consisting of myself and two great friends of mine, Hunter Newman and Grant Jackson, have this task on our shoulders, but I have all the confidence in the world in the three of us."


Payne was selected to this year's 501 Football Team — 26 players representing all 11 counties of the 501. The team boasts the best the 501 has to offer both on and off the field. Payne, a tackle on both sides of the line, was nominated by his head coach, John Shannon.


"Parker is one of the hardest workers I have ever coached," Shannon wrote in his nomination. "He is always trying to do everything right. He is a leader for the whole school and does great in the classroom. He's a very smart kid."


Payne has gained an intimate knowledge of the Badgers' offensive line schemes during his career through the challenge of learning to play every position.


"From my sophomore to senior year, I have learned every position on our offensive line, and have been moved each year to these different positions," Payne said. "It is something I take pride in, being that type of versatile player to help contribute to making the team better. I want to lead my team in the best way that I can, and like every other player, I'm going to strive to be all conference and ultimately all state.


"As a team we are looking to continue our streak of consecutive playoff appearances and hopefully make some noise when we get there."


The Badgers dropped their season opener against a "very talented Greenbrier team" but bounced back in Week 2. "We fixed the mistakes we had in the first week and got the win against Lonoke," Payne said. During the first couple defensive series against Lonoke, Payne had two tackles and recovered a fumble.


Wynne is next up for Beebe, and Payne is looking forward to all his opponents this year, in particular Little Rock McClellan in Week 7.


"As a senior, I am ready for every game that is on our schedule, but Little Rock McClellan has me the most excited," Payne said. "They are a very talented team with athletes at every position. In my opinion they are going to be they team that will truly bring out the best in us, and I hope they can say the same about us when it's all said and done."


Off the field, Payne is involved in Future Farmers of America. He placed third at the district Agriculture Mechanics contest. He's been involved in Beebe's Gifted and Talented program since the second grade. He was voted onto the Football Leadership Council going into his junior year. In the community, Payne is a member of McRae First Baptist Church.


"Our church takes great pride in helping those in the community," Payne said. "I enjoyed participating in giving back to the community through some hours at the Beebe Food Pantry."


In his downtime, Payne loves to be outdoors, particularly in the duck blind.


"One of my favorite things to do is duck hunt in the winter," Payne said. "Other than football season, it is one of my most anticipated times of the year."


Payne and the Badgers travel to Wynne this Friday, Sept. 16.