by Tiffany Block
What shall I say? It's the absolute best of both worlds – quick and efficient as well as delicious and healthy. These words all characterize crock pot meals. Soon, school will be back in session and your life will probably be in overdrive once again. Homework, music lessons, sports and dinner….you need a break!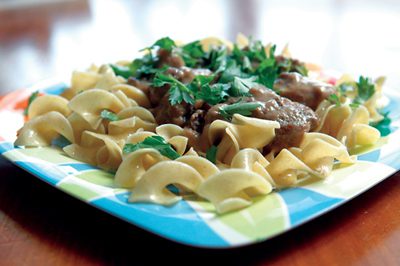 Let me introduce the wonders of the crock pot. Slow cooking, for anyone who hasn't tried it, can save you time, money and weeknight panic. Even better, it can give you warm and nourishing one-pot meals every family member will enjoy.
Meals can be started in the morning or night before, and be ready by dinner. Imagine coming home from a long day at work or running errands to the smell of a hearty beef stew, already cooked and waiting for you. Your half hour of prep in the morning has saved you hours in the evening, and now you're free to relax and enjoy as you eat dinner slowly with your family.?Some may wonder, "What's the difference between a slow cooker and a crock pot?" The answer is nothing. Generally, these two terms are used to describe the same cooking appliance. A slow cooker has the heating element on the bottom. This means you may need to stir occasionally to prevent sticking. It will usually have a thermostat allowing a range of cooking temperatures.
A crock pot has the heating element around the sides of the container with a crockery insert, where you place the food. This insert is removable – making cleaning so easy. A crock pot usually only has two heat settings – low and high. However, the most important thing is that all crock pot recipes will work as slow cooker recipes; you just might need to give some of them a stir.
One of the things I like the most about crock-pot meals is that they are very flavorful. Due to the fact that meals which are prepared in a crock pot sit and cook for a while, the end result is a savory meal. The juices have had a chance to soak in and marinate the ingredients, which makes for a meal that will tantalize the taste buds.
I also love that many crock pot recipes are unique and different. Crock pot recipes tend to be ones which are a bit different than the usual recipes that require stovetop or oven cooking. You can also personalize some crock pot recipes by throwing in additional ingredients for added flavor.
So as the kids head back to school, consider digging out your crock pot and make something fantastic for dinner without spending much time on the meal. Bon Appétit.
Crock Pot Beef Tips
2 pkgs. (2 lbs.) beef stew meat
2 cans cream of mushroom soup (can use low fat)
1 envelope dry onion soup
¼ cup water
Combine in crock pot: Beef, dry onion soup, cream of mushroom soup and water. Stir. Cook on low for 8 hours. Serve over cooked rice or egg noodles.
Kielbasa-N-Beans
1 pound lean ground beef
1 large green bell pepper*, diced
1 cup chopped onion
1 pound kielbasa or smoked sausage, thinly sliced
1 (10 1/2 oz.) can tomato soup, undiluted
1 (14.5 oz.) can diced tomatoes, undrained
1 (10 oz.) can diced tomato and green chiles, undrained
3 (16 oz.) cans pinto beans, undrained
4 (15 oz.) cans pork and beans, undrained
1/4 teaspoon salt
1/4 teaspoon pepper
2 cups (8 oz.) shredded Cheddar cheese or Monterey Jack
Cook ground beef, green pepper and onion in a heavy skillet over medium-high heat, stirring and breaking up until meat is browned and no longer pink. Remove from skillet; drain.
Brown smoked sausage in the same skillet; drain. Place beef, sausage, and next seven ingredients in a 5-quart slow cooker. Cook, covered, on LOW for 7 to 9 hours. Stir cheese into hot bean mixture just before serving.
*Part of a red bell pepper can be substituted.
Apricot Glazed Chicken
1/2 cup apricot preserves ?1/3 cup bottled Russian dressing
1/2 envelope onion soup mix
6 frozen chicken breasts (not thawed)
Mix the first three ingredients together. Place chicken in crock pot and cover with apricot mixture. Cook on low 5 to 6 hours.?
Country Crock Apples
4 to 5 cups peeled and sliced apples
2 tablespoons flour
1/3 cup granulated sugar
1/3 cup raisins
1/4 teaspoon cinnamon
2/3 cup quick cooking or regular rolled oats
3 tablespoons melted butter
3/4 cup brown sugar
Put apples in a mixing bowl; toss with the flour and granulated sugar. Stir in raisins, cinnamon and oats. Pour 1 cup water into crock pot. Add apple mixture. Pour melted butter over apples and then sprinkle with brown sugar. Cover and cook on LOW 4 to 6 hours. Great with ice cream!