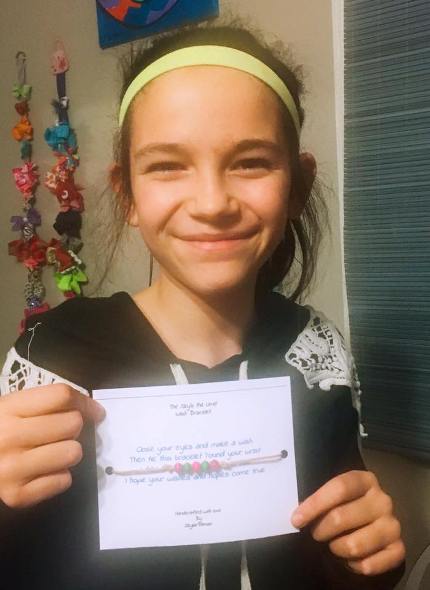 17 Mar

Sixth-grader raises funds for Soaring Wings Ranch

Skylar Pitman, a sixth-grader at Greenbrier Middle School, decided to make a difference in a big way.


Skylar told her mom that she wanted to use her money to help feed hungry kids. She has classmates who live at Soaring Wings Ranch (SWR), and through this relationship she discovered a way to meet the basic needs of the children at the ranch.


SWR is a Christian home that serves neglected, abandoned and abused kids. They provide a loving and stable home where children can grow spiritually, emotionally, intellectually and socially. The ranch is very close to opening an infant and toddler home for the youngest children who are in need.


When Skylar learned about the new home the ranch would have, she created a way to raise money to meet the needs.


After talking with her step-mom, Misty, she decided to make bracelets and created an online campaign to sell them. She named her campaign "The Sky's the Limit."

She instantly developed awareness and a large group of supporters. During her two-week bracelet campaign for Soaring Wings Ranch, Skylar raised $972 to provide food and formula for the infants and toddlers who will arrive at the ranch soon.


Skylar has proven that you can make a big difference in someone's life even when you are young. She has plans to create new campaigns for other organizations who feed children in Arkansas.


For more information about The Sky's the Limit, visit facebook.com/pg/skylarshope.