02 Aug 2022

Sissy's Log Cabin expands to The Promenade at Chenal

By Stefanie Brazile

The excitement was electric when Sissy's Log Cabin hosted a ribbon cutting ceremony and grand opening at a new storefront in The Promenade at Chenal on July 8. The West Little Rock location features state-of-the-art jewelry displays and a dedication to the "Sissy's Experience" of quality jewelry and exceptional customer service.

As a tangible demonstration of the Jones' family commitment to customer satisfaction, a sign near the front door provides a manager's phone number for anyone with a "jewelry emergency."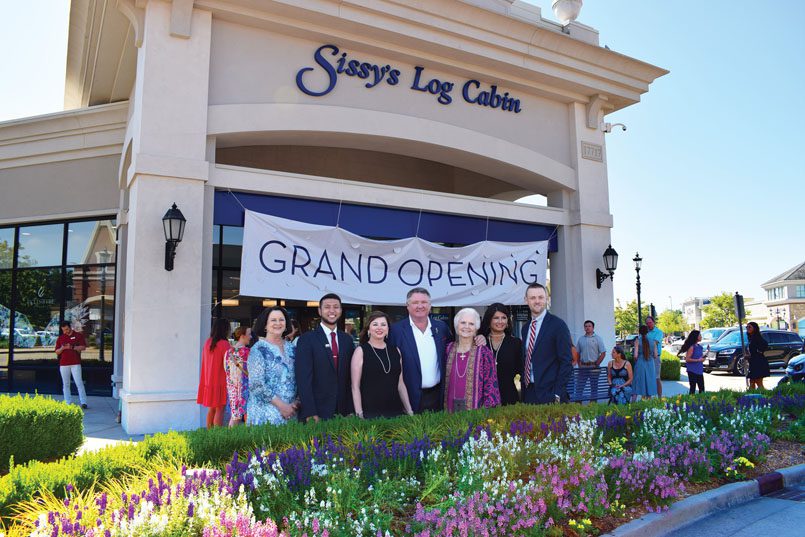 "Most of those calls are about forgetting a birthday or anniversary," said Bill Jones, owner and CEO. "Whatever the problem, we're here for the client. The more inconvenienced we are, the more 'convenienced' our customers are."
Elegantly lit cases fill 2,000 sq. ft. of the store, which is managed by Robert Dooms, a longtime Sissy's Log Cabin expert. "He is a fine young man and a wonderful Christian," Jones said. "As we did at the grand opening, we have a prayer in each store before we open up each day."
The company was founded 52 years ago by Sissy Jones in Pine Bluff, and the stores have always featured a log cabin look as a nod to her first location. This store's design is modernized, with large exterior windows, lighter colors and warm, natural hues that will be mimicked in the Memphis store whose construction will begin in September. "Next, we're looking at Northwest Arkansas and Nashville," Jones said.
Representatives from the Little Rock Regional Chamber of Commerce and Moses Tucker Partners were in attendance. Founder Sissy Jones spoke, showing excitement about the expansion of her original vision. She extended an invitation to the standing-room-only crowd to shop items available at all price points and emphasized that they value all customers.
Several other family members were present, including Bill's wife Sharri, who is the event coordinator and an owner. Their son William is the vice president of operations and social media. "We are excited to join the rapid growth of West Little Rock and to take part in building its future," William said. "Expanding our business in this flourishing area gives us the opportunity to meet and serve new clients and provide greater service to our current clients in Central Arkansas."
Jones was also in a celebratory mood because two days earlier he was appointed to be a Game & Fish Commissioner by Governor Asa Hutchinson until 2029. "I'm very honored and humbled to get that appointment. I was raised hunting and fishing all over the state and world. I see the future of Arkansas and it's very important to preserve what we have."
The West Little Rock store joins brick-and-mortar locations in Pine Bluff, Little Rock Heights, Jonesboro, Conway and Memphis, as well as an e-commerce site.