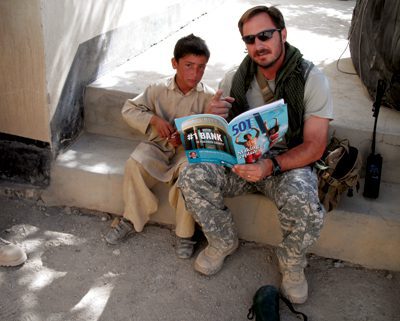 22 Nov 2009

Showing our support

Posted at 10:23 PMh

in

News

Jeff Tate is a physician assistant with the Arkansas National Guard on deployment to Afghanistan. His wife, Diana, and three children live in Mayflower.

Readers may remember the Loving LIFE photo that Jeff submitted from overseas. It showed him with a young Afghanistan boy looking at the August issue. A followup article about Jeff and his family appeared in the November issue (please visit www.501lifemag.com to see the complete story and photos).

"The response to Jeff's article has been tremendous," said editor Sonja J. Keith. "The Loving LIFE photo really touched our hearts, and we want to show our support by encouraging our readers to submit cards and letters that we will mail to Jeff."

Through the end of the year, cards and letters can be dropped off at PakMail at 2625 Donaghey Ave., Suite 108, in Conway for shipment to Afghanistan.

501 LIFE would also like to encourage readers to show their support for others serving in the military by participating in the USO care package program. Since 2003, the USO has distributed more than 1.5 million care packages to troops deploying to Afghanistan, Iraq and other overseas locations, as well as those arriving and departing on rest and recuperation (R&R) flights and at special send-off celebrations.

The USO works closely with the U.S. Department of Defense to distribute care packages where the need is greatest. The Operation USO Care Package office takes care package requests from deployed units, and makes every effort to fulfill these requests on a first-come, first-served basis.

For more information, please visit https://www.uso.org/donate/custom.aspx.