30 Jun 2022

Show and tell

By Chef Don Bingham

The future of the nutrition and culinary world is in good hands! I found an amazing program, directed by Instructor Leslee Tell, that focuses on training students at Conway High School in Consumer Science, Food Safety, Advanced Nutrition, and Servsafe Food Safety. Mrs. Tell, a teacher for 19 years, brings "much to the table" in her understanding of the latest in food technology and preparation. The recipient of more than 17 awards for excellence, she has influenced myriads of students and their potential careers. Mrs. Tell loves teaching, cooking and instilling in her students the motivation for quality, and excellence is her driving passion.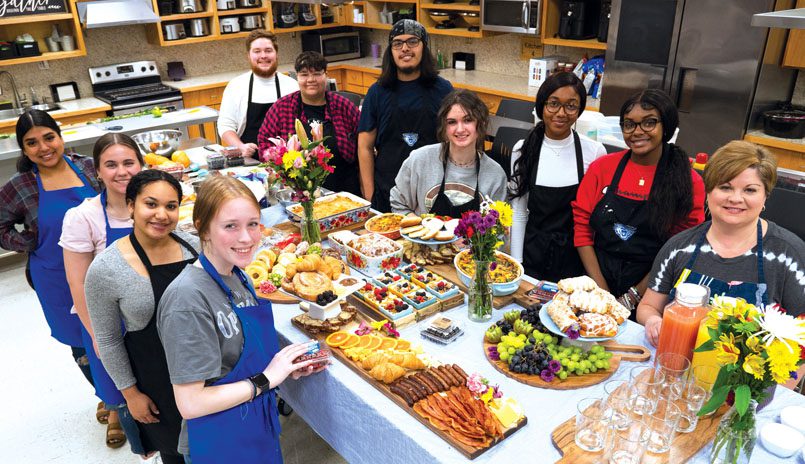 Among these honors are the National Board Certified Highly Qualified Teacher Award, the University of Central Arkansas Distinguished Alumni Award from the Family and Consumer Science Department, Arkansas Farm Bureau Ag in the Classroom Teacher of the Year, Conway Regional Women's Council Classroom Impact Award, Baptist Hospital Nutrition Education Award and Grant, Silver Dollar City "Dream Big Do Good" Award and grant, and the American Farm Bureau Federation's On the Farm STEM Scholarship Award for Professional Development, just to name a few!
Mrs. Tell's class runs a hydroponic garden that provides herbs and fresh vegetables to use in cooking labs. The funding for many of the class projects and equipment has come from awarded grants, including a prestigious federal Carl D. Perkins Grant. Included in the impressive equipment list are: a camera for kitchen demonstrations and three large smart TVs in the cooking lab, the hydroponic garden, an InBody 570 BMI Machine, a Digital Die Cut Machine, and a set of iPads in her teaching classroom.
The day we visited the classroom, the students were preparing an elegant presentation of breakfast items on charcuterie boards. This included selecting fresh herbs, grocery shopping, preparation, cooking, arranging for photo shoots, and making necessary arrangements for invited guests. Oh yes, did we mention the art of "clean-up" is also covered in this classroom experience?
"This class has taught me many things," student Jack Roach said. "From all of the field trips to farms to all of the interesting lessons, this class has really been fun. I'm happy I decided to take it."
Another student said, "I have had Mrs. Tell's class for 3 years and I have enjoyed every minute of it. Each year I've learned more about nutrition, and it has actually influenced me to want to become a registered dietitian. We have been able to go on a few field trips to see the farm-to-table style and it was such a fun experience. I am thankful that I decided to take this class, and it will influence my thinking for the rest of my life."
Both nutrition and sanitation certifications are offered to students willing to put in the required time and energy. I find comfort in knowing the future generation is not totally given over to fast food and fast technology that can result in fast weight-gaining issues.
Leslee Tell's
Cinnamon Roll Casserole
2 tubes cinnamon rolls (17.5 oz)
¼ cup butter melted
4 eggs
1 cup heavy whipping ream
3 tsps. cinnamon
¼ tsp. nutmeg
2 tsps. vanilla extract
Icing from cinnamon roll packages
Items needed:
9 X 12 baking dish
Mixing bowl
Measuring spoons
Pastry brush
Directions: Melt butter and coat a 9X12 baking dish with the melted butter. Preheat oven to 350. Beat eggs, cream, cinnamon, nutmeg, and vanilla together. Open canned cinnamon rolls and slice each one into eighths, like a pizza. Place cinnamon roll pieces into the bowl of egg mixture and toss to thoroughly coat. Then pour the coated pieces into the greased baking dish and spread out evenly. Any remaining egg mixture may be poured or brushed over the top of areas that look like they might get dry. Bake at 350 for 18-25 minutes or until light golden brown. Deeper pans may require additional time. It's best to keep an eye on things and check one of the middle pieces to be sure the dough is set before removing from oven. Add icing to the top of the warm casserole. Serve warm to guests.
Loaded Vegetable Quiche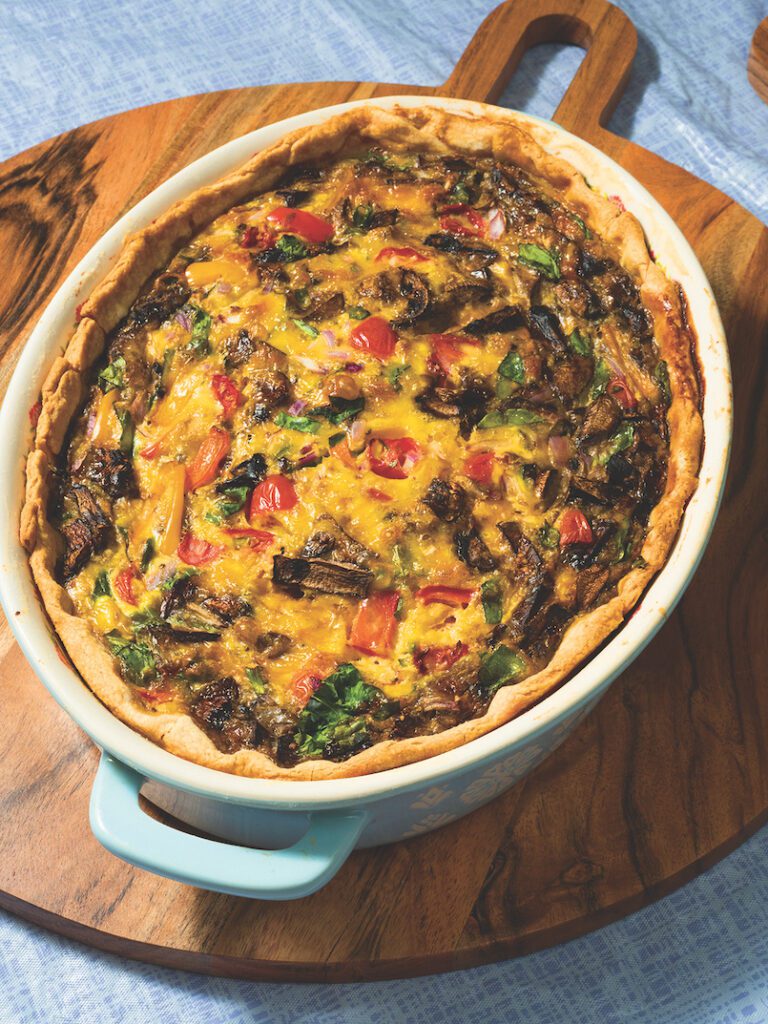 1 9-inch unbaked pie shell
1 cup sliced mushrooms
6 small sweet red and yellow peppers chopped
½ cup chopped red onion
1 tsp. fresh garlic
2 cups of fresh spinach
2 Tbsp. butter
½ tsp. salt
¼ tsp. cracked pepper
Chopped fresh basil (optional)
5 whole eggs
½ cup half-and-half
2 cups of shredded cheddar cheese
Directions: Preheat oven to 350
Prepare a homemade or purchased 9-inch unbaked pie shell in a greased pie pan. In a medium bowl whisk 5 whole eggs. Add salt, pepper and mix till well blended. Add in ½ cup half-and-half (or milk). Whisk until combined. Place all vegetables and garlic in the bottom of an unbaked pie shell. Top with 1 cup grated cheese. Pour egg mixture over vegetables and cheese, add second cup of grated cheese. Place in a preheated oven and bake for 30-40 minutes until the knife inserted into the center comes out clean. Cool 5 minutes. Garnish with fresh basil and serve.
Hash Brown Casserole with Ritz Cracker Topping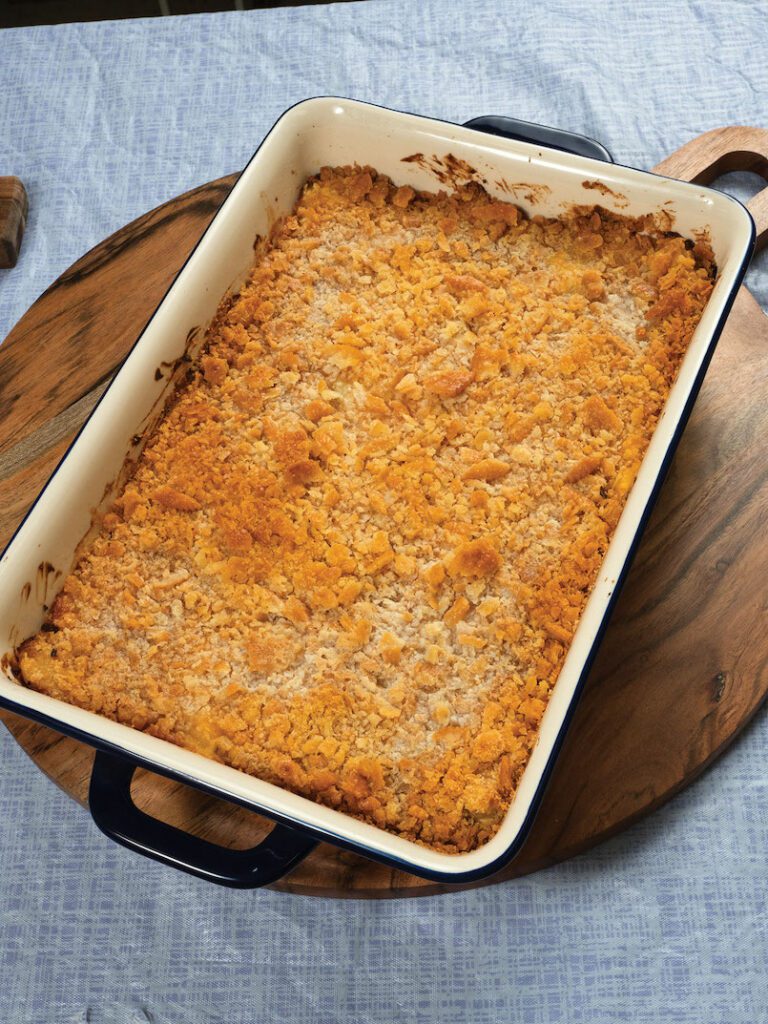 1/3 cup unsalted butter
½ cup chopped onion
1 can condensed cream of chicken soup
2 cups sour cream
1 tsp. salt
½ tsp. freshly cracked black pepper
2 cups of shredded cheddar cheese
1 (32 ounce) bag frozen southern style diced or shredded hash brown potatoes, thawed
3 Tbsps. of unsalted butter, melted
2 sleeves of Ritz Crackers, crushed
Items Needed:
9X13 inch baking dish
Large skillet
Directions: Preheat oven to 350. Butter or spray a 9X13 inch baking dish and set aside. Melt butter in a large skillet over medium heat, and sauté onion just until soft, but not browned. Stir in the soup, sour cream, salt and pepper until well mixed. Stir in the cheese until well blended. Add the potatoes and mix. Taste and adjust seasoning. Turn out into a prepared baking dish. Mix the 3 tbsps. of melted butter with the cracker crumbs and sprinkle evenly over the top of the casserole. Place in a preheated oven and bake for 40-50 minutes, or until hot and bubbly.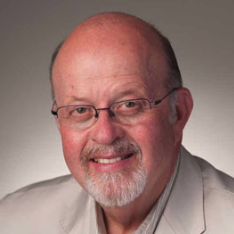 Latest posts by Don Bingham
(see all)