02 Jul 2012

Shopher wins 2012 Arkansas Big Bass Bonanza

Fishing in the Coal Pile area of the lower Arkansas River, David Shopher of McGehee caught a 6.27-pound largemouth bass to take the overall lead Sunday and win the 2012 Arkansas Big Bass Bonanza.

Shopher was using a Tennessee shad-colored crank bait. "This fish was near a laydown, a fallen tree," he said. Shopher had hits from other bass, left the area and returned in about 15 minutes. One fish hit but missed being hooked. "Then the big bass hit," he said.


Shopher is 51 and has a taxidermy business. He often fishes the Coal Pile area.


Winners in the other four pools are:

Jerry Overton of Hot Springs (6.19) – Dardanelle Pool
Jess Everette of White Hall (5.38) – Pine Bluff Pool
Craig Flowers of Midland (5.22) – Fort Smith Pool
Lane Patterson of Little Rock (5.84) – Little Rock/North Little Rock Pool
This year's anglers competed for part of the $100,000 in guaranteed prize money. Shopher will be awarded $50,000, as well as a paid spot at the 2012 Bassmaster Open.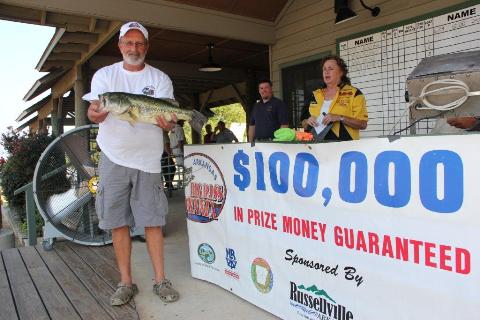 Each of the other four pool winners will be awarded a $10,000 prize for catching the largest fish in their pool. Additional place money is awarded $900 for second, $700 for third, $400 for fourth, and the Willow Leaf Award of $1,000 will be presented to Bill Casey Sr. and his grandson Dillon Taylor. The amount of hourly prizes will be determined by the number of participants for the three days.

New this year, anyone entered into the tournament was eligible for a chance to win a Bassmaster Classic VIP package. The winner was Robert Perkins from Pine Bluff. This package includes VIP credentials to the Bassmaster Classic behind the scenes tour, access to BASS life member lounge and early entry into the Bassmaster Classic Expo.

Academy Sports and Outdoors is also adding prize money by awarding gift card bonuses to anglers.

In the first day of the tournament, Gary Hensley of Conway narrowly led with a 5.94-pound bass he caught in the Dardanelle Pool of the Arkansas River. In the four pools, Kelly Glover of Damascus was the leader the first day with a 5.19-pound bass from the Pine Bluff Pool.

The annual tournament is the result of a 13-year partnership between the Arkansas Hospitality Association and the Arkansas Game and Fish Commission. The tournament spans more than 300 miles of the Arkansas River inside the state.

For more information on the tournament and complete results, visit arkansasbigbass.com.