18 Jan 2023

Shooting woes sink Harding

SEARCY — Southern Nazarene's conference-best defense was on display Saturday as the Crimson Storm held Harding to only 28% shooting and defeated the Bisons 70-36 Saturday in Great American Conference men's basketball action at the Rhodes-Reaves Field House.


The loss dropped Harding to 5-9 overall and 1-7 in GAC play. Southern Nazarene remained atop the conference standings at 10-3 overall and 7-1 in conference. The Crimson Storm entered the game allowing only 59.3 points per game.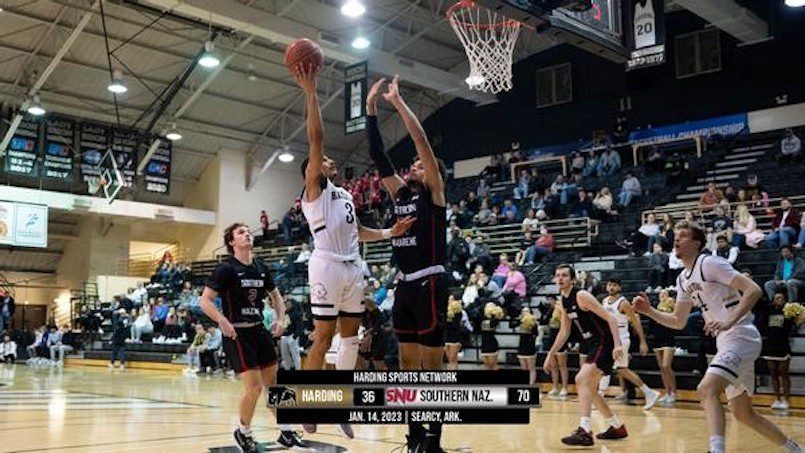 Harding trailed 28-19 at halftime. The Bisons shot just 33% in the first half and missed all eight of their 3-point attempts.

Stetson Smithson got loose in the lane for layup with 9:04 left in the half that gave the Bisons a 13-11 lead. Harding did not score again for the next six minutes, and nine straight points from Southern Nazarene gave the Crimson Storm a 20-13 lead with 4:10 left.
Harding's next bucket was a layup from Ramiro Santiago that cut the lead to five, but Southern Nazarene then scored eight straight and took a 28-15 lead on a long 3-pointer with 1:07 remaining.
Currie and Santiago both hit shots in the paint with less than a minute left in the half to cut the Crimson Storm lead to nine at the break.
Rylie Marshall made two free throws with 9:22 left in the game, and Harding trailed 45-32. Over the next seven minutes, Southern Nazarene scored the next 20 straight points and closed the game on a 25-4 run over the game's final nine minutes.
Taylor Currie led Harding in scoring with 10 points and had a career-high 17 rebounds, the most ever by a Harding player in a GAC game.Harding shot 15-of-53 from the field and made only 1-of-17 from 3-point range.

Harding's next action is today against Ouachita Baptist in Arkadelphia.