20 Jul 2019

Sharp focus: Creating photos that capture life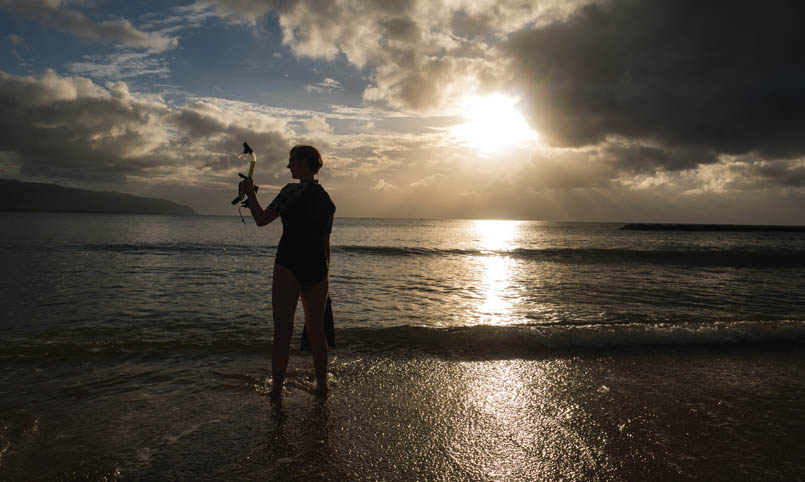 Story and photos
by Mike Kemp
Standing at an overlook of the Fjaorargljufur Canyon in southern Iceland, I put the camera down to take in the majesty of the sheer cliffs and pounding waters rushing through. The winding trail and steep inclines made me glad I had packed a lighter camera for this trip.
While I stood there taking in the view and angling for a potential shot, another tourist trotted up with a big digital single lens reflex (DSLR) camera, blasted multiple shots while whipping the camera all around, trying to take as many photos of the scene before taking a quick glance and then hurrying down the trail.
I'm not sure he really saw anything at the overlook. Guess he'll have some photos to view later.
As a society, we're inundated with photography. InfoTrends estimated that 1.2 trillion photos were taken in 2017, with around 200 million photos uploaded to Facebook daily.
There is a side effect to all of the visual stimuli. Researchers at the University of California Santa Cruz have found that the amount of photos we take has resulted in what they termed as a "photo-taking-impairment" effect, where we are less likely to remember objects photographed than ones that are merely observed.
So, where can we strike a balance?
Being a professional photographer, I'm not advocating lessening the importance of photography. In fact, having a camera that is with you at all times that can actually make phone calls as well, provides more opportunities for photography.
What I'm championing is a more measured approach.
Photography is still an important medium for communication and storytelling. It can tell your life story from cradle to grave, recording milestones and heartache. If used properly, it can help record key memories about specific events and trips.
But, not to the detriment of the experience.
On the trip to Iceland, my cousin (who I was traveling with) and I both observed people doing Insta-worthy poses in front of waterfalls, glaciers, even the oldest tree in Reykjavik, to the point of absurdity. Surrounded by that beauty, instead of taking it in, so much angling for likes really seemed to make me think their experience had to be a bit hollow.
Obviously, I took photos while I was there. I had to wait at times for the hordes to clear out. I tried to be courteous of others wanting to take photos, too. Not like the American tourist who I observed yelling at people to move out of her shot, which was in a heavily trafficked area.
I think our photography should be much more thoughtful. Not an act of thrusting a smart phone at a scene and blazing away; not sticking yourself in a pose that garners more likes; not using your DSLR to take thousands of images that you'll fix later.
Photography takes much more thought than that.
In our digital society, one of my biggest fears is the loss of a printed product. So many of our images end up buried on a phone, a laptop, a timeline that requires incessant scrolling to find. Wouldn't it be better to have a printed product, displayed as a constant reminder of that time?
From that trip, I have one of my favorite landscape images I've taken. We were at Reynsifjara Beach, a black sand beach on the southern coast of Iceland. We walked to the far end of the beach, past the people posing on the basalt columns that made the cliffs, ducking drones buzzing past our heads to get epic footage, down to a more secluded area of beach.
We were watching for "sneaker" waves, which tend to take unsuspecting tourists by surprise. I found an interesting rock and composed a shot using a wide-angle lens and a graduated filter to help darken the sky somewhat.
Just then a wave rolled in and soaked my shoes. But as it receded back to the ocean, the trail it left made an interesting leading line to the now soaked and shiny rock. It was an experience that is made even more vivid by seeing the large metal print I purchased to display in our home.
It's also on the lock screen of my phone.
My point for all of this is this: photography is many things to many people, but in a society bombarded with visuals, we need to put some thought into our creation of images to help them stand apart.
Digital photography has opened the field to many new faces. In some respects, it's also lowered the bar for really great photography due to its accessibility. The amount of practice to consistently create eye-catching photos is still the same, but the buy in isn't as high. And, the constant sharing of imagery has dulled us to really outstanding photography. 
Be present in the moment. It can lead to better photography and more enjoyable experiences. It's something I've learned as I've gotten older; I can put the camera down and enjoy an event rather than feeling like I have to document every bit of it.
Additionally, make some prints.
I once heard a colleague mention that no one tells people that they have some great shots of their daughter's wedding, only to ask them to come over to a computer screen. Sure, things are shared on social media platforms and smart devices, but what can be more powerful than a printed image displayed prominently?
My goal as a portrait photographer is, in the words of Bry Cox, "to make images that your kids fight over when you're gone." It's not about creating hundreds of images; it's about creating memories that last well beyond our lifetimes.
I think it's possible for everyone to do, too.
Get those images off your phones and onto your walls.