31 Dec 2021

Conway Noon Rotary celebrates a century of change

By Stefanie Brazile

The Conway Noon Rotary Club marked their "Centennial Celebration" on Dec. 16 at Hole in the Wall Café with presentations from dignitaries. It is the oldest civic club in the City of Colleges.

The world's first Rotary Club was founded in 1905 when lawyer Paul Harris and three friends met in a small office in downtown Chicago. Remarkably, only 16 years later, The Rotary Club of Conway was established in March 1921, with 26 charter members. Reverend R.L. Jetton was the first president. Today, Rotary International boasts more than 35,000 clubs worldwide and members are encouraged to visit other clubs when they travel.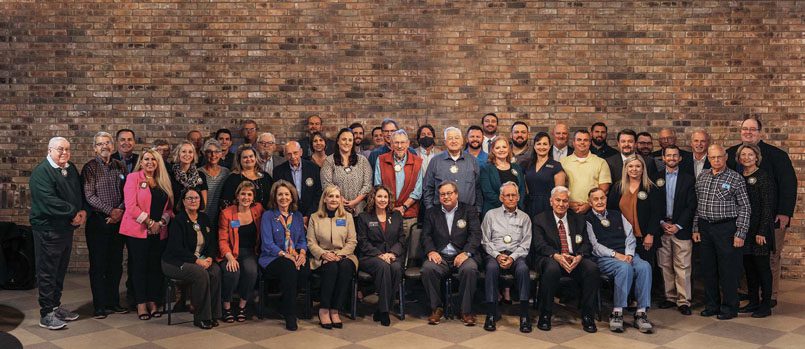 At least 65 people attended the "Centennial Celebration." They heard about the history of a vibrant club whose service activities impact regional needs and international projects in Africa and South America.
The Rotary International Director from Zones 30 and 31 was the keynote speaker. Elizabeth Usovicz oversees Rotarians from Alabama, Arkansas, Illinois, Indiana, Kansas, Kentucky, Louisiana, Mississippi, Missouri, Oklahoma, Tennessee, and Texas. In her address, Usovicz praised the club for donating $130,000 since 2013 to help "Touch A Life Foundation" in Ghana, West Africa, provide long-term rehabilitative services for children rescued from slavery.
"Thank you for continuing to help those whose hearts you will see, but you may never meet," Usovicz said.
The Rotary motto is "Service Above Self," and fellow Rotarians Senator Jason Rapert (District 35) and Senator Mark Johnson (District 15) presented a Senate Citation to the club to honor her accomplishments over 100 years.
"I'm proud of this club personally, and thank you for all that you've done," Rapert said before presenting the framed document to current Club President Ben Temple.
Then, Conway Mayor Bart Castleberry read a city proclamation naming Dec. 16 as Rotary International Day. Other certificates and awards were given to the club and individuals as the celebration continued.
Some highlights of the club's activities include: The annual Toad Suck Daze Pancake Breakfast fundraiser has raised nearly $90,000 for scholarships for local college students. Members have provided meals for first responders and non-profits during the COVID-19 pandemic, raised funds for Salvation Army, United Way's Stuff the Bus, Conway Police Department's Coats for Kids, Conway Imagination Library, the Community Action Program for Central Arkansas, food banks and homeless shelters, and more.
The club helped provide picnic tables at Laurel Park, new trees for the Expo Center and joined other civic clubs in building new welcome signs on Interstate 40. Additionally, the club provided tornado relief assistance after the 2011 and 2014 tornadoes that struck the area and helped the Conway, South Carolina, community after a devastating tornado in 2018.
Club members have donated $391,000 to The Rotary Foundation for projects worldwide, including Rotary International's global polio eradication initiative, PolioPlus. The group also sponsors a high school-based Rotary program, two college-based Rotaract Clubs, participates in the Rotary Youth Exchange Program, and sponsors a Rotary Adoption Awareness picnic that led to more than 30 adoptions. Additionally, they assumed leadership and operation of the area youth football program, which the Conway Optimist Club previously sponsored.