02 Jun 2023

Seniors of the slam dunk

By David Grimes

Later this summer, the Arkansas Big Dogs will gear up to defend their gold medal at the Senior Olympics.

Officially known as the National Senior Games, the competitions are held biennially in odd-numbered years. This year's games will take place in Pittsburgh, Penn., from July 13-17. First held in 1987 in St. Louis, Mo., with 2,500 participants, the competition for men and women aged 50 and over has grown into the largest multi-sport senior event in the world. The oldest age bracket is 85 and up.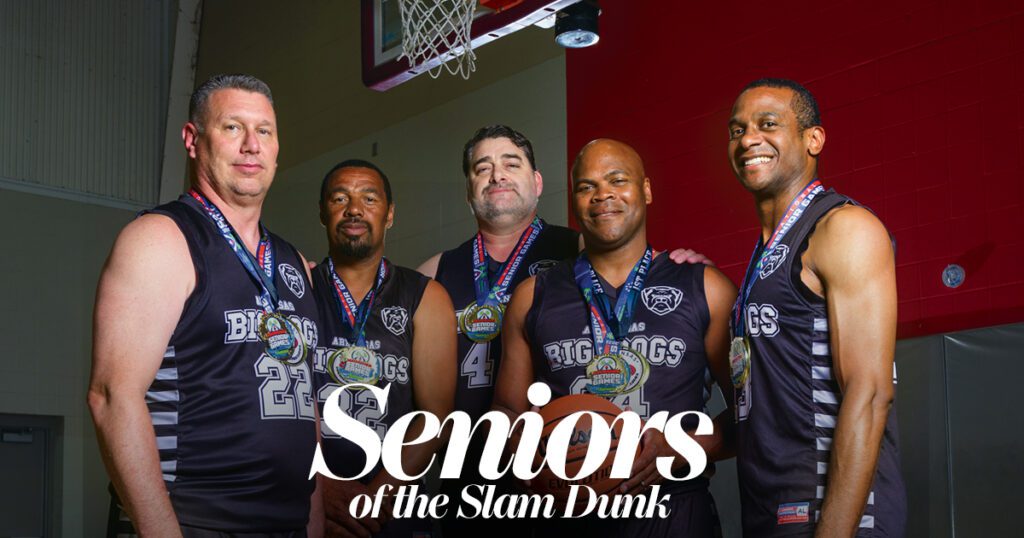 Like many events scheduled in 2021, COVID-19 pushed the Fort Lauderdale, Fla., games into the following year. So in 2022, more than 12,000 athletes competed in 21 sports, including archery, golf, swimming and triathlon, as well as newer events such as cornhole and pickleball. In addition to 3v3 basketball, other team sports include soccer, softball, volleyball and beach volleyball.
The Big Dogs were champions of the men's basketball 50-54 age group, going 7-1 over the course of the tournament. They lost their opening game in pool play to a team from Wisconsin, then ran the table on their way to the gold medal. They actually avenged that loss twice en route to the title. Games consist of two 15-minute halves with a running clock. In one game, the Big Dogs scored an astonishing 107 points.
Last fall, the 50-54 age Arkansas Big Dogs earned the right to defend their title at the Arkansas Senior Olympics in Benton (Saline County) and qualified for the 2023 national event. Their gold-medal performance proved that the Arkansas Big Dog brethren continue to excel on the hardwood and may result in them returning home with a second gold medal.
This current Big Dogs' team consists of five players who live in Central Arkansas, but each traveled a different path to end up here. The team's captain is Paris Simmons, with Robert Greene serving as co-captain. Bob Sahr, Steven Green and Greg Vaughn round out the quintet. These same five won the championship in 2022.
Simmons grew up in Oakland, Calif., and moved to Arkansas at the age of 17, where he graduated from J.A. Fair High School. It was here that he found a strong love for the game of basketball. He later played for a semi-pro outfit called the Arkansas Express and then found himself on the practice squad of the NBA's Golden State Warriors. Simmons has spent his career in law enforcement and is currently a sergeant with the Pulaski County Sheriff's Office.
Greene was born and raised in Detroit, Mich., and now lives in Conway. He played college basketball at North Texas, Coffeyville Community College and the University of Arkansas at Little Rock (UALR) from 1990-92. He continued his basketball career playing in the CBA (NBA G-league) and the USBL for a couple of summers. He also played professionally in Mexico for five years.
Sahr, age 52, graduated from Pickerington High School in Ohio and played center for the UALR Trojans in 1992-93 under Coach Jim Platt. He now resides in Little Rock. His passion for basketball led him into a career with a graphics company specializing in servicing sporting facilities with a wide array of innovative floor graphics and designs.
Little Rock native Green graduated from Hall High School in 1989 and played for legendary Coach Oliver Elders. He attended UALR, where he participated in intramural basketball. When asked about his continued involvement in the sport, Green said, "Basketball has truly made a positive impact in my life, and the camaraderie that I share with my fellow basketball players has added so much value to my life."
A Pine Bluff native, Vaughn played at Watson Chapel High School and then at the University of Central Arkansas. Now 53, Vaughn has been playing since he was 5 years old. "I love basketball because I love the sport and its competitive nature. I excelled tremendously in high school and college," he said.
The Arkansas Big Dogs organization was originally formed in 2006 by a group of men who shared a love of basketball. They practiced and played for both enjoyment and exercise. But they also developed friendships and worked to raise awareness for men's health issues.
In addition to the fun and fellowship, they were very successful, capturing the gold medal at the 2011 Senior Olympic Games in Houston in the 50-54 age bracket.
That group of men still compete, and like their younger Big Dog brothers, they also won gold in 2022 in Fort Lauderdale in the 55-59 age division.