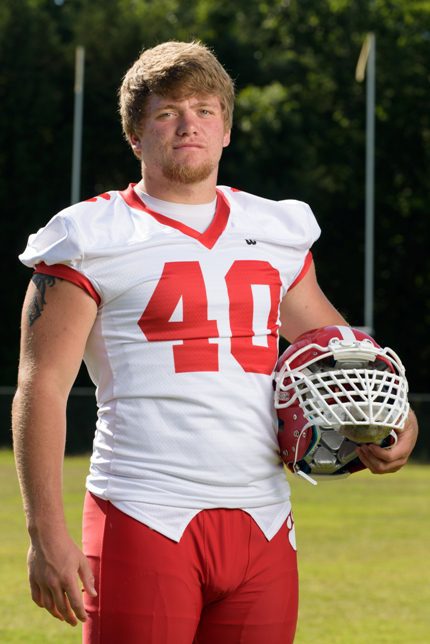 16 Nov 2016

Seidl, Panthers eye rematch with North Little Rock

by Mark Oliver


With two games separating them from War Memorial Stadium, Cabot has its eyes set on the big prize — a Class 7A state championship. For the Panthers, winning it all would be the perfect ending to an imperfect year.


"We've had our share of ups and downs this year," said Cabot senior running back Easton Seidl. "We started the season hot but had some key injuries and started losing games. We lost four of our last five games of the regular season. However, everyone is back for the playoffs, and we're ready to go all the way. We want to get a ring. We are a senior-laden team with talent and experience. We're mature, strong and outhit our opponents. If we come to play, then I believe we can do anything on the field."


Seidl was selected to this year's 501 Football Team — 26 players representing all 11 counties of the 501. The team, sponsored by First Security Bank and First Service Bank, boasts the best the 501 has to offer both on and off the field. Seidl was nominated by his head coach, Mike Malham.


"Easton's intensity and work ethic on the field is contagious," Malham wrote in his nomination. "He plays aggressively, but fair, and is always full speed. He is well-mannered and well-liked by his teachers and fellow students."


After beating Bentonville West handily, 62-34, in last week's playoff opener, the Panthers face a familiar foe in round two.


"We're looking forward to playing North Little Rock again," Seidl said. "We played them two weeks ago and should have beat them. We attempted a two-point conversion on the final drive to go for the win, but couldn't pull it off. We lost, 28-27."


According to Seidl, the Panthers have a clear game plan to win the rematch and advance to the Class 7A semifinals.


"To be successful this week, we can't have any turnovers and our defense cannot give up big plays," Seidl said. "This week, we have everyone back from injury and are implementing a different blocking scheme. If we limit turnovers and we're ready to play, then I don't think there's a team that could really beat us."


Throughout his senior season, Seidl has excelled at multiple positions, including linebacker, nose guard and, most recently, running back.


"Coach Malham knows my versatility and looks for the best way that I can help the team, and I think he's found it by putting me at running back," Seidl said.


Off the field, the senior is a member of the state-champion Cabot American Legion Baseball Team and is involved with track and field, theater club, Fellowship of Christian Athletes and Sidekicks — an organization dedicated to working with students with special needs — at Cabot High School. In his community, Seidl is also a member of New Life Church.


This year, Seidl committed to continuing his football career on the collegiate level.


"I have committed to play football at the University of Arkansas-Monticello," Seidl said. "I went to their summer camp, and they really liked what they saw. I liked the coaching staff and the way they interacted with the players. Out of all the schools that were interested in me, they were easily my favorite."


For the senior, the opportunity is more than a dream come true — it's the product of hard work and sacrifice.


"Two years ago, I never would have thought that I would be playing college football," Seidl said. "I knew it wouldn't be easy, but I wanted it bad enough. Day in and day out, I was going to every single early practice in the morning and offseason workouts. I worked out on my own — trying to improve my speed. I learned that it doesn't matter how big, tall, fast or slow you are. If you want something and you're willing to work hard enough for it, you can get it."


Cabot plays at North Little Rock at 7 p.m. Friday, Nov. 18.