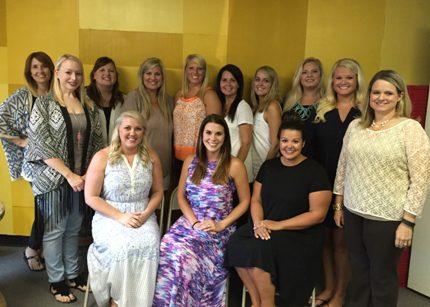 19 Oct

Searcy JA names board

Junior Auxiliary of Searcy recently selected board members for the 2015-2016 year.


The new board members are Leah Cook, president; Alicia Hastings, vice president; Audra Wray, ex-officio; TJ Higgs, parliamentarian; Kristi Valencia, recording secretary; Amy Crawford, corresponding secretary; Lori Roberson, treasurer; Carolyn Nunnally, co-treasurer; Jessica Collins, education; Jamie Jackson, alumni liaison; Natalie Horton, public relations; Allison Chaumont, Sunshine School chair; Mallory Sain, Sunshine School co-chair; and Amanda Little, finance chair.


JA of Searcy also congratulated members Heather Glenn on achieving associate status and Leigh Ann Showalter on receiving life status. These two women have dedicated the past five and a half years volunteering their time and talent to serve their community through this organization.


Junior Auxiliary of Searcy was chartered in 1962, and currently has 32 active members who volunteer throughout the year on a variety of projects that focus on local children and families in need of assistance. Projects include the Sunshine School, Searcy Learning Center, food baskets, Angel Tree, A Day of Caring and Covering Kids.


Junior Auxiliary of Searcy is a part of the National Association of Junior Auxiliaries (NAJA), a non-profit organization founded in 1941 with headquarters in Greenville, Miss. NAJA has more than 15,000 active, associate and life members in 101 chapters in Alabama, Arkansas, Florida, Louisiana, Mississippi, Missouri, Tennessee and Texas.


The NAJA slogan is "Care Today – Character Tomorrow," and when teamed with the current focus of the association, Junior Auxiliary chapters are working more than ever before to increase awareness of child health and welfare and how it affects their futures.


For more information on Junior Auxiliary of Searcy and to keep up with all of the group's projects, like the JA page on Facebook.