31 Dec 2021

Scene change

By Houston Davis, UCA President

If there is one comment that we hear most consistently from University of Central Arkansas alumni, regardless of the decade, it is how much the campus has changed since they last saw it. In recent years, this statement could not be more accurate.

The north side of the UCA campus has seen significant modifications that will continue to change the way that our university engages with our community and our state, particularly in the areas of wellness and culture.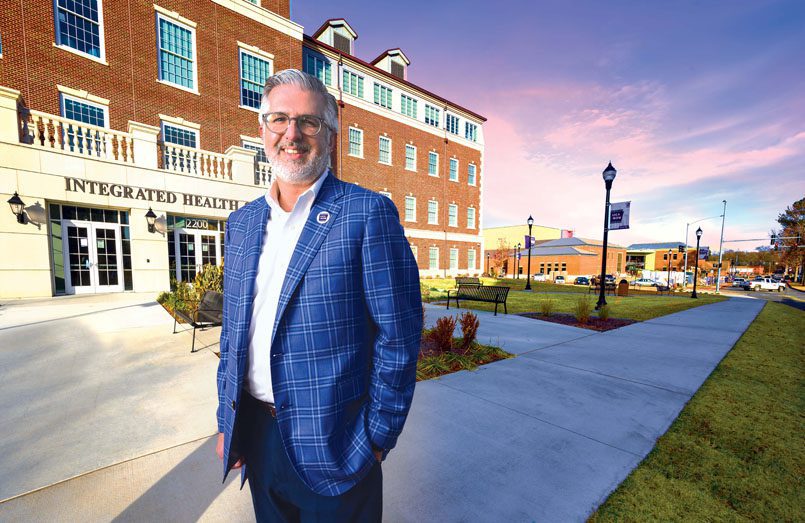 The university celebrated the grand opening of the Integrated Health Sciences Building (IHSB) in August with dozens of community members, faculty, staff, students, and alumni, as well as representatives from one of our strongest partners: the Conway Regional Health System.
This cutting-edge, 80,000-square-foot facility sits on Bruce Street, stretching from Augusta to Bruce avenues. The main entrance, on the south side of the building, features a ceiling art installation of eight interlocking rings, representing the health care disciplines within the College of Health and Behavioral Sciences. A donor wall greets visitors as a reminder of the community connection and support.
The facility is home to the UCA School of Nursing, the Department of Communication Sciences and Disorders, an expanded Nabholz Center for Healthcare Simulation, and an interprofessional teaching center – the first of its kind in the region.
Named in partnership with Conway Regional, the interprofessional teaching center (ITC) is housed on the first floor of IHSB. The center provides health care services, such as nutrition, audiology, speech-language pathology, and occupational and physical therapy, to the Conway and Faulkner County communities. Patients schedule appointments with the center as they would a local clinic and are treated by advanced practice registered nurses and students in the college.
In addition to providing health care services to the community, ITC serves as a place for students to learn in an interdisciplinary environment, improving understanding across specialties and increasing collaboration. The college has implemented interprofessional education activities for many years, and the ITC will provide additional opportunities for learning outside of the classroom. With more than 90% of UCA's health care graduates remaining in the state, Arkansans will reap substantial health benefits.
Now that our IHSB is up and running, we are eagerly watching the construction of the new Windgate Center for Fine and Performing Arts. The facility is at the intersection of Bruce Street and Donaghey Avenue.
The university broke ground on the $45 million facility in October 2020. Made possible by a $20 million matching gift from the Windgate Foundation, this new space will revolutionize the arts and cultural experiences of students, faculty, staff, alumni, and arts patrons.
The Windgate Center will provide almost 100,000 square feet of much-needed classroom, studio, rehearsal, and design spaces. The open-concept arts center will include a creative quad and sculpture garden, a first-class art gallery, a 175-seat black box theater equipped with state-of-the-art technology, and a 450-seat concert hall that will be the only one-room, open-concept venue in central Arkansas.
The design of the facility will allow visual art, theater, and music students to better inform one another's artistic endeavors and will foster new collaborative partnerships for students and faculty across multiple academic disciplines. These interdisciplinary experiences directly impact the cultural and economic needs of communities across the state, region, and beyond by producing graduates that are critical thinkers and creative problem solvers.
Along with the Windgate Foundation's incredibly generous leadership gift of $20 million, the UCA Board of Trustees dedicated state bonds to the construction of this facility with the remainder of the capital funds needed to complete this transformative project being raised by UCA's Division of Advancement. The new Windgate Center will further establish UCA as a leader in the arts and a destination for exceptional cultural experiences for future generations.
As we look ahead, UCA is poised to bring even more visibility to several programs and initiatives already successfully operating on and through our campus. Collectively, they represent extensions of UCA service beyond our university and into many communities throughout Arkansas. They are the Arkansas Coding Academy, Center for Community and Economic Development, Conductor, UCA Cyber Range, and Makerspace. Each of these individual initiatives provides education, leadership development, and community programming in its own way. We believe that by increasing connectivity among them and other programs, UCA can magnify the impact we have on our community and strengthen our role as an economic catalyst for our state. Individually, they are game changers, but working in concert, they ensure that our university addresses the state's grand challenges and positions Arkansas for a vibrant future.