24 Sep 2018

Saying goodbye: St. Joseph looks back on landmark's history

Posted at 10:17 PM

in

Faith

Another landmark structure in the history of St. Joseph Catholic Church in Conway was demolished in mid-July to accommodate its recent growth and expansion. 

The lot where the parish hall stood, which had doubled as a cafeteria for high school and middle school students since 1995, is now being converted into additional parking space.

The building originally opened as a school gymnasium in the fall of 1959. Prior to that, the boys and girls basketball teams, which had been organized earlier in that decade, competed in the old National Guard Armory at Locust Avenue and Caldwell Street. It has long since been the Conway Fire Department's Central Station.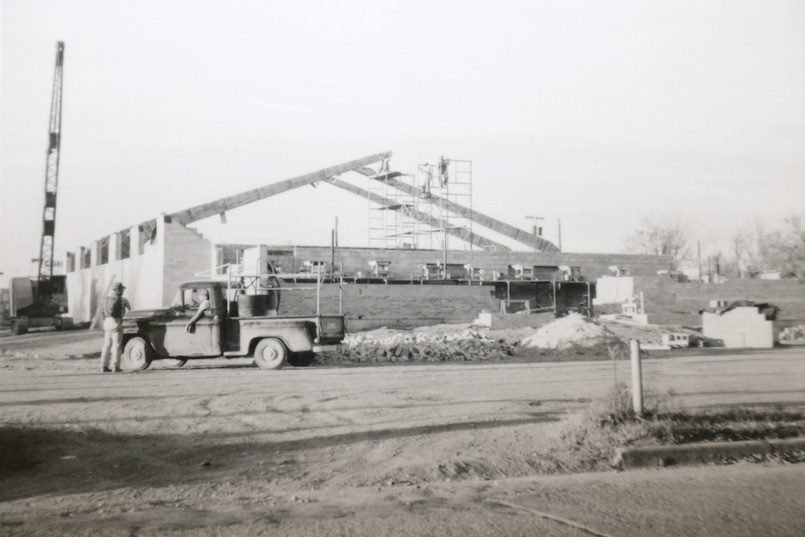 Plans for the gym were initiated by Father Sylvester Dellert at a cost of $100,000. It took up an area of nearly 12,000 square feet and could seat about 600 fans. It was designed by parishioner Leo J. Hiegel, an architect with the Little Rock firm of Weaver and Hiegel. Townsend Construction Company of Conway had the primary building contract. The gym was blessed and dedicated by Arkansas Bishop Albert L. Fletcher on April 12, 1959.
More than three decades later, Father Tony McKay led efforts to build a new gym west of the church on the west side of the railroad tracks. It opened in the fall of 1995 and was named the Family Activities Center. The last athletic contest in the old gym was a peewee basketball tournament held in March 1995. Remodeling work began soon afterward.
As a parish hall and cafeteria, the building was in constant use for meetings, conferences, wedding and funeral receptions, school dances and large functions as the School Bazaar Spaghetti Supper and the Helping Out Our Kids' School (H.O.O.K.S.) Fish Fry. 
In its last days, the building was briefly used as a training site by the Conway Fire Department.