Oct 23, 2019

Saturday a 'great' day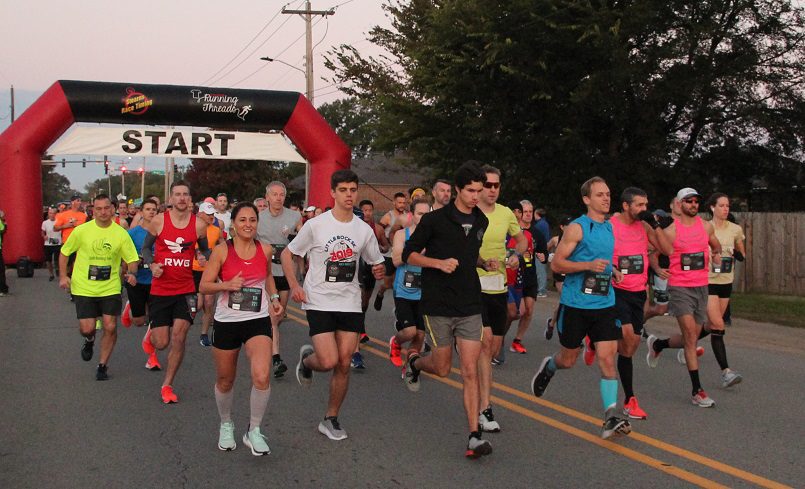 A Central Arkansas tradition – the Soaring Wings Half Marathon and 10K – ended Oct. 19 after 12 years of bringing runners and walkers together for a common cause.
Race directors Amanda Castillo and Marla Watson – and their team of about 300 volunteers – put on the event, which benefits Soaring Wings, a Christian home that provides security, love and hope to children in need. Soaring Wings currently has two homes for girls and one for boys, ages 6-18, as well as an infant and toddler home that serves children birth through 5 years.
"Saturday truly was a GREAT day for the final running of the Soaring Wings Half Marathon – we had perfect running weather and PRs (personal records) left and right," said Amanda. "Thank you to all the participants, volunteers and sponsors."
Amanda and Marla expressed their appreciation to title sponsors TLC Pediatrics, PLLC (half marathon and Kids Run for Kids) and Incite Rehab and Reliance (10K sponsor and Family Fun Zone after the race) for their support.
"Also, we can't thank the Conway Police Department enough for keeping our participants safe at headquarters and throughout the course," said Amanda.
Thousands have participated in the event over the years and the fundraiser has helped the Soaring Wings ministry care for more than 300 kids. "It has been a fantastic 12 years and we appreciate the wonderful support we have received from the running community, our faithful sponsors and our hard-working volunteers," said Marla.
Blake Bristow of Minnesota was the overall winner of the half marathon with a time of 1:22:20. The overall female was Tia Stone with a time of 1:27:51.
Jaxson Cox was the overall 10K winner with a finish time of 45:08. The overall female winner was Maggie Gregory with a time of 47:37. 
The top Winged Warrior fundraiser was Renee Rader who raised more than $2,000.
Official results from the event are available at stearnsracetiming.com/soaring-wings-19.html. Race photos are available at runbikeswimphotos.com. A portion of every purchase is donated to Soaring Wings. "Thank you Marvin Winston and your team at Run Bike Swim Photos for always taking the best race pictures and for your support of the children at Soaring Wings," said Amanda.
Participants who placed in a category but were unable to stay for the awards ceremony can pick up their award at The Sporty Runner at 1016 Van Ronkle St. in Downtown Conway. The awards will be available at the Sporty Runner for two weeks.
"Although the race has come to an end, Soaring Wings is still going strong," said Marla. "Keep up with the cause behind the race by following the Soaring Wings Facebook page. Hear stories about the children and families that we serve and keep up with all the great things going on at Soaring Wings."
"It is time to rest and recover," Amanda added. "You earned it!"
501 LIFE is the official media sponsor for the event.