29 Nov 2022

Santa's 12 cookies of Central Arkansas

There are two things Santa Claus knows better than anyone else:

1. How to make the best toys.

2. Where to find the best cookies.

While his base of operations may be found a little to the north, there's one place he returns each year for his favorite Christmas treat – Central Arkansas!

So this year, 501 LIFE partnered up with the big guy to create a special section featuring a favorite cookie from the eleven counties we serve – Cleburne, Conway, Faulkner, Garland, Hot Spring, Lonoke, Perry, Pulaski, Saline, White and Van Buren.

We hope you'll join us on this edible adventure that includes recipes, traditions and events that hopefully you can add to your holiday celebrations!

As we begin it all with an iced cookie that celebrates the very heart of the natural state, we hope you enjoy …
1. Heart of Arkansas Iced Shortbread Cookie
Santa and Mrs. Claus enjoy the treat created by Julie's Sweet Shoppe.
Visit Santa's website HeDoesExist.com to learn more.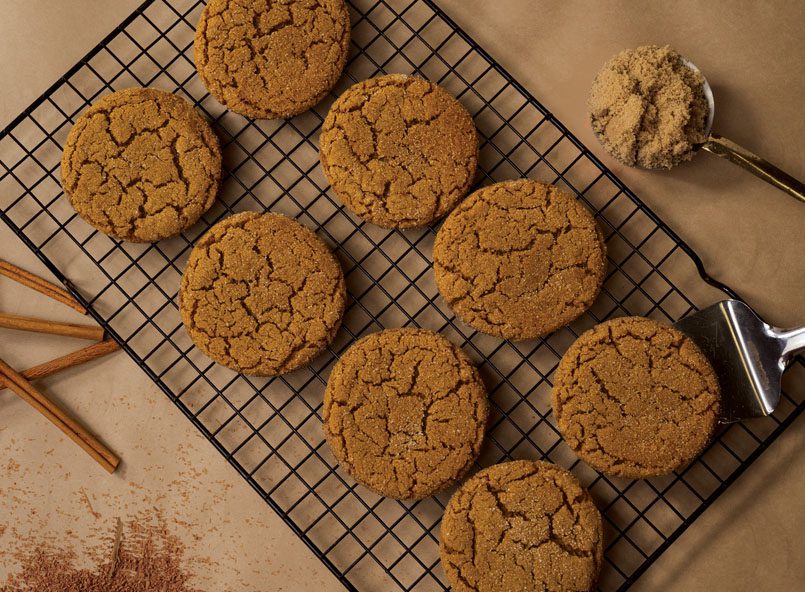 2. Cleburne County's Molasses Cookie
Lyndall and Carla Mast have been running Little Hannah's Bake Shop in Cleburne County's small town of Drasco for almost 20 years. Their recipes and skills have been handed down from the mothers and grandmothers of many employees over the years. This holiday season, the staff most look forward to making fruit cakes and cookie platters to share with friends and family during the holiday season.
The cookie that Little Hannah's Bake Shop is highlighting is their Molasses Cookie. This is the recipe that Carla uses at home. It yields 6 dozen cookies.
Molasses Cookie
3 cups brown sugar
2 ¼ cups oil
¾ cup molasses
3 eggs • 1 ½ tsp. salt
2 Tbsp. baking soda
1 Tbsp. cinnamon • 2 ¼ tsp. ginger
1 tsp. cloves • 6 2/3 cups flour
White sugar
Beat brown sugar, oil and molasses together. Add eggs and beat well. Add salt, soda, cinnamon, ginger, cloves and flour. Beat well. Scoop cookies and roll in white sugar. Bake at 350 degrees for 9-10 minutes.
Download an 8.5×5.5 recipe card of this cookie below: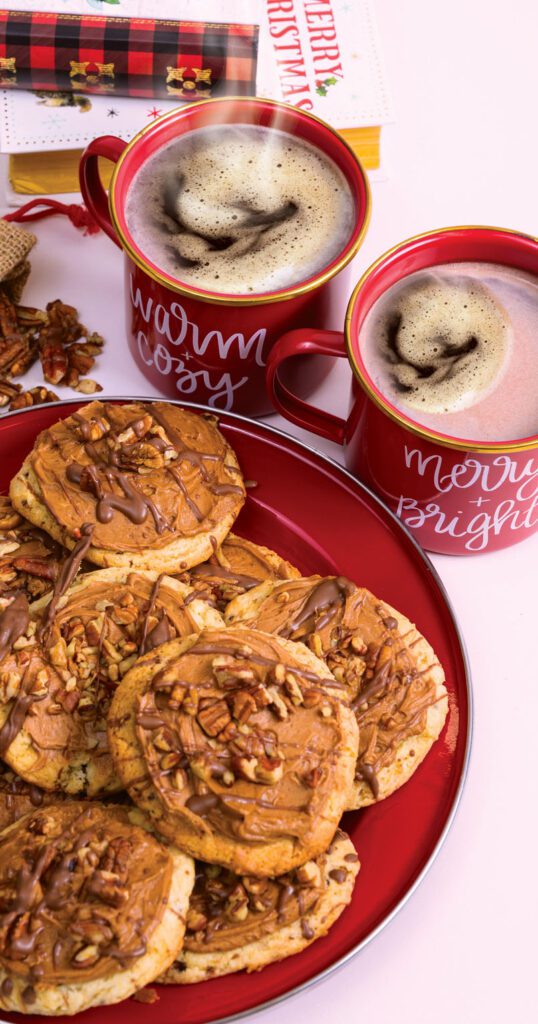 3. Conway County's Easy Coffee Cookies with a mocha pecan coffee icing
Christina Loyd has lived in Scotland in Conway County for 26 years. For 25 of those years, she has taught Family and Consumer Sciences and Family, Career and Community Leaders of America at Nemo Vista.
Her students cook meals for teachers and staff each week. They fulfill cake, cinnamon rolls and bakery orders, as well as making dinner rolls. "You name it, we will make it," Christina said.
"This helps my students learn how to talk to people and gives them life skills in catering to people's needs. They also learn budgeting, prep skills, sanitation skills, public relation skills, but most of all, I want them to problem solve," she said.
The veteran educator is glad to have the support of the administration for the Career and Technical Education programs. Christina and her students chose to make a cookie with pecans and coffee to represent Conway County. "Morrilton has a coffee shop that has local roots called Big Cuppa, and we have two local pecan orchards — Paw Paw's Pecans and Maus Pecans. The students at Nemo Vista look forward to the 4-H Christmas Parade on Dec. 9 for the Center Ridge area. Everyone is welcome, and Santa will be there to greet the kids.
Easy Coffee Cookies
1 yellow cake mix
1/2 cup vanilla coffee creamer (or preferred flavor choice)
1 Tbsp. instant coffee
1 egg • 1/2 cup of oil
Heat oven to 350 and line a cookie sheet with parchment paper. Use an electric mixer to combine the cake mix, eggs, instant coffee, coffee creamer and oil until well-blended.
Once dough has formed, scoop out the cookie dough onto a prepared cookie sheet and bake until the edges are slightly golden. We use an ice cream scoop so the cookies are large. Makes approximately eight per batch. Allow cookies to cool on the pan, then transfer to a cooling rack. Allow cookies to cool completely before topping.
Mocha Pecan Buttercream Icing
2 Tbsp. of any dark roast instant coffee
2 tsp. vanilla extract • 1 cup real butter, room temp.
1 pound powdered sugar (or 4 cups)
1/8 cup cocoa powder • ¾ cup chopped pecans
Dissolve the instant coffee in the vanilla and steep for at least 15 minutes. Combine with butter into mixing bowl. Mix together on medium speed until thoroughly combined (about 2 minutes). Scrape mixture down from the sides of the bowl.
Combine powdered sugar and unsweetened cocoa powder to mixture. Mix on lowest setting until the butter and sugar are incorporated (about 30 seconds). Scrape mixture down sides, then increase the speed to medium another 30-45 seconds until light and fluffy. If the frosting is dry, add 1 teaspoon of milk and mix again. Top cookie with icing, sprinkle with pecans and drizzle with melted chocolate.
Download an 8.5×5.5 recipe card of this cookie below: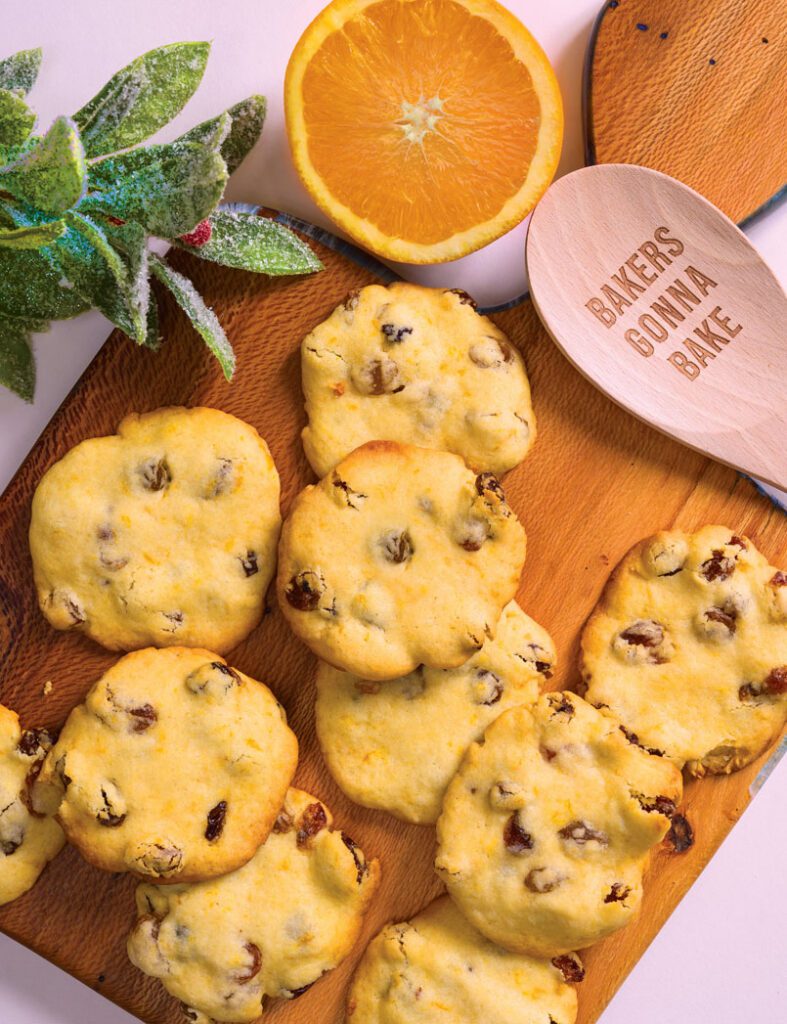 4. Faulkner County's Orange & Raisin Cookies
By Chef Don Bingham
Close to the top of my bucket list was the desire to attend Macy's Thanksgiving Day Parade in New York City at Christmastime. Among the myriads of blessings from dear friends of ours, this was made possible by our friends who gave us the use of their Madison Avenue apartment on numerous occasions, enabling us to "do New York" many times.
On one such occasion, we visited a deli named Gracie's that was within walking distance of the high-rise apartment. The options for meats and sweets were amazing. One such offering was a mesmerizing Orange Raisin Cookie. Nancy and I immediately began to dissect and analyze the ingredients, and this cookie has been a regular on our menu at Christmastime since then. I chose the Orange Raisin Cookie for Faulkner County because it is reminiscent of all things holiday. We love the combination of orange with golden raisins — this is one of our favorite holiday comfort treats!
How grateful we are for the blessings of friends and great cookies!
Orange and Raisin Cookies
1 1/2 cups all-purpose flour
1/2 tsp. baking powder
1/2 tsp. salt
1/2 cup butter (softened)
1/2 cup sugar
1 large egg, beaten
1/2 tsp. vanilla
2/3 cup golden raisins
1 tablespoon grated orange zest
Preheat the oven to 350 degrees. Line the cookie sheets with parchment paper. Mix together flour, baking powder and salt in a bowl and set aside. With an electric mixer, beat the butter and sugar at high speed until creamy. Add the egg and vanilla, and beat until just combined. Fold in the flour mixture, then the raisins and orange zest. Drop teaspoon size balls, pressed thin, on a cookie sheet and bake until lightly golden. Cookies are meant to be crisp and golden.
Download an 8.5×5.5 recipe card of this cookie below: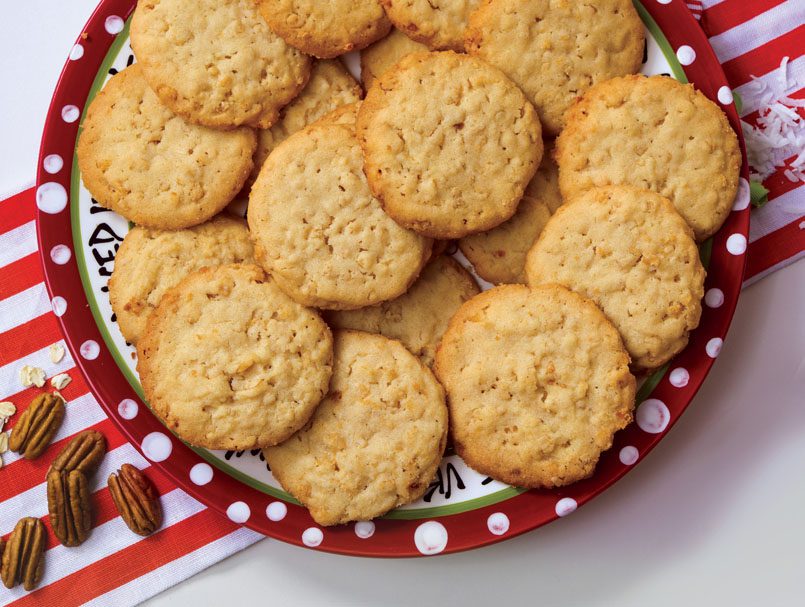 5. Maxine's Cookies of Garland County
Jane Oliver of Pearcy has lived in Garland County for 22 years. She is a leader of the Garland County Extension Homemakers Council (GCEHC), which is very active, offering a huge craft fair each fall at the fairgrounds and providing volunteers and special services throughout the county.
About 15 years ago, a friend taught Jane to make Maxine's Cookies. She makes them for friends, family and neighbors and included the recipe in a book she had made for her family. Jane's favorite holiday activity is making candy and baking cookies with her daughter.
Maxine's Cookies
1 cup sugar • 1 cup brown sugar
1 cup vegetable oil
1 cup butter, softened
1 egg • 1 tsp. vanilla
3 1/2 cups flour 1 tsp. baking powder
1 tsp. salt • 1 cup Rice Krispies
1/2 cup flake coconut • 1 cup quick oats
Mix sugars, oil, softened butter, egg and vanilla. Add flour, baking powder and salt. Mix well. Add Rice Krispies, coconut and oats and stir by hand until well-mixed. Drop by tablespoon onto an ungreased baking sheet.* Bake for 10- 12 minutes at 350 until just slightly brown on the edges. Makes about 5 dozen.
*Flatten the dough a little before baking for a thinner, crispy cookie.
Download an 8.5×5.5 recipe card of this cookie below: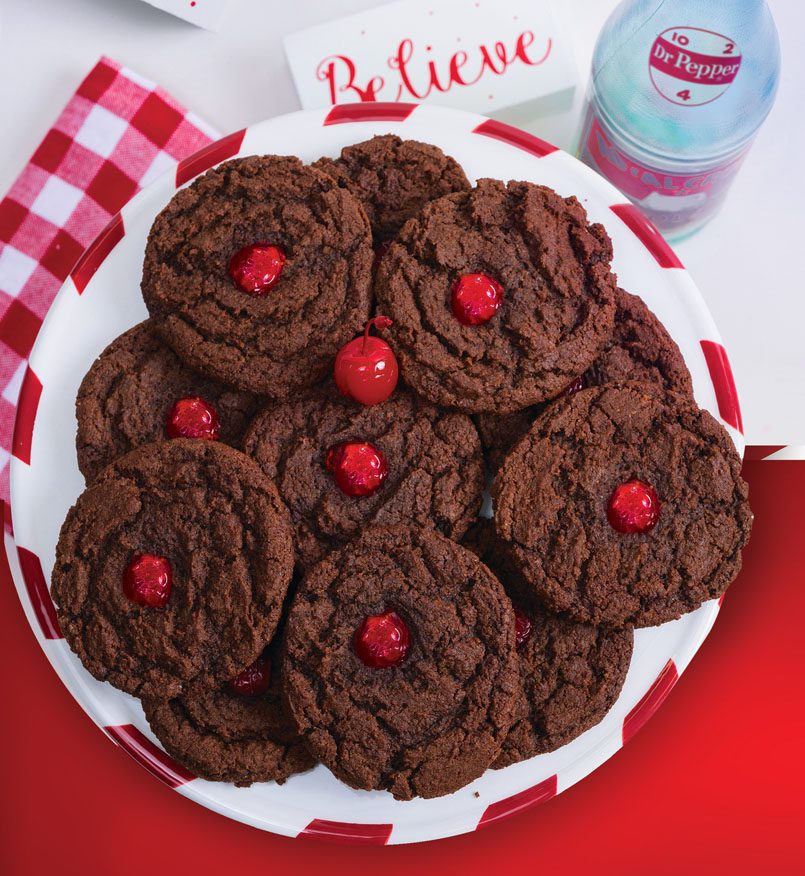 6. Hot Springs County's Cherry Pop Christmas Cola Cookies
Velda Keeney owns Curiosity's Corner in Malvern and also works at a school. She has called Hot Spring County her home for 55 years. Not only does she make and sell baked goods, but she has also incorporated her city's history into a cookie, and it's a holiday favorite.
The historical connection of this cookie to Malvern and Hot Spring County follows: Clem's Bottling Works was a fixture in Malvern from 1907-1972. Some of the most delicious soft drinks were produced by this company, including Clem's Cola, R-Pep, Orange, Strawberry and many more. In 1972, the company was sold to the Dr Pepper Company. Clem's Bottling Works is a significant part of Malvern's history.
"When I was a little girl, our church had a soda box that was full of Clem's soft drinks," Velda said. "If I best recall, you could get a bottled drink for 25 cents! When you drove down Main Street, you could look through the big window of Clem's Bottling Works and see the soft drink conveyor with bottles hanging and waiting to be filled."
To celebrate Clem's Bottling Works, ladies from the community created this cookie that combines some of the great flavors associated with soft drinks produced in Malvern with a colorful red topping for Christmas.
Cherry Pop
Christmas Cookies
1 ½ cups all-purpose flour
½ tsp. baking soda
¼ tsp. salt
½ cup Dr Pepper
1 stick salted butter
1 cup semi-sweet chocolate chips
1 ½ cups granulated sugar
½ cup cocoa powder
1 egg
1 tsp. vanilla extract (do not use imitation vanilla)
15 maraschino cherries drained, patted dry and cut in half
Preheat oven to 350. Drain the cherries on a paper towel, slice in half, place on a dry paper towel and pat dry. In a medium bowl, combine flour, baking soda and salt. Whisk by hand to combine dry ingredients. Set aside.
In a small saucepan, bring Dr Pepper to a boil, then lower heat and simmer for 10-15 minutes. The liquid should reduce to where you have ¼ cup of liquid. Pour into a small bowl and place in the refrigerator for 10-15 minutes until cool.
In a microwave-safe bowl or medium saucepan, melt the butter and chocolate chips. If microwaving, do so in 30-second increments, stirring well after each heating cycle. If melting on the stove, stir frequently. You should get a mixture that looks like chocolate sauce.
Place sugar and cocoa powder in a 5-quart mixing bowl and whisk by hand to combine (this keeps the cocoa powder from flying out of the bowl and helps it combine with other ingredients). Using the paddle attachment of your mixer, combine the sugar and cocoa mix with the butter and chocolate mix. Add the vanilla, egg and cooled Dr Pepper and mix. Add the flour mixture and mix well until combined.
Using a tablespoon-sized scoop, scoop the dough and place on the parchment paper-lined cookie sheet. Place a cherry half on top of each scoop (do not flatten the scoops on the baking sheet). Bake for 10-12 minutes. Cool completely.
If you want to add a little extra Dr Pepper sweetness to the cookie, make a thick powdered sugar and Dr Pepper glaze, place in a piping bag, and drizzle over the cooled cookies. Prep Time: 35 minutes. Cook Time: 10-12 minutes. Yields 30 cookies.
Download an 8.5×5.5 recipe card of this cookie below:
7. Lonoke County's Peanut Butter Clusters
Barbara Troutman of Austin is a lifelong resident of Lonoke County. She retired as an owner of a gas dealership and gas station. Her husband was the late Charlie Troutman, a Lonoke County Judge.
She was taught to bake cookies by her mother. Barbara describes her mother as an accomplished cook, as she was the director of food services at Cabot Schools. Troutman continues to bake cookies for family and friends and for potlucks at her church, Woodrow Church of Christ. Her favorite tradition during Christmas is getting together with family and having good food and making happy memories.
An event she looks forward to each December is the tree lighting ceremony, which is planned for 5 to 7 p.m. Dec. 3 at Austin City Hall. Barbara's Peanut Butter Clusters are requested each Christmas by her family and friends.
Peanut Butter Clusters
1 Tbsp. of butter (not margarine)
1 cup dark syrup
1 cup sugar
1 cup crunchy peanut butter
4 cups of corn flakes (Kellogg's brand)
Melt butter in a heavy saucepan. Add Karo syrup and sugar. Stir for two minutes on medium heat. Remove from heat, add peanut butter and mix thoroughly. Pour corn flakes in a medium size mixing bowl, pour mixture over corn flakes and coat all flakes. Then pour mixture onto a large sheet of wax paper.
Take a spoon and move over to the side of the paper to create enough space for one cookie. Continue moving over enough for other cookies, so that there are about 15. Press with fingers to make them stick together.
Cool for a few minutes and enjoy.
Download an 8.5×5.5 recipe card of this cookie below: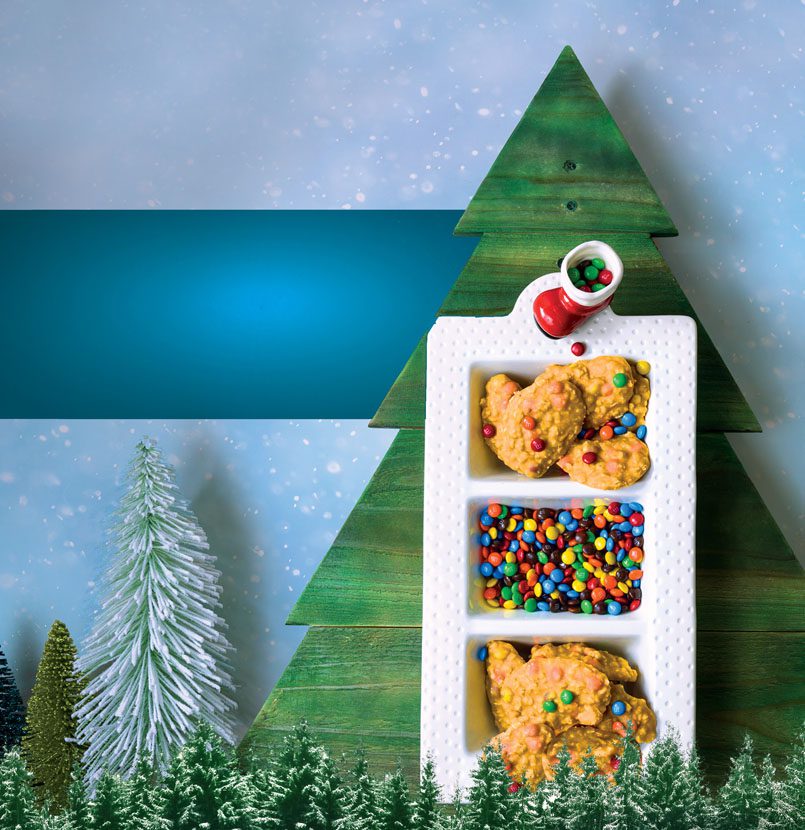 8. Perry County's Peanut Butter No–Bake Cookies
Lori Fallen is a retired teacher from Hollis who has lived in Perry County for 42 years. Her mom and mother-in-law both taught her how to make cookies, and she makes them for pretty much everyone. Lori's favorite Christmas tradition is having all of her family spend the night on Christmas Eve and seeing the excitement from her grandchildren when they see what Santa left them.
Lori continues to care about the school where she taught and is known in the community for bringing baked goods to them. They especially love it when she brings her Peanut Butter No-Bake Cookies.
Peanut Butter No-Bake Cookies
2 cups sugar • ¼ cup margarine
½ cup milk • 1 cup peanut butter
1 tsp. vanilla • 1 ½ cups quick rolled oats
¼ cup M&M's Minis or Reese's Pieces Minis
In a large saucepan, mix sugar, margarine and milk. Bring to a full rolling boil over medium heat. (Full rolling boil = large bubbles rising to the surface that can't be stirred down.) Boil for exactly 1 minute, stirring constantly. Remove from heat and stir in peanut butter and vanilla, stirring until peanut butter is melted; stir in oats. Add M&M's Minis or Reese's Pieces Minis. Quickly drop mixture by spoonful onto waxed paper.
Download an 8.5×5.5 recipe card of this cookie below: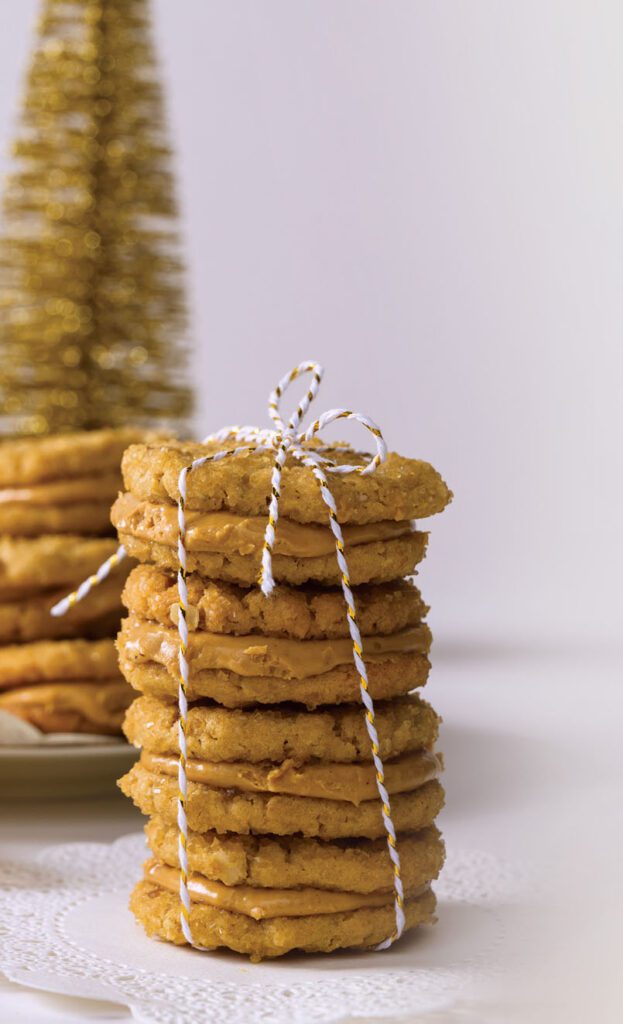 9. Pulaski County's Oatmeal Peanut Butter Sandwich Cookies
Mary Ann Tilley, a resident of Pulaski County for the past 42 years, learned to cook from her mother and some favorite television chefs. She bakes for friends and family and says that her Oatmeal Peanut Butter Sandwich Cookies are always on the table for Christmas dinner.
Mary Ann's favorite Christmas tradition is to attend the Christmas Eve service at church, followed by a dinner that features a favorite dish of each family member or friend who is at the table.
A community event she looks forward to and invites fellow 501 LIFE readers to attend is the River City Men's Chorus Christmas Concert at 2 p.m. on Dec. 4 at Pulaski Heights United Methodist Church, and at 7 p.m. on Dec. 5 and Dec. 8 at the church. Admission is free.
Oatmeal Peanut
Butter Cookies
1 ½ cups all-purpose flour
1 tsp. baking soda
½ tsp. baking powder
1 tsp. salt • 1 cup softened butter
1 cup peanut butter
1 cup white sugar
1 cup packed light brown sugar
2 eggs • 2 tsp. vanilla extract
2 cups quick-cooking oats
In a large bowl, cream together the softened butter, peanut butter, white sugar, brown sugar and vanilla. Add eggs and beat well. In another bowl, combine the flour, baking soda, baking powder and salt. Add the dry ingredients to the creamed mixture and stir. Add oatmeal and stir.
Chill cookie dough for one to two hours. Once chilled, make uniform balls and roll each one in turbinado sugar (raw sugar). Place on cookie sheets, either lightly greased or covered in parchment paper. Press each ball down in a crisscross pattern with a buttered fork dipped in the turbinado sugar. Cookies should be about ¼ inch thick. Bake at 350 for 9-10 minutes or until the cookies are golden brown.
Filling:
2 cups peanut butter
½ cup softened butter
12 Tbsp. powdered sugar
Cream together peanut butter and butter. Add powdered sugar 1 Tbsp. at a time, stirring until smooth after each one. Make sandwich cookies by placing some of the filling between two cookies.
Download an 8.5×5.5 recipe card of this cookie below: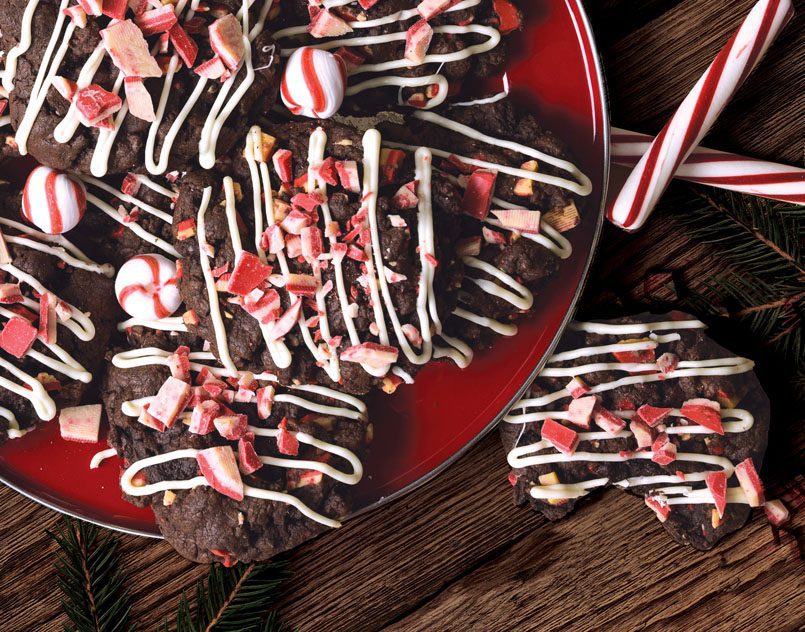 10. Saline County's Chocolate Peppermint Cookies
Jessica Scott is an owner of SugarDumplin's Cupcakes in Bryant. She is a self-taught baker who has passed her knowledge on to her daughter, Emily.
SugarDumplin's donates to charities throughout the year. "We love helping our Second Chance Youth Ranch by providing birthday cakes for their kids, free of charge," Jessica said. "We also help Saline County Safe Haven Women's Shelter by collecting items they need for the ladies and children coming in."
The Scott family's favorite Christmas tradition is to buy new coloring books and crayons and color together (no matter the age), to play games and "eat way too much."
Jessica and her staff invite 501 LIFE readers to the Bryant Christmas Parade at 10:30 a.m. Saturday, Dec. 10, followed by Santa's Block Party from 11 a.m. to 4 p.m. on Main Street. The Chocolate Peppermint Cookie recipe is top secret but can be tasted at SugarDumplins.
11. White County's Sugar Cookie Cut Outs
Leslie Martin of Searcy is the owner of Oven Art Creations. Her business is based on the love she has for baking and art and combining the two.
She learned to decorate cookies by trial and error and by tutorials generously placed online by other bakers. Her family's favorite holiday tradition is to drive around and look at Christmas light displays.
Each December, she looks forward to the Jolly Jubilee on Dec. 3 in downtown Searcy. This event includes the World Championship Chocolate Gravy Cook-Off, a Christmas craft fair, free carriage rides, the Searcy Christmas parade, a petting zoo, pony rides and more.
Leslie shares her Sugar Cookie Cut-Outs recipe, including how to make the icing. She'll leave the decorating up to your imagination.
Sugar Cookie Cut-Outs
¾ softened butter (unsalted)
1 cup white sugar
2 eggs
½ tsp. pure vanilla extract
2 ½ cups all-purpose flour
½ tsp. salt
Preheat oven to 350 degrees. Mix softened butter and sugar until creamy. Stir in vanilla and eggs. Set aside. Combine dry ingredients and stir into butter and sugar mixture in small amounts until combined. Place between two sheets of parchment paper and roll to around ¼ thickness. Place cookie dough in freezer for 30 minutes and then cut desired shapes. Bake on ungreased parchment paper for 10 to 12 minutes or until you can move the cookies freely on the paper. Cool completely, decorate and enjoy!
Royal Icing
2 lb. bag of confectioner's sugar, sifted
5 Tbsp. meringue powder
2-3 tsp. pure vanilla extract
½ – ¾ cup of warm water
Mix confectioner's sugar and meringue powder on low speed until combined. Add vanilla extract to water and pour slightly into the sugar until it reaches a honey-like consistency. Turn the mixer to medium speed and watch carefully. Stop mixing when icing forms soft peaks. Store in a bowl with a lid and keep covered while working. It is very sensitive to air and will dry out quickly.
You may also choose to purchase pre-made cookie icing.
Download an 8.5×5.5 recipe card of this cookie below: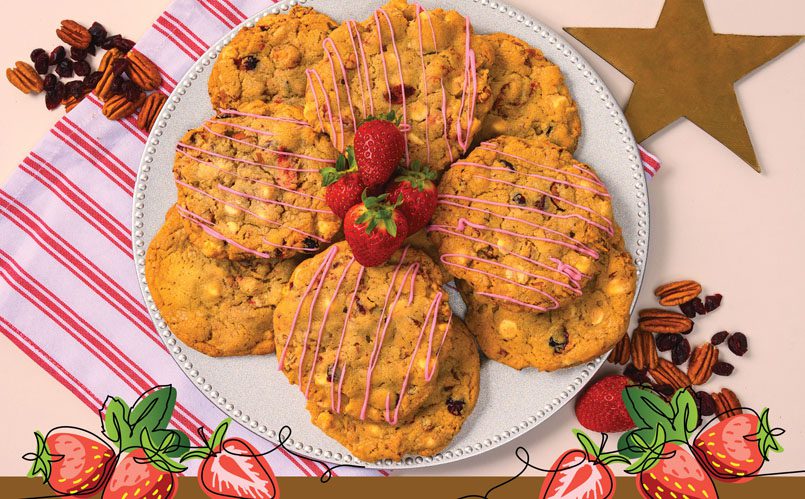 12. Marlene's Strawberry Bliss Cookies of Van Buren County
Marlene Lucas of Shirley has lived in Van Buren County for 18 years. She is the owner and manager of Wade Lucas Farm's Store, where she bakes and cooks. Wade Lucas Farms is known for producing sweet strawberries and baked goods throughout the county and beyond. "We started growing strawberries in Shirley in 2006 and, most importantly, I love everything strawberry!" Marlene said.
She also loves to make cookies "for anybody and everybody," but especially her family. Her mother taught her everything she knows about baking. "She's a precious gem to me," Marlene said.
Her favorite December tradition is getting together with family to cook and bake. They create a Christmas menu that includes everything they love to eat. Then, Marlene, her mom, sister, aunts, cousins and grandchildren pick a recipe from her mom's recipe box and make that item. "We spend hours/days together fixing food and sharing laughs and love," she said.
Maxine's Strawberry Bliss Cookies
2 cups cake flour
1 2/3 cups bread flour
1 ¼ tsp. baking soda
1 ½ tsp. baking powder
1 tsp. salt
2 ½ sticks unsalted butter
1 ¼ cups packed brown sugar
1 cup granulated sugar
2 large eggs
2 tsp. vanilla
1-ounce bag freeze-dried strawberries
1 cup white chocolate chips
1 cup dried cranberries
1 heaping cup chopped pecans
Optional: strawberries and cream chocolate melts
Sift first five ingredients into bowl and set aside. Cream butter and sugars together for at least five minutes until light colored. Add eggs one at a time and mix well. Add vanilla. Gradually add sifted flour mixture until incorporated. Pour freeze-dried strawberries in small bowl and mash with fingers until you have some powder, but mostly strawberries. Fold this and the white chocolate chips, cranberries and pecans into dough until incorporated. Refrigerate at least 12 hours. Set dough out for 20 minutes, so it's easier to scoop. Using a No. 20 scoop, drop onto parchment-lined baking pan. Press slightly with palm to flatten, and bake at 350 for 15 to 18 minutes, until edges are golden brown. Cool completely.
Optional icing: Melt strawberries and cream chocolate melts in microwave at 30 second intervals. Transfer into piping bag and drizzle. Cool completely before serving.
Download an 8.5×5.5 recipe card of this cookie below: