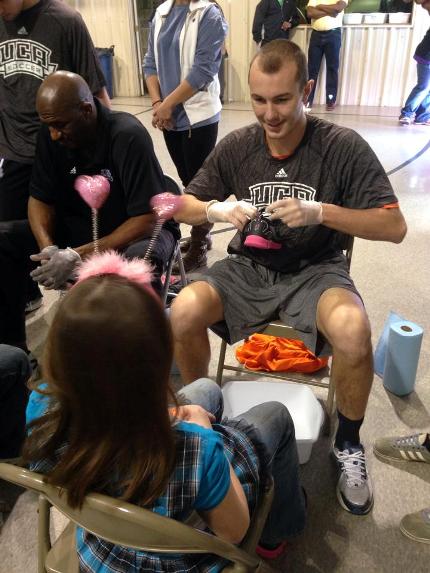 13 Jan 2014

Samaritan's Feet, UCA give away shoes for MLK Day of Service

Posted at 6:20 PMh

in

News

Samaritan's Feet International and the University of Central Arkansas SAAC (Student Athlete Advisory Committee) hosted a "Shoes of Hope" event on Sunday at the True Holiness Saints Center in Conway in honor of the Dr. Martin Luther King Jr. Day of Service.

Approximately 300 children received a new pair of new shoes and socks and had their feet washed by community volunteers including coaches and student athletes from the University of Central Arkansas. The event is one of 11 shoe distributions being held across the United States this year for the National Day of Service with more than 3,700 pairs of shoes to be given away.


"It is an exciting time to partner with this community and distribute shoes and provide hope to these children in honor of Dr. Martin Luther King Jr.," said Manny Ohonme, CEO and co-founder of Samaritan's Feet International.


The vision of Samaritan's Feet National Day of Service events came in March 2010, after Ohonme met the children of Dr. Martin Luther King Jr. In this meeting with Bernice and Martin, III, Ohonme shared how their father inspired him to start Samaritan's Feet and the King family decided to partner with Samaritan's Feet in a very unique way.


On Martin Luther King holiday weekend and surrounding days each year, Samaritan's Feet hosts shoe distributions across the United States, specifically in cities historically associated with the Civil Right Movement.


These January events provide Samaritan's Feet volunteers the opportunity to join together across this nation, symbolizing a unified effort of becoming the "Beloved Community" of which Dr. King dreamed.


In 2013, Samaritan's Feet held 21 Shoes of Hope events to celebrate the National Day of Service.


Samaritan's Feet is a 501(c)(3) humanitarian aid organization that shares a message of hope and love through washing the feet of impoverished children around the world and adorning them with new shoes. There are an estimated 300 million children who go without shoes every day and more than 1 million that die each year from foot borne disease. The goal of Samaritan's Feet is to provide 10 million pairs of shoes for children in the next 10 years. Since its founding by Manny Ohonme in 2003, Samaritan's Feet and its team of ambassadors have blessed more than 4 million children in more than 60 nations. For more information about Samaritan's Feet International, visit SamaritansFeet.org.