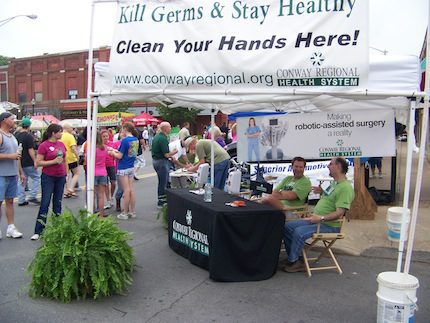 29 Apr 2013

Safety tips listed for festival-goers

Posted at 8:43 PMh

in

News

Food-on-a-stick, rides, music, games, arts and crafts and the world championship toad races have drawn huge crowds to Toad Suck Daze since 1982.

As one of the first summer festivals on the 501 calendar, TSD gives people an early opportunity to get outside for some fun.


Before having too much fun, Susan Molsbee, an infection prevention specialist, advises come by one of the two hand-cleaning booths that Conway Regional provides at the festival.


Unfortunately, opportunities for spreading germs go along with large crowds.


Conway Regional's solution: stop by and clean your hands. About 35 health system employees and family members are volunteering in shifts at the hand-cleaning booths this year. The booths are open from 3 p.m. to 8:30 p.m. Friday, May 3; 8:30 a.m. to 8 p.m. Saturday, May 4; and from 11 a.m. to 5 p.m. Sunday. The booths are located near the Toad Dome off Oak Street and on Front Street near the music stage.


"Keeping our hands clean is one of the most important things we can do at Toad Suck Daze to avoid getting sick and spreading germs to others. Many illnesses are spread by not cleaning our hands," said Molsbee. "If soap and water are unavailable, use an alcohol-based hand sanitizer that contains at least 60 percent alcohol to clean your hands."


In addition to official Toad Suck Daze hand-washing stations that provide soap and water, the Conway Regional booths offer alcohol-based sanitizer.


Do you know when you should you wash your hands? The answer seems simple but easy to forget. The Centers for Disease Control and Prevention says clean your hands:

After touching an animal or animal waste
After handling pet food or pet treats
After changing diapers or cleaning up a child who has used the toilet
After blowing your nose, coughing, or sneezing
Before and after caring for someone who is sick
Before and after treating a cut or wound
Before, during and after preparing food
It is also important to use hand sanitizer properly by pouring it into your hands and rubbing it all over the surface including the back, between fingers and under fingernails.

When washing your hands:

Wet your hands with clean, running water (warm or cold) and apply soap.
Rub your hands together to make a lather and scrub all areas of your hands including the backs, between your fingers, and under your nails.
Wash for at least 20 seconds. Hum the "Happy Birthday" song from beginning to end twice.
Rinse your hands well under running water.
Dry your hands using a clean towel or air dry them. Don't wipe them on your clothes to dry.
Molsbee says upper respiratory and gastrointestinal illness can be avoided by cleaning your hands properly.

"Cleaning your hands and not touching your t-zone (eyes, nose and mouth area) is how you keep those organisms out of your body," she said. "We also want people to come by our booth first to get sunscreen to avoid those burns."
The booths will offer plenty of sunscreen with an SPF of 30 or higher protection.

Another Toad Suck Daze safety tip: Drink plenty of water to stay hydrated to avoid a trip to the emergency department.

Social Media Toad Suck Daze Contest

Conway Regional is also holding a contest on Facebook and Twitter for festival goers asking "how are you staying healthy at Toad Suck?" Details are available at the booths.