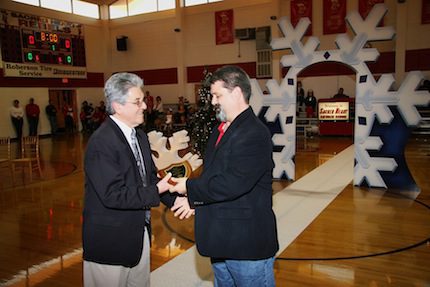 Feb 10, 2013

Sacred Heart presents alumni awards

Sacred Heart Catholic School in Morrilton recently honored the recipients of its 2012-2013 Alumnus and Honorary Alumnus of the Year awards. Both were recognized during the homecoming ceremony on Jan. 18.

Sacred Heart is very proud of our distinguished alumni, many whom have gone on to lead lives characterized by personal and professional success, said Alisha Koonce, director of development. They make a difference both within the local community and around the globe. "They are an inspiration and encouragement to our current and prospective students.


The 2012-2013 Alumnus of the Year is David Ruff, who attended Sacred Heart and graduated in 1965. He attended the University of Arkansas and returned to Morrilton in 1984 to assume his father, Ed Ruff's, role in managing Morrilton Packing Company.


The Ruff family and Morrilton Packing have always supported Sacred Heart and with David's return he continued this tradition.


David's family has had three generations attend Sacred Heart: his dad and Uncle Lonnie, himself and sister Carol, and his own children with wife Jan. They look forward to the fourth generation of Ruffs attending.
David's history with Sacred Heart includes:

Instrumental in the addition to the gymnasium and Ruff Auditorium.
Served on the bazaar committee for 20-plus years.
Trustee with the Sacred Heart Catholic School Endowment Board for 15-plus years.
Served on the parish council for two terms.
Served on the school board for three terms, including two terms as president.
The Honorary Alumnus of the Year award was created to recognize individuals who, although they may not have attended and/or graduated from Sacred Heart, have shown great commitment and dedication to the school over the years.
The 2012-2013 Honorary Alumnus of the Year is Pedro Fresneda.

Pedro has been married to Eleanor for going on 50 years in August. They have three children –John, Ken and Djuana – and nine grandchildren who attend or have graduated from Sacred Heart.

Pedro and Eleanor moved their family to Morrilton in 1973 when Arrow Automotive opened. He was with Arrow until it closed in 1999.

In 1979, he and Eleanor transferred their children to Sacred Heart. "His kids will tell you this is the best decision they ever made," Alisha said.

Pedro has attended almost every ballgame since 1979, following his children and then his grandchildren. The years he had no one playing…he still came. He has chaperoned countless games and at times, has made customized lunches for each team member.

Pedro was very involved in the booster club and bazaar activities. He continues to help with hamburger sales, picking up pizzas for ballgames and anything the booster club may ask help doing.

Pedro was instrumental in helping Sacred Heart accept exchange students. His niece, Sonia, from Columbia, South America, was an exchange student in 1985.

He always has a friendly greeting for everyone he sees while picking up grandkids after school or during ballgames. He is everyone's biggest fan and to most, their school grandpa.