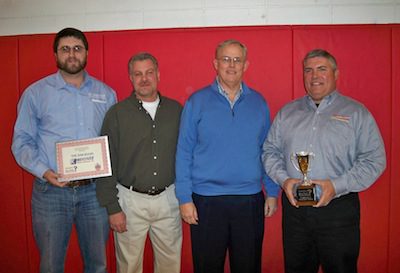 25 Oct 2011

Sacred Heart plans Community Quiz Bowl

Posted at 7:52 PMh

in

News

Sacred Heart School will host its second annual Community Quiz Bowl event on Saturday.


Last school year, Sacred Heart hosted the event as a way to celebrate the success of the Quiz Bowl teams from Sacred Heart and Morrilton High School who had both recently been named champions in their respective classes.

"The event was a tremendous success and we are pleased to host it once again this school year," said director of development Alisha Koonce.


The Community Quiz Bowl is essentially quiz bowl for grown-ups. Sponsors may choose to enter teams who will compete for the title of Community Quiz Bowl Champions.


Guests to the event will be treated to a Sacred Heart signature meal – a spaghetti dinner. All proceeds from the Community Quiz Bowl will benefit the Sacred Heart School Annual Fund which helps meet the needs of the school.


Game play during the event will be formatted much the same as the actual Quiz Bowl competition and will include fun door prize opportunities for audience participation throughout the evening (given based on correctly answering trivia questions, of course).


Volunteers planning the event anticipate an exciting evening as previous and new competitors take the microphone and challenge one another for the trophy and title.


Team sponsors include Primarily Pediatrics, Morrilton Medical Clinic, Koontz Electric Company, Morrilton Veterinary, Paul F. Dumas, St. Vincent Morrilton, Maus Implement and University of Arkansas Community College at Morrilton. All are invited to attend the event at 6 p.m. in the Sacred Heart Gym. Businesses, groups or individuals interested in sponsoring the event or purchasing tickets (just $25 each) should contact SHS at 501.354.4358. For more information, visit sacredheartmorrilton.org.