07 Mar 2012

Sacred Heart boys team headed to state championship game

by Mark Oliver


First they were conference champions. Then they were district champions. Most recently, they were regional runners-up. What's next for the Sacred Heart Rebels this season? A trip to the Class A state championship.
Last season, the Sacred Heart High School boys team posted a 20-17 record and was ousted from the state tournament in the second round. This year, however, many things have improved with the team.

"At the end of last year, our guys started understanding what we were trying to do," said second-year coach and Sacred Heart alum Aaron Duvall. "We were playing our best basketball, gained a lot of confidence and that carried over to this year. Over the summer and during the fall, we really made more of a commitment to defense."

Throughout the state tournament this year, the Rebels (34-8, 7-1 5-1A West) have continued their success, defeating both Caddo Hills and Hillcrest in the first two rounds. The biggest win of the season came Saturday night as the Rebels dispatched Bay in the state semifinals, 57-54, punching Sacred Heart's ticket to the Class A state championship.

"My guys were very excited about getting the opportunity to play them," Duvall said of Bay. "One of our goals at the beginning of the year was to win a state championship, and we knew we'd have to beat Bay to get there. That made Saturday's game kind of a big one for us. We were able to establish our inside game, and we were able to get their post player in foul trouble early. For the rest of the game, our guards took over.

"We handled pressure well, we took good shots and we were able to get a hand up on every shot. They never got in any kind of a rhythm. Overall, we played about as well as we have all year."

Much of the team's success comes from its senior leadership, with many of them having played basketball together since their peewee years.

"They've been great," Duvall said. "Eleven of our 18 players are seniors. We can lean on them and rely on them to help us out when things are getting rough or when the team isn't playing well. Someone, either vocally or through their play, steps up to do something about it.

"They've had a lot of success all throughout their careers at Sacred Heart. From a young age, they've been told by parents and fans that if they stick together and keep developing, they would have a chance to win a state championship one day – and here we are."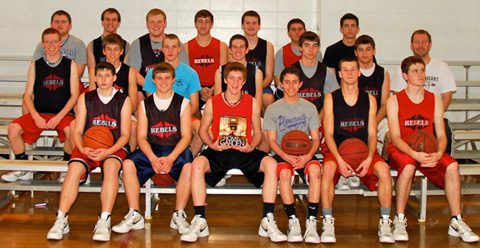 After the tournament in Magnolia last weekend, the team as a whole went to Mass together at the little Immaculate Heart of Mary Catholic Church on Sunday. The team and their families took up half of the seating in the small church and local parishioners welcomed them all with open arms. Most of these young men are not only great athletes, but are active in their church as well. They practice basketball during the week and participate in church services on Sunday. Duvall, a 1998 graduate of Sacred Heart, has known most of the young men on his team since they were small and is actually related to one of them.

"Everyone knows each other and the small school has a family atmosphere."

Now, Sacred Heart faces one last stop on their road to glory: a showdown with Mammoth Springs on Saturday afternoon at Summit Arena in Hot Springs with the state title on the line.

"Our goal this year was to win a state championship," Duvall said. "We definitely felt like we were capable of getting to this game, and we have taken advantage of our opportunities. We're so close to winning it all now. Our players have the 'refuse to lose' attitude at this point.

"If we can put together one more complete game, we can win it all. We have a very balanced offense right now, and that's what makes us very good. The keys will be how well our post players defend, how well we protect the ball and how well we rebound."

This weekend in Hot Springs, win or lose, one thing is for certain – it's been quite the ride for Sacred Heart this season.

"I don't want it to end," Duvall said. "The season has gone by so quickly. Not only do we have a really good basketball team, but we have really good kids. They're so fun to coach. There are no discipline problems here. I never dread coming to practice. It's been a great ride. Win or lose, it's going to be sad that it has to come to an end."