30 Oct 2022

Ryleigh Homan enjoys sweet taste of success at Arkansas State Fair

By Carol Rolf

Ryleigh Homan has enjoyed the sweet taste of success many times in the livestock show ring at the Faulkner County Fair and this year took 1st Place in Senior Breeding Hog Showmanship at the Arkansas State Fair.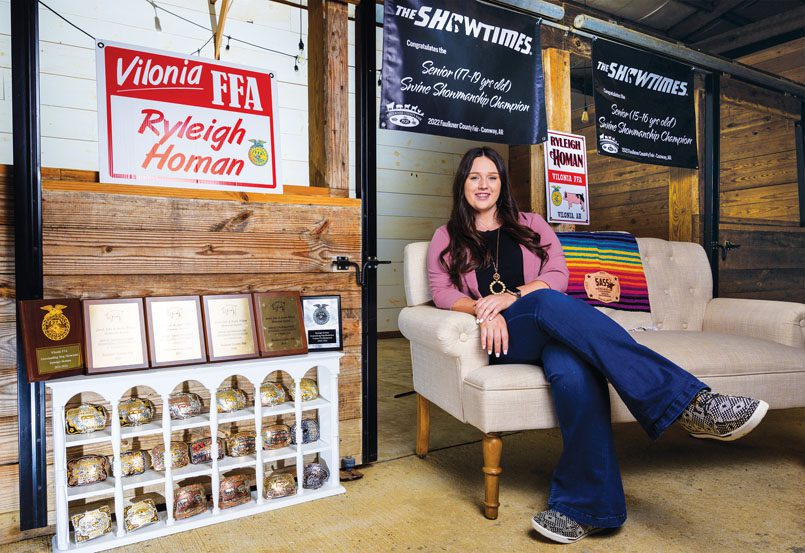 The 17-year-old daughter of Kris and Alicia Homan, Ryleigh a senior at Vilonia High School, began showing pigs at the county fair when she was 5. She won the showmanship championship that year, competing with others in her age bracket. She has won the championship banner in her age group each year since. She was named the Senior (17- to 19-year-old) Swine Showmanship Champion at this year's Faulkner County Fair.
She always names her pigs, which have been mostly crossbred animals. That first year, she showed Fluffy. "He was really big – about 290 pounds," she said. "And I weighed about 50 pounds, maybe."
This year, she won the showmanship banner with Roscoe. "He's not as big as that first pig," she said, laughing. "We bought Roscoe off a farmer in Jonesboro and brought him home," she said. "We usually get a pig when he's about 40-50 pounds and bring him home, feed him until he weighs about 280-290 pounds. We feed them special feed – it's kinda like mixing a cake. So many things go into it – vitamins, nutrients, supplements. "We have seven pigs in the barn right now," Ryleigh said.
Her sister, Lainey Homan, 14, also shows pigs. Lainey was named the Intermediate (13- to 14-year-old) Swine Showmanship Champion at the recent county fair. "There's a little bit of competition in our pig barn," said their mother.
"Lainey does well, too, but she's not quite as passionate as Ryleigh is," Alicia said. "Ryleigh is absolutely passionate … she is a hard worker … spends a lot of time with her pigs."
Ryleigh said she is in the barn at least an hour before school and an hour after school. "We do skin and hair in the morning, and after school, we walk and feed and walk … and clean pens," she said.
"Ryleigh is a great young lady," said Emily Dement, agriculture teacher at Vilonia High School.
"I have been able to watch her grow up showing pigs," Dement said. "When she first started, I was still showing so we actually have shown against each other. Then I grew up and got the opportunity to be her agriculture teacher and watch her love for showing hogs grow.
"She loves helping students during the summer prepare for their show projects," Dement said. "She has had several workshops at her house to teach young showmen what to expect that coming show season.
"Ryleigh is very focused when it comes to showmanship and is able to break down the basics to teach new showmen and give tips to advanced showmen at the same time," Dement said. "She has a great understanding of the show ring and what it takes to be an outstanding showman.
"The work that is shown in the show ring also reflects the work she puts into her classes," she said. "She stays on top of her school work and excels at anything she puts her mind to."
Ryleigh's grandfather, Garry Don Lester, was an ag teacher and her cousin, Austin Lester, was her mentor; both are from Quitman.
"They have been with me through all of this," Ryleigh said. "My grandfather showed pigs. That's how I got interested in it.
"Plus, Mom and Dad always told us to do everything we can," she said.
"I always competed in showmanship," Ryleigh said. "That's something I can control. It was a goal for me to win showmanship. Showmanship is all about how you show the animal. It's not about what the animal does or how good he is. It's about how well you show it."
Ryleigh will graduate in the spring of 2023.
"I plan to go to nursing school," she said. "I'm not sure yet where I want to go. I want to be an RN … and go even further."
Ryleigh used to play basketball, "but it's just pigs now," she said, laughing. "I plan to give up showing pigs after this year, but I still want to help younger kids." Ryleigh is active in the youth group at Oak Bowery Baptist Church. She is a member of the Vilonia FFA and of the Mount Vernon-Enola 4-H group.