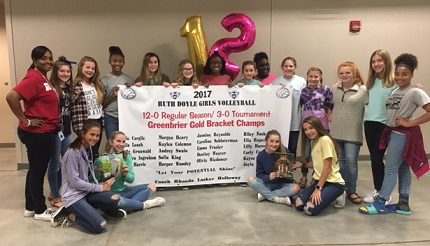 18 Oct 2017

Ruth Doyle volleyball team undefeated in regular season

The Ruth Doyle Middle School Girls Volleyball Team finished another regular season undefeated, 12-0.


The team also won the Gold Bracket of the Greenbrier Invitational tournament to put the icing on the cake for a great group of girls.


"They worked so hard at playing team ball and encouraging each other this year," said Coach Rhonda Lasker Holloway. "Their goal at the beginning of the season was to get a banner and finish undefeated like last year's team.


"They have been awesome to coach and watch!"