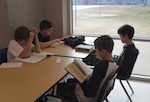 19 Mar 2011

Ruth Doyle students recognized for generosity

Posted at 11:30 PMh

in

News

by Sonja J. Keith

501 LIFE conducted "Step up to the plate" in November, inviting and encouraging schools in Faulkner County to raise money to support an endowment to help agencies that provide hunger relief. Students were also asked to collect canned goods, which were donated to Bethlehem House, a homeless shelter.

As an incentive, the school with the greatest participation based on money and items collected divided by student enrollment would be featured in the magazine. 501 LIFE would like to congratulate Ruth Doyle Intermediate School in Conway for having the greatest participation.
Students at Ruth Doyle Intermediate School in Conway have demonstrated a generous heart and a strong desire to help others in need with record donations to local, national and global organizations.
For "Step Up to the Plate," RDI students collected $2,455 and 747 canned food items.
Literacy teacher Kelli Gordon noted that more students were involved this year in "Step Up," with more school-wide participation. She attributes the increase to students understanding of who benefits from the canned goods and money donations.
"I think that's a big part of why they did it," she said, explaining some students empty their piggy banks to help others. "Some of our students who don't have much are the ones that bring the most."
Gordon said students who brought a canned food item were allowed to wear sports gear on the first Friday of the two-week campaign.
On the second week, student who donated $1 could wear pajamas on Friday and participate in an all-day read-a-thon in the cafeteria. Sponsorships were also collected by Gifted and Talented students (fifth grade math and sixth grade literacy).
A focus on philanthropy at RDI is an outgrowth of a special approach that literacy teachers have taken, selecting books that have inspired students to think of others and consider how they can make a difference in their community, state and world. Not only are the students helping others, the focus helps make their persuasive writing more meaningful.
"The kids have a deeper understanding if we can make it real to them," Gordon said.
During the 2009-2010 school year, RDI donated $15,435.81 to several local, national and worldwide organizations, including:
• Haiti – Students supported relief efforts following last year's earthquake with donations to the American Red Cross ($400) and UNICEF ($1,192), and relief kits ($4,104).
• A math-a-thon benefited St. Jude's Children's Research Hospital ($2,525).
• Jump Rope for Heart – Students raised $1,592 to support research and children with heart ailments.
The philanthropy focus started three years ago with students reading "Three Cups of Tea" by Greg Mortenson. He founded the educational charity "Pennies for Peace" to provide schools and educational materials in Pakistan and Afghanistan. In the fall, RDI students raised $1,171.24 for the charity, according to Gordon. "It's all brought in change."
Principal Debi Avra said that through the years, RDI students and their parents have been generous, with efforts to collect canned goods at school dances and pet food donated at student art shows.
Avra said she is appreciative of the efforts of Gordon and Julie Haynes, GT instructor, for leading the efforts and for the generosity and support of the entire staff and faculty at Ruth Doyle during the "Step up the Plate" campaign.
Beyond the value that the efforts have contributed in the area of literacy, Avra points out that students are developing life skills and learning life lessons that help educate the "whole child."
"I don't know that any of us can make it without help," she said. "You hear that young people are self-centered. This shows that's not the way it is. Kids know this is the right thing to do."