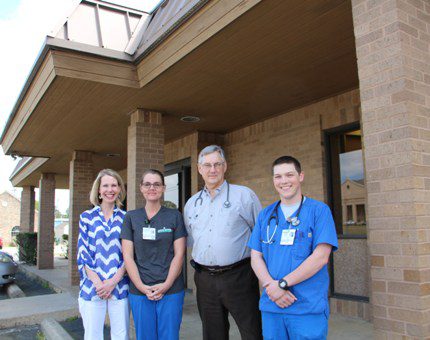 11 Apr 2016

Ross-Dobbs Clinic becomes Conway Regional clinic

Posted at 11:49 AMh

in

News

The Ross-Dobbs Clinic has joined the Conway Regional Primary Care Network and is now named Conway Regional Medical Clinic-Prince St.


John Dobbs, MD, co-founder of the clinic, will continue his practice as a Conway Regional employee. Meghan Mallett, APRN, will join the staff on April 11. Other staff members include Seth Bridgman, LPN, and Jennifer McGlown, a senior office coordinator.


The office building is currently being renovated to give patient rooms and offices a more modern appearance, said Billy Henry, director of the Conway Regional Primary Care Network. The renovations are expected to be completed by the end of May. "The clinic will continue to be open during renovations," said Henry. "Patients should not expect any interruption in actual clinic operations because the renovations are being done in three separate phases."


He added, "We greatly appreciate Dr. Dobbs for his help in creating a smooth transition for patients. It is a privilege to help him continue the outstanding care that he has been providing for many years."


One of Conway's most enduring family clinics, the Ross-Dobbs clinic was founded in the 1970s by Dr. Dobbs and his partner, Rex Ross, MD. Ross retired in March 2013 after nearly 40 years in family practice.


Meghan Mallett described the opportunity to transition from a nurse with Conway Regional Health System to an advance nurse practitioner role at Conway Regional Medical Clinic-Prince St. as "a dream come true." She said, "I am grateful that I've been offered the opportunity to be a primary care provider in an establishment – whose mission to provide high-quality, compassionate health care services – coincides with my own beliefs."


Mallett holds an advance practice nursing degree as well as degrees in psychology and nursing, all from the University of Central Arkansas. Mallett worked in labor and delivery at Conway Regional for eight years and also in the emergency department. She is a graduate of Marion High School and has lived in Conway since 1998. She added, "I'm so excited to continue my journey taking care of patients in my home community, and I look forward to building lasting relationships."


Both Dobbs and Meghan Mallett, APRN, are accepting new patients and walk-ins.


Clinic office hours will remain 8:30 a.m. to 5 p.m. Monday through Friday and the phone number, 501.329.2948, is unchanged. The clinic is located at 1 Medical Lane, across from Conway High School.


Conway Regional Medical Clinic-Prince St. is the seventh clinic in the Conway Regional Primary Care Network.


Other clinics include Conway Medical Group, Conway Regional After Hours Clinic, Mayflower Medical Clinic, Greenbrier Family Medicine, Conway Regional Medical Clinic-Vilonia and Clinton Medical Clinic.