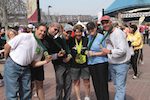 28 Feb 2011

Rock Runners offers fun, faith and fitness

by Donna Lampkin Stephens

An idea born at the starting line of the Little Rock Half-Marathon seven years ago has come into fruition, having aided in the spiritual and physical development of a number of people in the 501.

And it continues to grow.

Bill Doshier and Randy Grace of Conway are co-founders and co-leaders of Rock Runners, a faith and fitness ministry now in its sixth year.
Woodland Heights Baptist Church in Conway sponsors the group. The 2011 session was delayed by a week by January's snow but is now in the midst of weekly Bible study and training aimed at activities of the Little Rock Marathon and Toad Suck Daze.
"We had run together for a couple of years, and as I recall, we were standing at the starting line just talking, and I said, 'What if we could combine this race event with a faith and fitness Bible study?'" Doshier said of his conversation with Grace. "We continued to talk about it as we got started, then brought it home and got it going."
Rock Runners 2011 is a 10-week Bible study scheduled within 15 weeks of training. Doshier said of the 20 participants who came to the Rock Runner 101 introductory class Jan. 16, about half said they would train for the Little Rock Marathon or Half-Marathon on Sunday, March 6, with the others aiming for the 5K, 10K and relay events. The Toad Suck Daze 5K and 10K will offer a second goal Saturday, April 30.
Doshier said he thought this year's numbers would be right in line with the normal annual growth the group has seen of eight to 10 people.
"We've got some excellent new faces as far as first-timers," Doshier said. "For the first time, we're seeing folks coming over from other churches. They're not moving their membership, but they're getting involved with us.
"About half were people we hadn't seen before, and half were our regulars. We've also probably got 10-15 regulars in our class who are active in the church working in other areas at the same time as the classes, so I think we'll have more than 40 actually participating in the whole process, the classes and the runs."
He was quick to reiterate that the group welcomes everyone. There's no age limit, no speed requirement, no affiliation to Woodland Heights or any church necessary. "If you want to be with a fun, Christian-based faith and fitness group, we offer a nice program," he said.
Gayla Grace, who has been involved from the beginning with her husband who co-founded the group, said outreach beyond Woodland Heights was a big part of the ministry. "We're trying to promote it, to let people in the community know it exists," she said. "Whether you go to church at Woodland Heights doesn't matter."
Doshier stressed that he didn't want anyone to be put off by the group's name.
"They hear it and they think it's a hard-core running club, and we couldn't be any further from that," he said. "We have more walkers than runners, and the shorter runs are more popular than the longer ones.
"And for the longer runs, we really emphasize walking and running. As you get older, your body can't handle all the pounding, so you need those walk breaks. That's one message we want to get out. Walkers are welcome."
Doshier's experience is a good example.
Now 49, he started running about 12 years ago. He grew up in Harrison and moved to Conway in the late 1980s. At a yearly physical, his doctor warned him about his family history of diabetes and recommended that he start an exercise program.
"He said if I didn't start something then, I might not live long enough to enjoy my retirement," said Doshier, who had been a casual exerciser growing up. "I started walking, then biking, and slowly developed into running, which is what I enjoy."
He's now run four full marathons and is set for one in New York in November.
"I never dreamed I'd do that," he said. "That was the farthest thing from my mind. Anybody who knows Bill Doshier would say it's hard to believe he runs marathons and half-marathons. I'm not a fast runner. I call myself a plodder."
But he sees similarities between his physical and spiritual fitness.
"I've always said there's a commitment to both," he said. "In my life, both are very hard for me. It's hard to be consistent with Bible study and my prayer life and hard to be consistent with my fitness.
"However, I know I'm at my best day to day when I'm involved in both. I need both to be at my best, and if I'm missing one or the other, I feel it. When I'm committed to both, I feel better. I'm a more productive, better person."
He said attendees at the first class in January ranged in age from early 20s to 60-plus. Historically, about half the group will remain together after the official runs in Little Rock and at Toad Suck Daze. The Rock Runners will also do their own summer run, the Bottle-Rock-It 5K, on Saturday, July 2.
Gayla Grace said there was a core group that continued to run year-round.
"Those of us who run the half- or full (marathon) can't wait until January to start training, so we've all been working," she said before the 2011 classes began. She ran track and cross country in high school but took a long break after she had children. But she never really quit running.
"It's always been therapy for me," she said. "It's a stress release. I've done some kind of exercise my whole life, but my husband has not, and he's gotten hooked."
The couple started walking together, even doing the Little Rock Half, but they eventually decided to run. "As we started running together, we found we enjoyed it," she said.
The 2011 Rock Runners Bible study is written and presented by alumni. Topics this year include finding God, personal bests, experiences on the road, friendships, self education and helping others.
Gayla Grace said since there weren't many resources available for a curriculum combining faith and fitness, organizers this year collected stories within the group, coming up with an original Rock Runners book.
The group welcomes late joiners. There is no charge for classes and training, but participants are responsible for race entry fees.
"We'll work with anybody," he said, adding that training for any latecomers would likely be aimed toward Toad Suck because of the timetable.
For more information, visit www.rockrunners.org, call Doshier at 501.352.9385 or email [email protected].