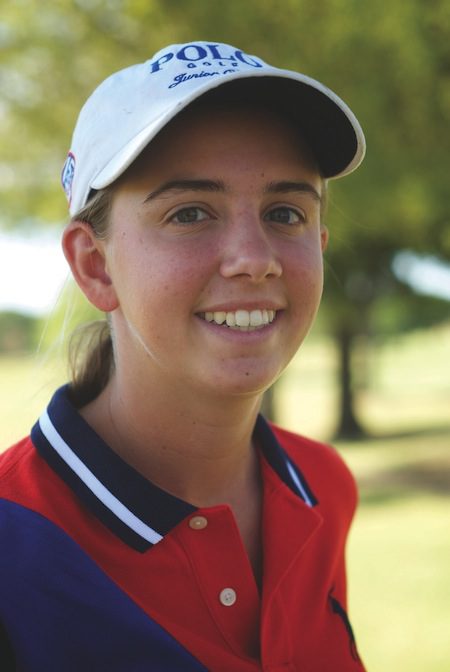 05 Oct 2011

Roachell headed to U of A

by Donna Lampkin Stephens


Conway's Summar Roachell capped the September of her life with a decision about her future.


Roachell, 16, who helped the United States retain the Junior Solheim Cup in Ireland last month, won her third consecutive Class 7A state championship in Fayetteville on Sept. 20 and made a commitment to the University of Arkansas that same day.
"I've grown up a Razorback fan, and having the opportunity to play as a Razorback in my home state – I couldn't pass that up," she told the Conway Kiwanis Club last week.

She cited the ongoing support of Arkansas coach Shauna Estes-Taylor and assistant coach Mike Adams to their players as another reason.

Among the other schools that had recruited her were Southern Cal, Texas, Oklahoma State, Arizona State, Alabama and Auburn.

Roachell shot 69-67 –136 over 36 holes at Fayetteville Country Club to win the individual state title going away, by 11 strokes over Kaylee Benton of Cabot. She was tied with Olivia Lavy of Fayetteville after the first round, but Lavy slipped to an 80 on Tuesday to finish third, 13 strokes behind Roachell.

"The first two holes, I lipped out five-footers (for birdie), and that sent a message," Roachell told the Kiwanians.
"Then I birdied three in a row, and she bogeyed."

Janet Taylor's Lady Cats finished second behind Fayetteville, which won its seventh consecutive team title and its eighth in the last nine years.

Roachell was named to the PING Junior Solheim Cup team by captain Meg Mallon in August after her best summer of national competition. She moved in the Polo rankings from 67th to 19th from early July to early August, during which she won the Bubba Conlee Invitational – her first win in a national event. She also tied for second in the Genesis Shootout and reached the quarterfinals of the U.S. Girls' Junior Championship at Olympia Fields Country Club in Chicago.

She has six top-five finishes in national events.

Mallon selected Roachell and McKenzie Talbert of North Augusta, S.C., as captain's picks. The other 10 players were chosen based on a combination of the American Junior Golf Association's Polo Golf Rankings and the Golfweek/Sagarin Junior Girls Rankings.

Roachell won two of three matches in the Junior Solheim Cup competition, which features the top 12 girls from the U.S. against those from Europe in a biennial competition, this time at Knightsbrook Hotel & Spa Golf Resort in Trim, Ireland, Sept. 20-21.

Paired with Kyung Kim of Arizona, she lost her alternate shot match, 4 and 3. The Americans managed just one win in the six alternate shot matches but rallied in the four-ball competition with three wins, including Roachell and Talbert, 2 and 1. The Americans pulled to within 7-5 of Europe after the first day of competition.

In the final day's 12 singles matches, the Americans won six, including Roachell's 1-up decision over Luna Sobron of Spain, and halved two matches. Roachell tapped in for par from two inches on the 18th hole to win her point, which turned out to be vital in the ultimate 12-12 draw, which allowed the United States to retain the trophy because the Americans won the 2009 match at Aurora Golf Club in Illinois.

Roachell said the 2011 team made history as the first group to retain the Cup on European soil.

The final match ended on the 17th hole, and she said she and her teammates formed four lines of three, locked arms and sang the United States national anthem as they walked back to the clubhouse.

"That was a huge thing for me," she said. "I'll never forget that moment."

Jack Bell, assistant to Mayor Tab Townsell, presented Roachell with two proclamations and the key to the city as Townsell proclaimed Wednesday, Sept. 28, Summar Roachell Day in the city of Conway.