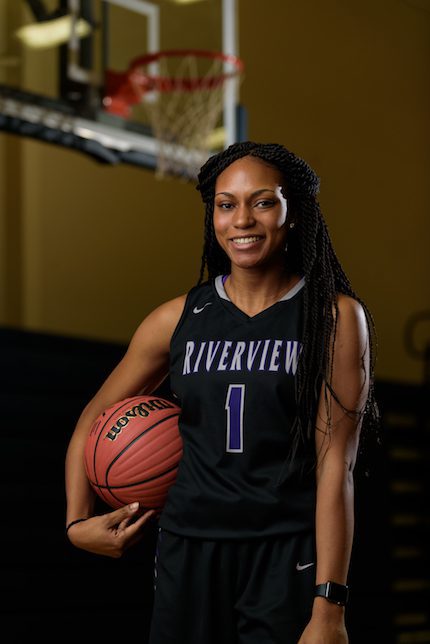 04 Jan

Riverview's Cartwright has 'high basketball IQ'

by Mark Oliver


For the past two seasons, Kira Cartwright has helped write basketball history at Riverview High School. From achieving the perfect season to repeating as Class 4A state champions, the senior Lady Raider has made many memories that will last a lifetime.

"I have played basketball for as long as I can remember — probably since the first grade," Cartwright said. "[Over the years] my favorite basketball memories have been our 2015-16 team with a 38-0 record and winning back-to-back Class 4A state championships."


"Kira is a three-year-starter who contributed seven points per game and eight rebounds per game last season," Riverview head coach Ryan Smith wrote. "She could have scored more, but she didn't have to because our team was so balanced. She carries a high basketball IQ."


Cartwright was selected to this year's 501 Basketball Team — 34 players representing the best the 501 has to offer both on and off the court. The junior was nominated by her head coach, Ryan Smith. The team is sponsored by First Service Bank and First Security Bank.


"Kira is an athletic leader who can play every position," Smith wrote in his nomination. "This year, we expect her to score more points and continue to be a positive leader for our team."


This season, the Lady Raiders (6-7, 2-4 2-4A) are packaged much differently than the team that completed the perfect season a year ago. According to Cartwright, however, the team's inexperience is less of a challenge and more of an opportunity for growth.


"My personal goal for this year is to be a team leader and play to my fullest potential," Cartwright said. "Not many of us have played together, so we are still learning one another's style of play. I want our team to be the best we can be."


While she battles on the court this season, Cartwright also battles personal challenges which keep her from playing at her best.


"[This season], I've been nursing a fractured tibia that I injured during a state soccer game, as well as a sprained ankle from a couple of months ago," Cartwright said.


In addition to her offensive and defensive prowess, another of Cartwright's many strengths is her ability to form bonds with those around her.


"Kira is a very good teammate," Smith wrote. "She is honest and makes other players feel comfortable."


Off the court, Cartwright is a member of Beta Club, Student Council, FBLA and Art Club at Riverview. After high school, the senior has big dreams for her future.


"I plan to attend college and major in occupational therapy," Cartwright said.


Riverview plays host to Heber Springs Friday, Jan. 6.