31 Jul 2021

Riley Popovich is setting his sights high

By Becky Bell

Riley Popovich may not have perfect sight, but Eastside Elementary staff made sure he had the perfect vision of kind-hearted people during his kindergarten year at the Cabot school.

Riley, 6, has struggled with his eyesight since he was 2, said his mother, Poppy Popovich.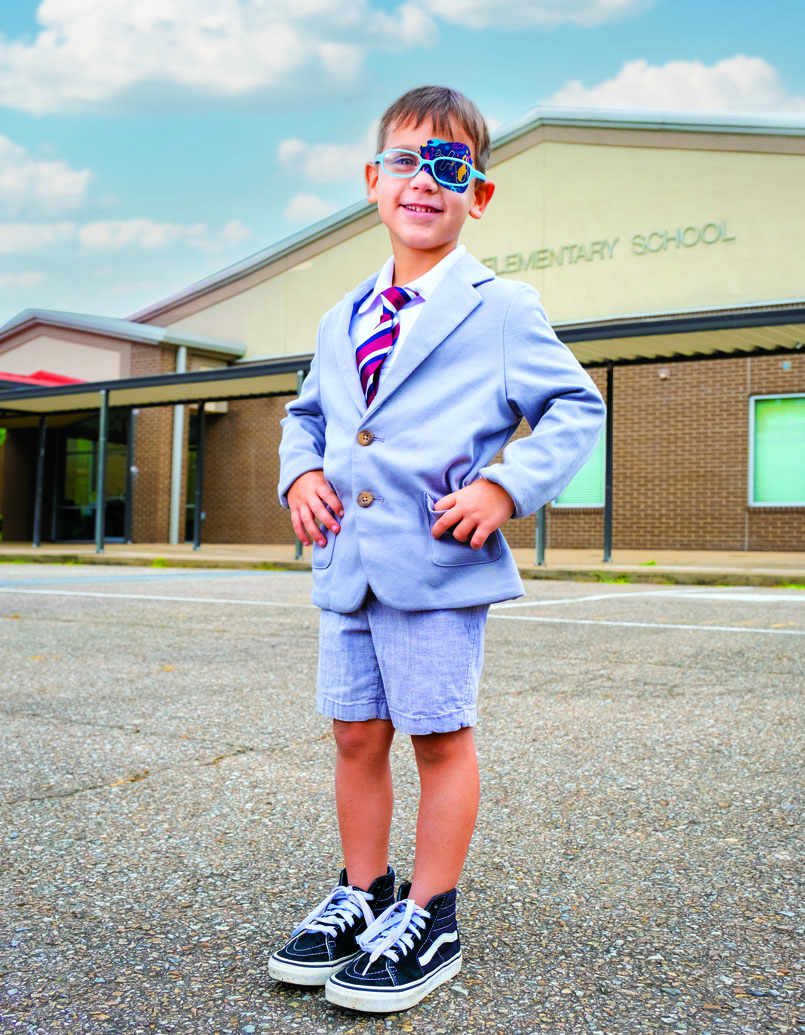 "His right eye anchored and that just means it was like cross-eyed, but the muscle was so tight it doesn't move. So, they went in and did surgery to help release the muscle, and then he had to start patching," she said.
Since he was 2, he has been patching on and off to help correct his vision. And being at home with the patches was one thing to Riley, but wearing them around people in his first year of school was another, she said.
"We have to patch his eye six hours a day and the patching is working," Popovich said. "But he didn't want to wear his patch to school because he was afraid people would make fun of him or not like him."
However, the truth is Riley's insecurities were all for naught.
"So, nobody noticed. He's in kindergarten, so it really wasn't that big of a deal," she said. "The kids in kindergarten said something about pirates and that's about it. The school was really good about it."
And it wasn't just the children who were so good-natured about Riley looking a little different.
Riley's kindergarten teacher, Sam McDonnel, knew that Riley would enjoy meeting Cabot School District Superintendent Dr. Tony Thurman. Thurman, who was dealing with some eye issues, sometimes wore a patch too.
McDonnel told the superintendent Riley had been very upset at school, keeping his head down and feeling embarrassed. So, Thurman came to visit Riley to show him that he wasn't alone in wearing a patch to correct his eyesight.
"He got to see that Dr. Thurman does a big job and sees so many people and does really good with his patch," Popovich said. "As a result, Riley just really connected with him and the next day when they were having career day, he told me he wanted to be Dr. Thurman when he grew up. I got him a cute little suit and they took pictures together and it was super sweet."
The visit increased Riley's confidence. Thurman even got him his own school badge and notified Cabot School Board members that Riley was the honorary superintendent of the day.
Popovich doesn't think her son will have to wear the patches when he is older but said he has other challenges they deal with because he is on Level 1, the least severe autism spectrum disorder diagnosis.
"He's a little quirky," Popovich said. "When he gets excited, he just kind of rolls around and flaps and bounces, and the other thing we are actually struggling with doing the best we can is that he has selective mutism, which is a form of anxiety. It is a really bad one."
Popovich said with this type of disorder, her son may be just talking with someone they don't know, but if he is asked to talk, he may freeze up and not be able to do so.
"Riley will stand still like a statue," she said.
His anxiety is the reason the school district allowed his twin brother, Finley, to be in his kindergarten class. His brother's presence helped him to feel OK in a room full of strangers.
"He was like his security blanket," Popovich said.
And although Riley started out the year sitting in a bean bag away from the other students for his own comfort, by the end of kindergarten, he was sitting at a school desk and playing with the other students, Popovich said.
Despite his challenges he has visually and with disorders, Riley has a bright future, and for now in the summer, he just mostly giggles at home, as he did throughout this interview with his mother.
"He's a happy boy," she said.
She is hopeful he will have another good year at school in the fall, but it will not all be easy, she said.
"Next year, we are starting from zero again because everything will change," she said.
But this year had some unanticipated happiness due to those at the district who went so out of their way to make sure Riley felt like he was fitting in.