23 Jul

Relentless: Buczek reflects on historic Razorback run

by Mark Oliver

Greenbrier native Autumn Buczek learned many lessons during her tenure with the Arkansas Lady Razorbacks Softball Team. Not only did these virtues help her become a better competitor, they have also helped pave the way for her future. 

"I've always been really competitive my whole life in everything that I do," Buczek said. "From a young age, my dad always pushed me to be the best that I could be and he never let me do anything halfway. My parents helped instill in me the work ethic that helped carry me to the University of Arkansas."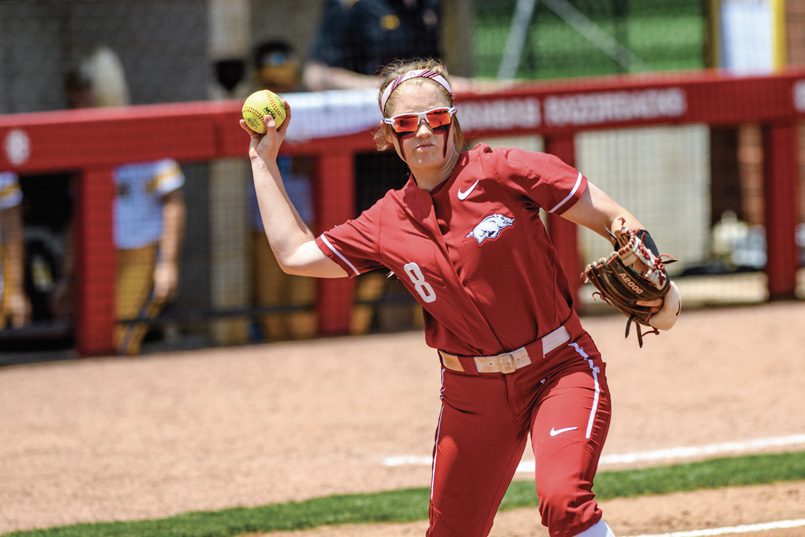 Following an impressive career at Greenbrier High School, Buczek (formerly Autumn Russell) says that her transition to playing college softball in Fayetteville was not an easy one.
"My freshman year was intimidating, to say the least," Buczek said. "My statistics showed that. I struggled, both from a personal standpoint and a team standpoint. Midway through the year, I was taken out of the lineup and didn't play much after that."
Faced with adversity, Buczek learned a valuable lesson about overcoming the odds and what it took to be a winner in the legendary Southeastern Conference.
"I really had to learn and accept that it was OK for me to fail," Buczek said. "During my freshman year, when I failed, it took a big toll on me and I carried it with me to each at bat."
A personnel change sparked regrowth for Buczek during her sophomore campaign at Arkansas, where the infielder increased her statistics — and her confidence — dramatically. 
"Confidence is everything in the game of softball," Buczek said. "My new coaches helped me understand that it was OK for me to fail as long as I learned to let go and move on quickly. I took that lesson to heart and began growing and settling in at the beginning of my sophomore year." 
As a sophomore, Buczek started all 56 games at third base for the Razorbacks and led the team in runs scored and stolen bases. With her head held high, the rejuvenated athlete returned to lead the Razorbacks with 58 hits and a career-high .349 batting average in her junior year.
"My junior season was a great year for our group," Buczek said. "It was a big confidence booster for the team and it taught us that we were good enough to play with the best." 
In 2018, the Arkansas Razorbacks amassed an impressive 42-17 record which led to an NCAA Super Regional appearance against No. 4 Oklahoma — one of the best seasons in program history.
"This season was historical in many ways," Buczek said. "After my first two seasons with the team, sometimes the work felt pointless. Being there helped us realize that all of our hard work had finally paid off and it was nice to be able to end my career at that stage."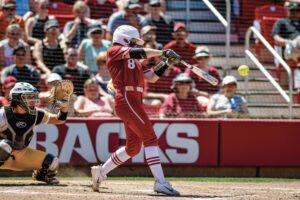 For Buczek, the team's defining moment came from a series win over a formidable foe. 
"There were tons of big moments for us throughout the year," Buczek said. "One of the biggest was our series win over Alabama. Given their incredible history, finding a way to beat them gave us the confidence that carried us through the rest of the year."
With her collegiate softball career officially at its end, Buczek says she'll miss the time spent with her teammates the most.
"There were a lot of good laughs and memories with our team," Buczek said. "Off the field, we were pretty carefree and goofy. That's what made playing fun. I will also miss the level of competition. I loved getting to compete with those girls. They were relentless and taught me so much from a competitive standpoint."
This spring, Buczek graduated from the University of Arkansas with a bachelor of science degree in kinesiology. She recently relocated to Donalsonville, Ga., with her husband, Sam, to begin the next chapter of her athletic career.
"I took an assistant softball and basketball coaching position for Seminole County High School in Georgia," Buczek said. "I will also be teaching physical education and health, too." 
As she prepares to enter the world of coaching, Buczek will never forget her days in the 501 as a young girl with big dreams.  
"Dream big," Buczek said. "It's a cliché, but it's one that I support 100 percent. I would also say to young girls that playing softball at the collegiate level is a big deal no matter which school you play for. It's an awesome achievement and something to be proud of."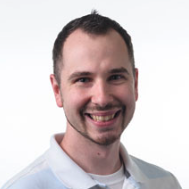 Latest posts by Mark Oliver
(see all)