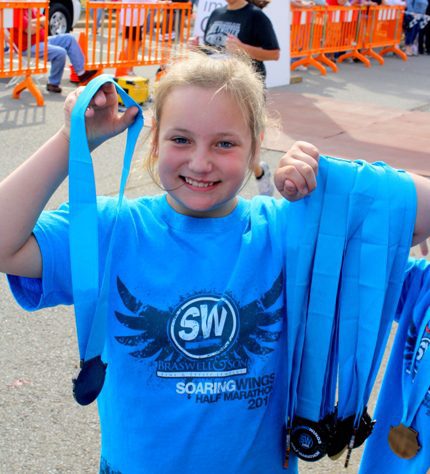 05 Sep 2012

Registration under way for Soaring Wings Half Marathon

Only 225 participant slots remain for the 2012 Braswell and Son Soaring Wings Half Marathon planned Saturday, Oct. 27, in Conway.


The event will begin at 8 a.m. at the McGee Center in West Conway.
With a scenic course, eight aid stations, free Family Fun Day for spectators and free training program, the Soaring Wings Half Marathon and Rock Runner Relay is top notch. 2012 marks the fifth year for the sanctioned race, which will close registration at 2,000 participants this year. This event includes the Soaring Wings Half Marathon, the Rock Runners Relay and a Soaring Wings Half Virtual Runner option. All finishers receive a custom finisher's medal and a race participant T-shirt. Awards will be given to top finishers overall, and by gender in age divided categories.

"We're only at 20 percent capacity in the two-person half marathon relay," said organizer Rachel Speer.

The race's "Extra Mile" program gives participants the opportunity to run for a purpose and "go the extra mile" for the children of Soaring Wings Ranch by raising money through sponsorships for their run.

The Soaring Wings Kids Marathon officially kicks off on Sunday, Sept. 16. Parents can download and print log sheets at swhalf.com (under Events –> Kids Half Marathon). Participants in the kids half log 12 miles over a six-week period and run their final 1.1 mile at the Kids Run events at 6 p.m. Friday, Oct. 26, at the Conway Human Development Center park. (Details and registration are on the website.)

There is also a "Kids Run For Kids," race sponsored by TLC Pediatrics, in which children can choose to participate in an age-appropriate fun run, or in a Half Marathon tailor-made for children.

All proceeds from this event benefit Soaring Wings Ranch, a Christian home for children ages 6-17 located just 20 minutes from Conway. For more information, visit swranch.org. To register for the Soaring Wings Half Marathon or the Rock Runners Relay, please visit swhalf.com.