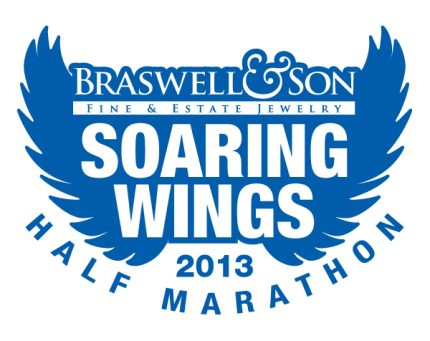 10 Jul 2013

Registration under way for Soaring Wings Half Marathon

The 2013 Braswell & Son Soaring Wings Half Marathon and Relay will take place at 8 a.m. Saturday, Oct. 26, at the McGee Center in Conway.

The RRCA Grand Prix Half Marathon for Arkansas, the Soaring Wings Half Marathon has become a "must do" race in this area.


In 2012, the race sold out at 2,000 participants more than a month before the race, and attracted runners from 24 states. Registration will again close at 2,000 participants for the Half Marathon. The Soaring Wings Half Marathon course is known for its spirited, well-stocked aid stations, and this year will be no different. With the addition of an aid station competition, voted on by the race participants, the spirit level along the course is expected to be at an all time high.


The Soaring Wings Half Marathon is also known for its outstanding spectator support, including a family fun zone with bounce houses for kids and a free lunch for those waiting on loved ones to cross the finish line.


As in years past, the Ranch Run 5K will be held at Soaring Wings Ranch at 6:30 p.m. Saturday, Aug. 3, to kick off the free training program sponsored by Conway Regional Fitness Center for anyone from walkers and beginning runners, all the way up to advanced runners. The training program will consist of supported group runs every Tuesday evening and Saturday morning leading up to the Half Marathon in October. Childcare is provided at the fitness center for a small fee to non-members. Registration for the Ranch Run 5K and the free training program is open at swhalf.com.


The Kids Run 4 Kids, sponsored by TLC Pediatrics, will take place at 5:30 p.m. Friday, Oct. 25 (location TBA). This is a fun event to encourage kids to be active, start running at a young age, and to develop a love for the sport. Kids completing the Kids' Half Marathon will log 12 miles on their own in the six weeks leading up to the event. They bring a log sheet documenting their miles to the event, and run the last 1.1 mile as a group for a total of 13.1 miles. There will also be fun runs for kids of all ages, from those barely toddling through sixth grade. Everyone gets a medal!


Volunteer registration will open on Monday, Aug. 5. In the meantime, if you have a group or organization interested in staffing an aid station and competing in the aid station competition, please send an email to [email protected].


More information on all events as well as event and volunteer registration, can be found at swhalf.com. Please contact Marla Watson at 501.849.2253 for more information.