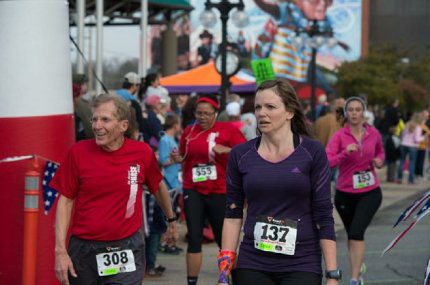 19 Feb

Registration open for Chase Race and Paws

The Ninth Annual Chase Race and Paws will be held 8 a.m. Saturday, March 8, starting and finishing at Simon Park, 805 Front St., in Downtown Conway.

The 2-mile state championship race features a $100 cash prize to any male or female who breaks the present course records. A complimentary 2014 entry form will be awarded to anyone who breaks an age group record.


Each person who registers will receive a technical shirt again this year.


Online race registration is open at http://www.chaserace.info/. Entry forms are also available at The Sporty Runner, 1016 Van Ronkle St. in Conway, and at Conway Regional Health and Fitness Center, 700 Salem Road.


The event includes:
• A quality and competitive Arkansas RRCA Grand Prix Series championship two-mile race. This race is for runners/walkers only. No pets or strollers. Chip timing will be used.
• The first three overall male/female walkers will be recognized this year for the first time.
• A separate one-mile fun or competitive event for runners/walkers with leashed pets.
• Registered runners/walkers can participate in both events.
• "Paws" Pageant (best costume contest) for all pets.
• Pet adoption.


Chase Race and Paws promotes and raises funds for non-adopted pets and research for adolescents with traumatic brain injury. All proceeds from the event benefit Friends of the Conway Animal Shelter and Arkansas Children's Hospital for brain trauma research.


Chase Race and Paws had its beginning March 11, 2006, as an event to celebrate the brief life of Donald Lee Chase Potter, 1991-2005. Chase's parents, Don and Cheryl Potter, searched for a way to perpetually continue the legacy of their 13-year-old son who loved animals and suffered from traumatic brain injury. His parents, both runners, focused on a running event that could be partnered with pets. The Chase Race provides comfort to that perpetual legacy and has continued for eight years.